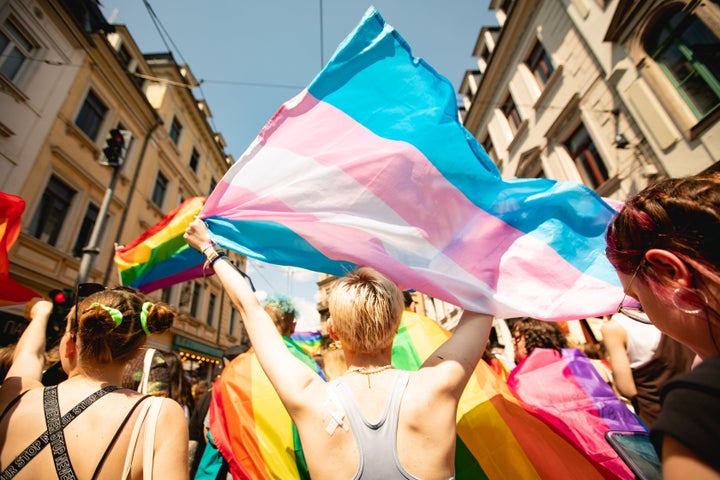 Transgender Europe (TGEU) has published its 2023 Trans Rights Map which highlights the legal situation for trans rights in 49 countries across Europe and five in Central Asia. According to the map, which was created with a network of over 200 trans rights organisations, the UK is no longer ranked as one of the most progressive places for trans rights.
While this news paints a damning picture of the state of equality in the UK, it's not surprising, as a YouGov poll released last year concluded that, "there has been an erosion in support of trans rights since 2018".
Even just last month at the Tory Party conference, prime minister Rishi Sunak claimed that the general public were being "bullied" into thinking "people can be any sex they want to be" before stating: "A man is a man, and a woman is a woman, that's just common sense."
It was also reported earlier this year by the Home Office that transgender hate crimes had risen by 11% in the year to March 2023 compared to the year previous.
UK dropped in rankings from 1st in 2013 to 21st in 2023
Self-determination
No diagnosis or psychological opinion required
Non-binary identity recognition
Prohibition of conversion therapy
Parenthood recognition
Non-binary parenthood recognition
Trans asylum seeker protection
Freya Watkins, TGEU research officer, spoke on the regression in the UK and Hungary — which dropped from 2nd place in 2013 to 29th in 2023 — said: "The United Kingdom and Hungary have gone backwards, from progressive leaders of our Index in 2013 to places where anti-trans hatred is widespread in the media and government agendas."
She added that while we may have legal markers in place, they're ineffective without proper implementation.
"Ultimately, legislation means nothing without implementation. The past decade saw a big increase in states including gender identity in asylum protection laws, but in practice many countries continue to fail trans asylum seekers."
This map is the most comprehensive analysis of trans rights throughout Europe and Central Asia to date, spanning over a decade of data collection. The map tracks six legal categories:
Legal gender recognition
Asylum
Hate crime and speech
Non-discrimination
Health
Family
What can be done to support trans people in the UK?
"If you say and do nothing, then you're siding with the oppressor. And that oppressor is Rishi Sunak and his trans-hostile chums.
"We can't afford to do that. Now, if you say nothing, then you're saying that actually what he's doing is okay, it's not okay. And we've got to stand up and fight against it."
Help and support: