An "armed and dangerous" man suspected of carrying out the lorry attack on a Berlin Christmas market is being hunted across Europe - with a reward of €100,000 for information leading to his arrest.
Anis Amri, a 24-year-old Tunisian, had previously been under covert surveillance for several months this year and was due to be deported from Germany.
A European wanted notice, obtained by the Associated Press, said Amri should be considered armed and dangerous and appears to have used six different aliases and three different nationalities.
However, while the arrest warrant has been issued across Europe's free travel zone, German Interior Minister Thomas de Maizière, said: "This is a suspect, not necessarily the perpetrator. We are still investigating in all directions."
Amri was reportedly considered by authorities to be part of the "Salafist-Islamist scene" and may have spent time in a pre-deportation detention after his asylum application was rejected this year.
Documents relating to his asylum status were reportedly found in the footwell of the lorry that killed 12 people in the German capital on Monday evening.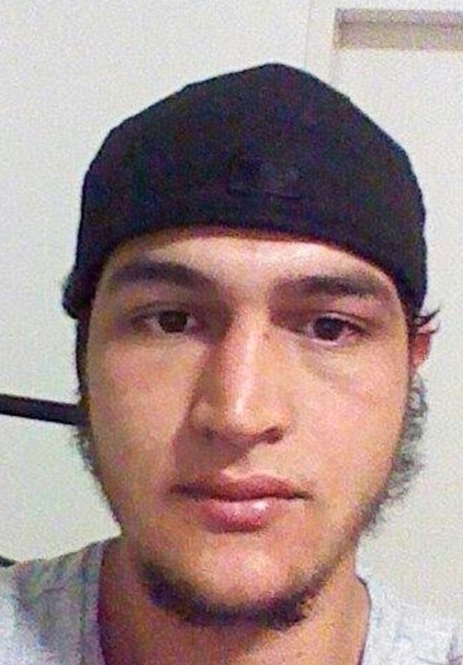 Germany issued a notice to other European countries overnight seeking the arrest of Amri, but initially held off on going public so as not to jeopardise the manhunt. After German media published photos of him and a partial name, federal prosecutors went public with the information.
Federal prosecutors described Amri as of average height and weight, with black hair and brown eyes.
"Caution: He could be violent and armed," the notice warned. "A reward of up to 100,000 euros (£84,300) has been issued for information leading to the suspect's arrest."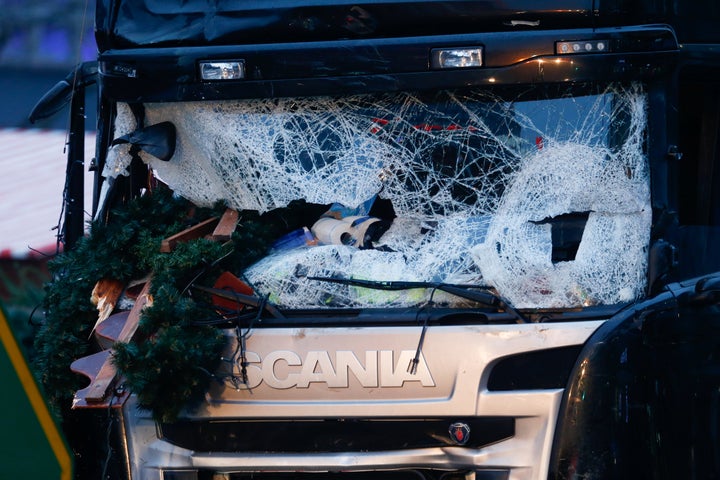 Twelve people were killed and 48 injured when a truck plowed into a popular Berlin market Monday evening in an attack claimed by the Islamic State group.
A dozen of the wounded were still being treated Wednesday for very serious injuries and some were in critical condition, Berlin health officials said.
De Maiziere wouldn't give further details on the suspect, but committee members said he had spent time in pre-deportation detention.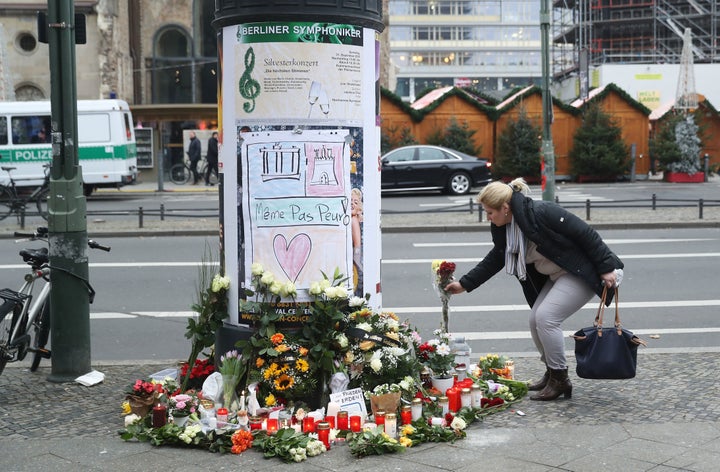 Germany's chief federal prosecutor told lawmakers "this Tunisian is a solid lead, his wallet was found in the cab of the truck, but that it's not clear that he was also the perpetrator," said Burkhard Lischka of the Social Democrats, the junior governing party.
Stephan Mayer, a senior lawmaker with Germany's governing conservatives, said the Tunisian was in his early 20s and considered part of the "Salafist-Islamist scene" by authorities.
The suspect apparently arrived in Germany in July 2015 and has lived in three German regions since February, mostly in Berlin, said Ralf Jaeger, the interior minister of western North Rhine-Westphalia state.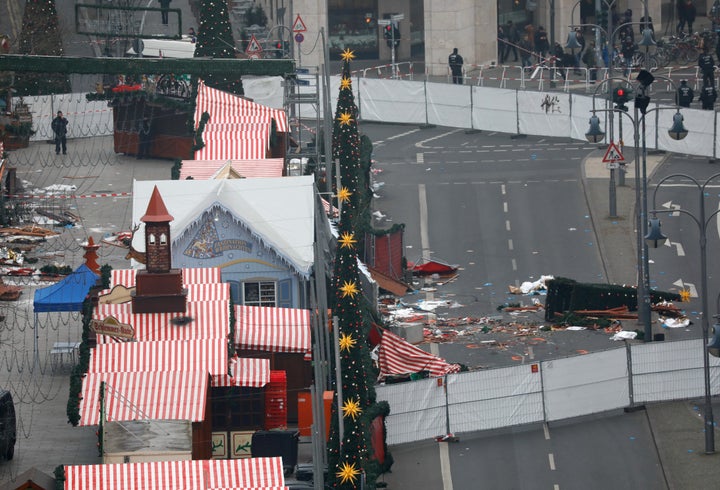 Jaeger told reporters that state police had launched proceedings against the man on suspicion that he was preparing a serious crime. He said "security agencies exchanged information about this person in the joint counter-terrorism center, the last time in November."
Separately, the man's asylum application was rejected in July. German authorities prepared to deport him but weren't able to do so because he didn't have valid identity papers, Jaeger said. In August they started trying to get him a replacement passport.
"Tunisia at first denied that this person was its citizen, and the papers weren't issued for a long time," Jaeger said. "They arrived today."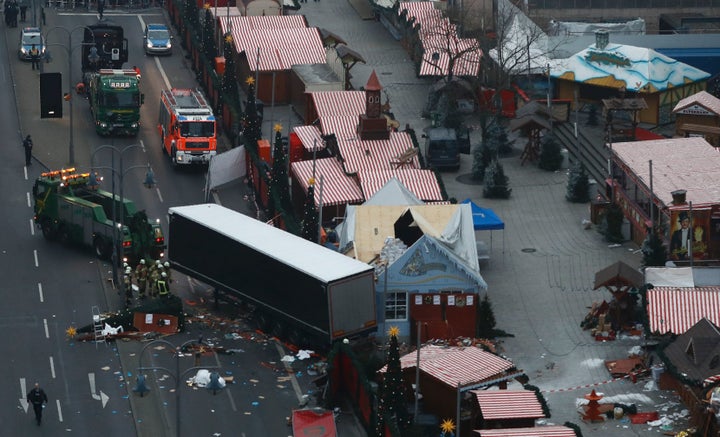 A Tunisian official said German investigators are trying to determine Amri's role in the Berlin market attack. The official, speaking on condition of anonymity before German officials spoke more about the investigation, said Tunisian authorities were requesting more information on the German probe.
The claim of responsibility carried on the IS group's Amaq news agency did not identify the man seen fleeing from the truck in Berlin, but described him as "a soldier of the Islamic State" who "carried out the attack in response to calls for targeting citizens of the Crusader coalition."
Germany's top prosecutor, Peter Frank, told reporters the attack was reminiscent of a deadly July rampage in the southern French city of Nice and appeared to follow instructions published by IS. He also said it wasn't clear whether there was one perpetrator or several in the Berlin attack.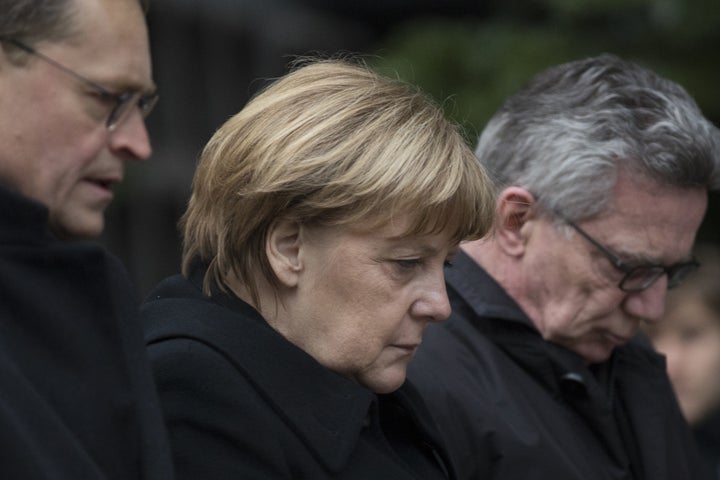 On July 14, a Tunisian living in France was shot to death after carrying out a truck attack on Bastille Day revelers in Nice, killing 86 people.
Police in Berlin, meanwhile, said they had received over 500 tips on the Monday evening attack.
Shortly after the attack, police arrested a Pakistani man a kilometer (1/2 mile) away who matched witness descriptions of the truck's driver, but he was released the next day for lack of evidence.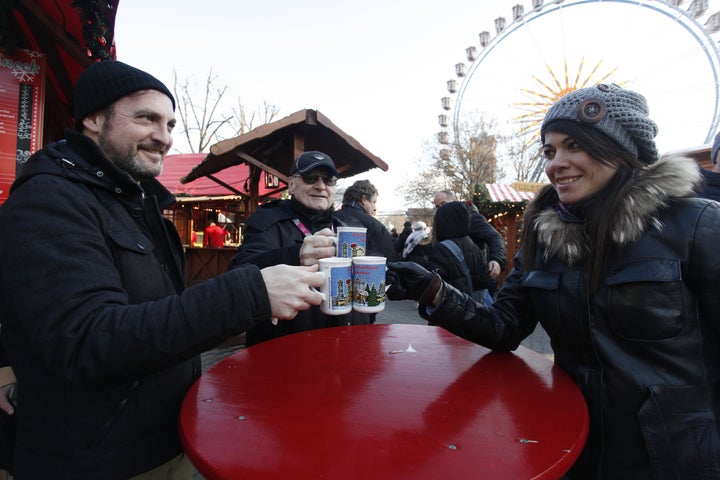 Christmas shoppers were out again in the streets Wednesday in the German capital, and Berlin Mayor Michael Mueller said it was "good to see that Berliners aren't being intimidated."
"I don't think there's any need to be afraid," he told ZDF television. "The police presence has been significantly heightened ... and of course other measures taken to find the perpetrator quickly."
Mueller argued that there are limits to increasing security, given the number of public spaces and events.
"It wouldn't be our free and open life any more if we escalated security measures so much that people worry about going anywhere, that there are strict entry checks," he said. "We don't want that. It must be appropriate and goal-oriented."
Popular in the Community