After a big win in Nevada, Bernie Sanders is unquestionably the frontrunner in the race to be the Democratic nominee to take on Donald Trump in November's presidential election.
Sanders, 78, pulled further away from his rivals after his strong early showings, securing broad-based support across age, race and ideology.
Nevada, with its large Latino community, was seen as a significant test for the senator from Vermont since it is more reflective of the wider US population than in the pervious two contests in Iowa and New Hampshire.
The state-by-state election now moves to 15 nominating contests in the next 10 days, with 14 states voting on Super Tuesday on March 3.
The question now is: can anyone stop Sanders?
What happened in Nevada?
With 50% of the results in as of Sunday morning, Sanders had captured a commanding 47% of the delegates in Nevada - more than twice as many as his nearest rival and a bigger margin than most expected.
Former US vice president Joe Biden appeared headed to a badly needed second-place finish, and Pete Buttigieg, the former mayor of South Bend in Indiana, was in third. Massachusetts senator Elizabeth Warren landed in fourth, while Minnesota senator Amy Klobuchar and Tom Steyer were still in a close race for fifth.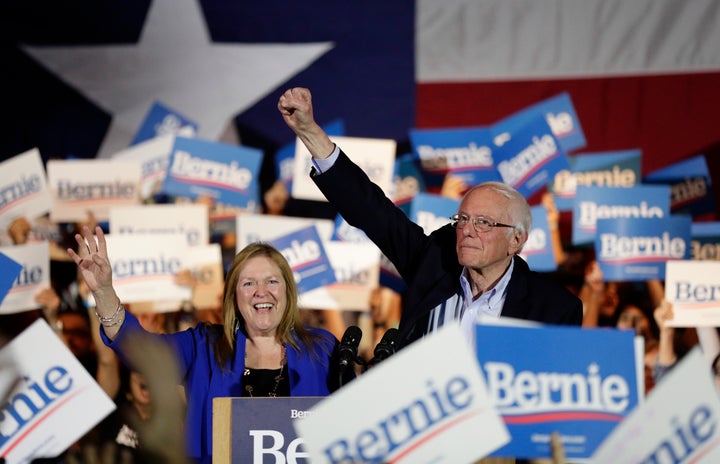 Nevada's population, which aligns more with the US as a whole than the opening elections in Iowa and New Hampshire, is 29% Latino, 10% Black and 9% Asian American and Pacific Islander.
Triumph in the first racially diverse state in the campaign suggested Sanders was reaching a broader coalition of Democratic voters with his unapologetic message of social and economic justice, including his signature pledge to provide universal healthcare for all Americans.
His campaign argues the candidate will bring in new voters — largely progressives and young people — who have been alienated by politics.
"Together we will defeat the most dangerous president in the modern history of this country," Sanders told a cheering throng of supporters in Houston.
"We have won the popular vote in Iowa. We won the New Hampshire primary. We won the Nevada caucus. And don't tell anybody ... we're going to win here in Texas."
Where next?
The Democratic candidates face-off again in next Saturday's primary in South Carolina, which will be another test of the coalition.
Three days after that contest, 14 states vote on Super Tuesday, when one-third of the delegates the candidates are competing for are awarded.
A strong showing in those states could put Sanders on a smooth path to the nomination against Trump.
What are his rivals doing?
His opponents are already scrambling to blunt the senator's momentum, and both Buttigieg and Biden have gone after him harder than they have before.
In his speech to supporters in Las Vegas, Buttigieg claimed Sanders was calling for an "inflexible, ideological revolution that leaves out most Democrats".
Biden was in South Carolina on Sunday, where he hopes his record on civil rights and as Barack Obama's vice president will appeal to the state's many Black voters.
Not long ago, the former VP was the favourite in Nevada. But after disappointing finishes in Iowa and New Hampshire, Biden's showing in Nevada was strong enough for him to declare his campaign revived.
In an interview on CBS's Face the Nation, Biden said he was confident he could win in South Carolina with support from African-Americans.
The centrist candidates could now turn on each other for the chance to emerge as the preferred alternative to Sanders.
What are the fears?
Establishment Democrats are worried that the nomination of a self-avowed democratic socialist could cost the party the White House.
They argue Sanders' liberal policies will drive away moderate and independent voters in the general election in November.
Jim Clyburn, a senior Black leader in Congress, warned of added risk for Democrats if Sanders was the nominee.
"I think it would be a real burden for us in these states or congressional districts that we have to do well in," Clyburn told This Week on ABC.
He said that congressional districts that helped Democrats win back the House were moderate and conservative.
"In those districts, it's going to be tough to hold on to these jobs if you have to make the case for accepting a self-proclaimed democratic socialist," Clyburn added.
What about Bloomberg?
The former New York mayor Michael Bloomberg did not take part in Nevada, and his performance in last week's Las Vegas debate may have damaged his candidacy.
But his massive personal fortune means he's the political equivalent of the Death Star, with the spending available to him unprecedented
The billionaire has spent more than $400 million of his own money on his campaign, and he still has his cheque book open. He is locked in on making an impact on Super Tuesday, the first set of primaries in which he has chosen to compete.
The best news for Bloomberg may have been Sanders' dominating finish in Nevada, which likely will give fresh urgency to efforts among Democratic moderates to stop the senator.