Many people are feeling uncertain or anxious about what's happening in the world right now. Our version of normal is changing, but whether you're practising social distancing or working from home for the first time, there are small steps you can take to bring some calm back into your daily routine.
Mindfulness apps can be a really good way to develop a more manageable mindset, without feeling too overwhelmed. We've handpicked 10 apps to get you started, or if you're an experienced user, new ones to try.
Some are free, some charge a subscription fee; all are designed to offer a helping hand in a worrying time. Just don't forget to keep your phone clean when you're using them!
The One Your Friend Has
Headspace – Free to download, optional monthly (£9.99) or yearly subscription (£44.99)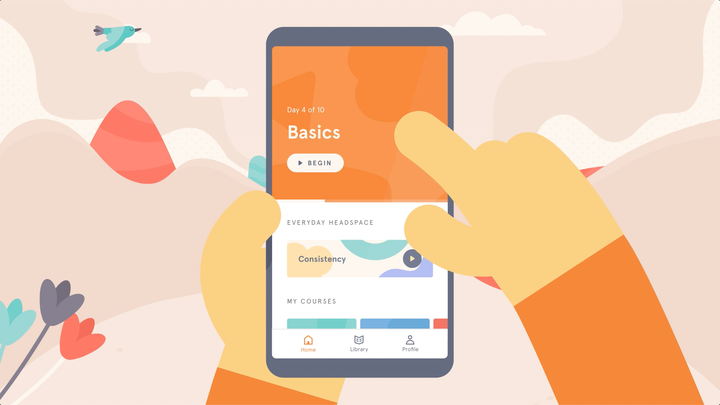 Meditation and sleep app Headspace is one of the best known on the market, offering the first 14 days free so you can get a feel for its 10-part basic courses before committing to a monthly or annual subscription. You can tailor exercises to suit your needs, whether you're looking to get a better night's sleep or manage stress and anxiety, in three, five or 10 minute bursts. Headspace CEO Richard Pierson announced on Twitter the app would be introducing services to help caregivers, healthcare providers, parents and workers, along with tools and tips to help talk to young people whose schooling is affected by coronavirus.
The Deep Breathing One
Just Breathe – Free to download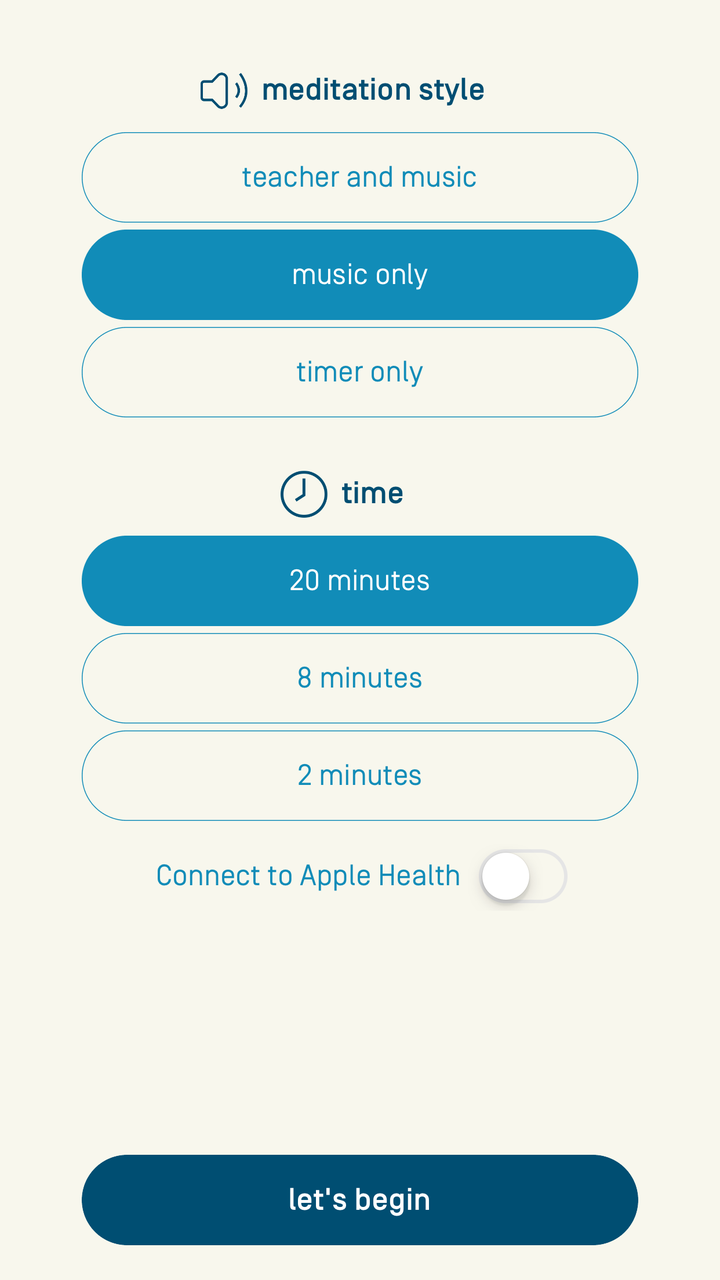 This completely free app offers guided meditation with a teacher, music or timer in two, eight or 20 minute sessions. With soothing sounds, simple instructions, it's brilliant if you're new to meditation and need a bit of help in finding what works for you. We'd recommend trying it for eight minutes to get you started, long enough to get into a better headspace, but not too long that it takes you off task, especially if you're working from home. But the longer practices are great for starting or finishing your day.
The Sleepy Celebrity One
Calm – Free for a one week trial, then an annual subscription (£28.99)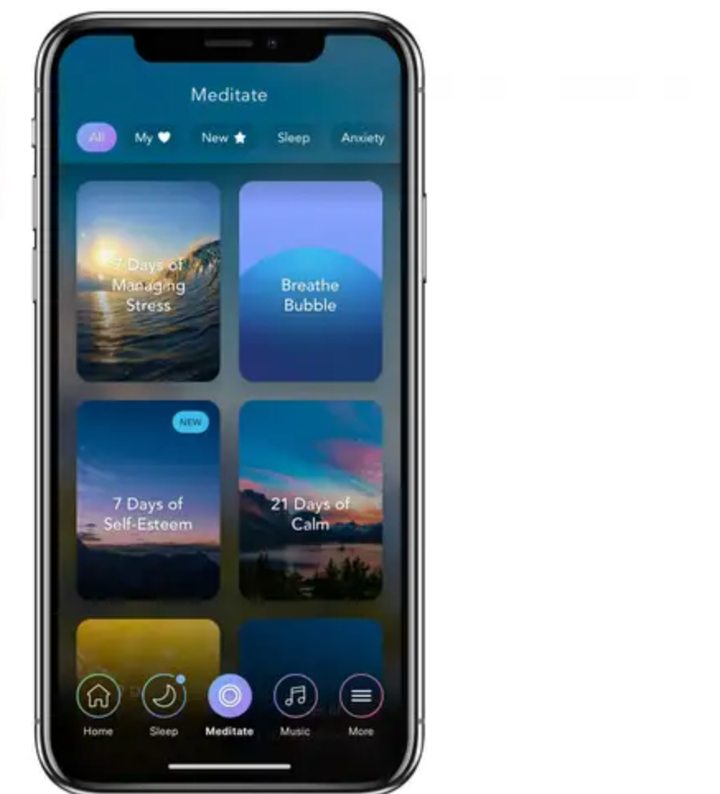 Calm has a great variety of meditations and bedtime stories to follow, narrated by celebrities including Stephen Fry and Matthew McConaughey. As soon as you open the app it plays outdoor sounds, from rain to waves, which you can adapt to your preference, and there are different meditation option dependent on your experience. It's a welcoming bit of peace away from the chaos.
The Truly Escapist One
Portal – £3.99 for one-time download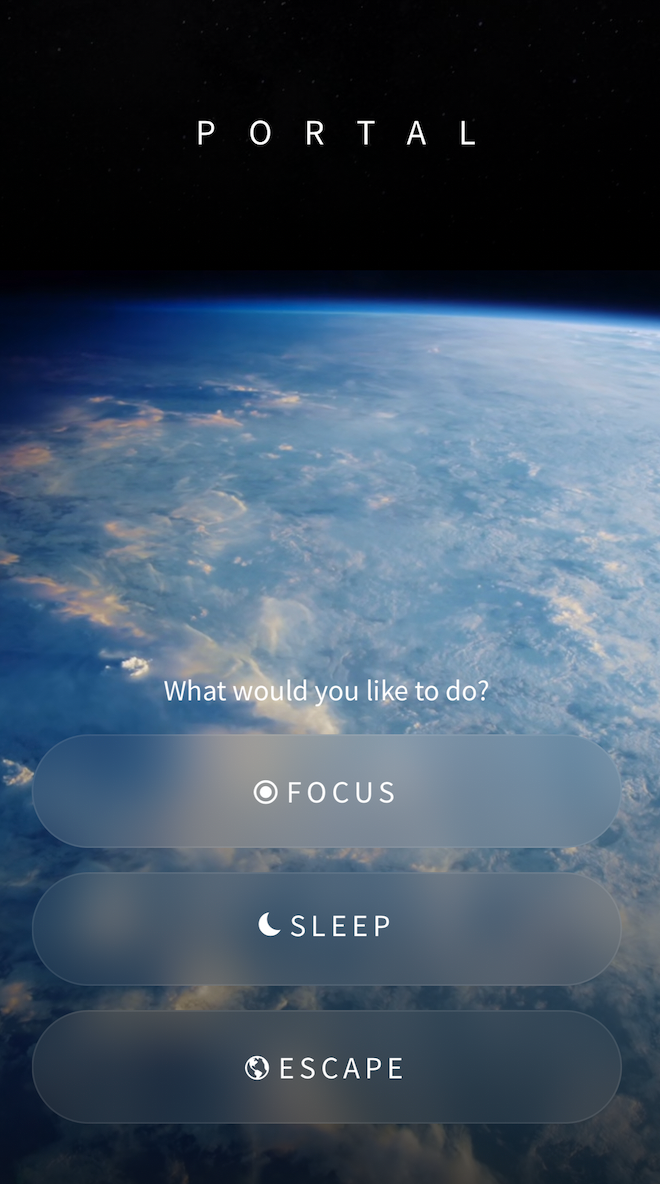 If you're struggling to sleep or suffer from insomnia, try Portal, a mindfulness app that has a wide selection of relaxing sounds from nature to enjoy quietly on their own or as an accompaniment to audiobooks and podcasts. The name is the aim: offering you a portal to a calmer state whether that's a beach in Hawaii, or a lake in Japan, and each option comes with landscape imagery to really set the scene for you.
The Naysayers' One
Simple Habit - Free to download with an optional annual subscription (£38.99)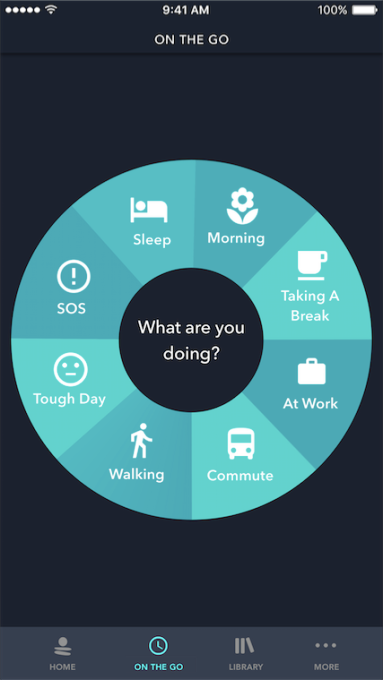 If taking time to practise mindfulness feels like another thing on your to-do list, Simple Habit is designed for people who don't or can't find the time for a few minutes of self-care. The audio meditations are as short as five minutes but can make all the difference if you need to feel at ease. Choose topics that are relevant to you, whether's that reducing stress on the commute you're still having to do or relaxing post a social-distancing argument. We could all do with a bit of that. While there is a price tag attached to access more content, what you get for free is generous so don't feel like you have to fork out.
The NHS-Approved One
Feeling Good: Positive Mindset – Free to download with in-app purchases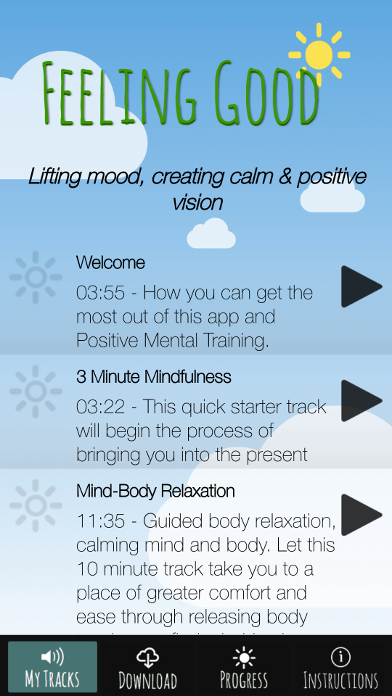 As one of the apps recommended by the NHS for managing your mental health, Feeling Good: Positive Mindset offers a series of audio tracks to help you build a more positive approach to things, particularly helpful if you know you're prone to looking at the negative aspects of situations. It works to improve your overall mental wellbeing, concentration and confidence in approaching tasks, too, using cognitive behavioural therapy techniques. You get four free tracks accompanied by music and coaching to begin with, then a 12-track positive mental training audio programme available as an in-app purchase. The programme has been used by the NHS in Edinburgh for 12 years to help recovery from stress, anxiety and depression in over 75,000 patients.
The Gamified One
Thrive – Free to download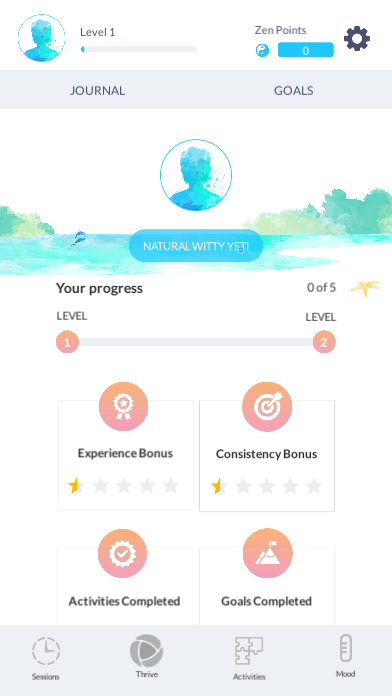 Another app with the NHS tick of approval, Thrive is game-based programme to help you take control of your emotions. Through meditation and deep-breathing tips, the aim is to manage negative thoughts and be more relaxed in how you deal with stressful scenarios. Meanwhile, the Mood Meter tracks how you're feeling to guide you into recognising what changes you could make if you're feeling many things at once and finding it hard to address them.
The Thoughtful One
Stop, Breathe and Think – Free to download with an optional monthly subscription (£9.99) or annual sign up (£54.99)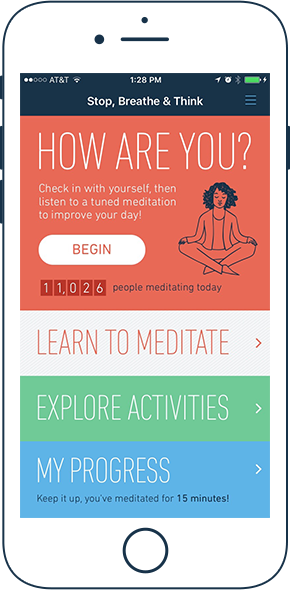 Before you start a guided meditation or quick yoga session with Stop, Breathe & Think, it thoughtfully asks you to check in on how you're feeling physically and mentally, to help make your choice of activity that little bit more beneficial. There's five minute sessions you can squeeze into your day or if you want something longer, there's practices that go on upwards of 20 minutes. The free download grants you access to 30 activities, although if you did want to invest on an annual premium subscription then there's over 100 more to use.
Download Stop, Breathe & Think
The Social One
Insight Timer – Free to download, with an optional annual subscription (£55.99).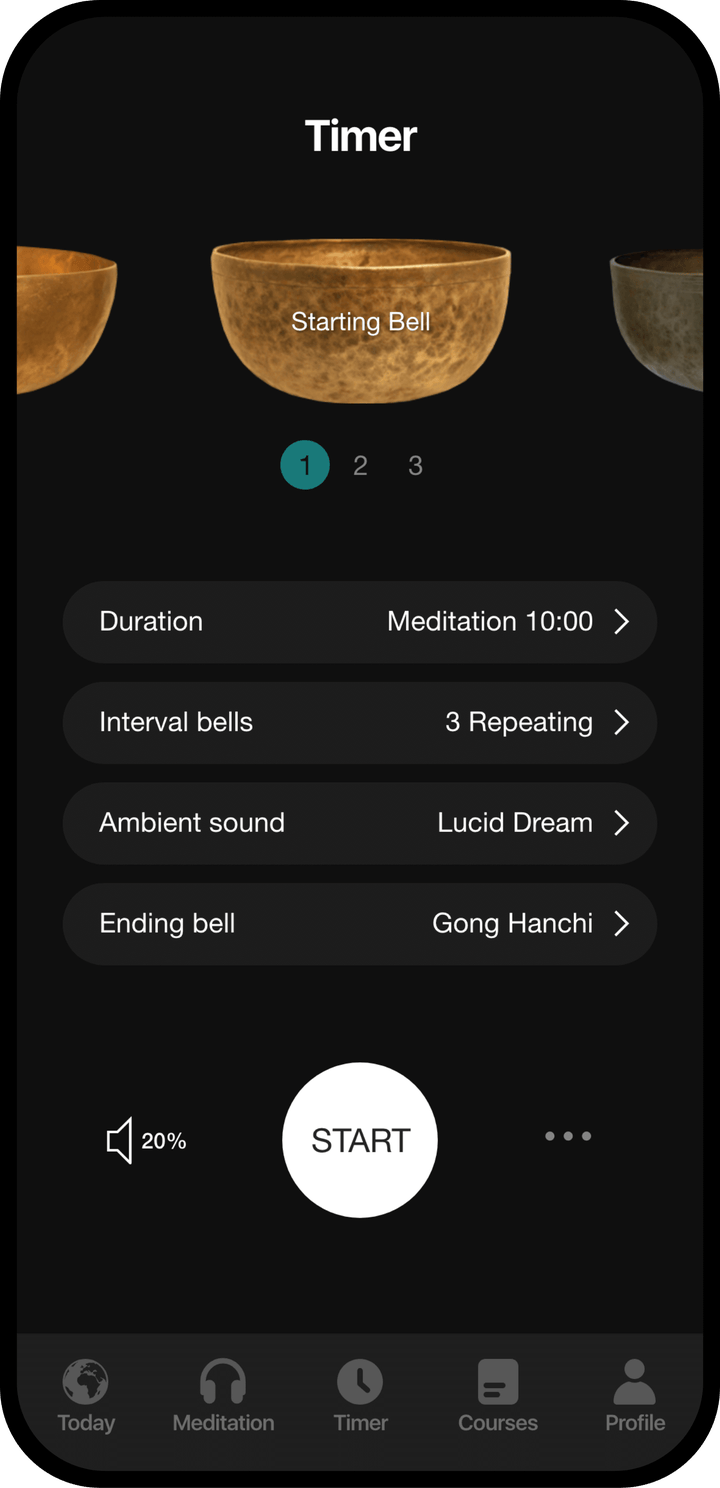 If you prefer group meditation, Insight Timer is the app for you. You can invite friends to join you, see who iis meditating nearby or get a global view via a map of who is opting in too. Within it you can joining community group where meetups are encouraged and discussion topics are varied. It boasts a free library of 30,000 guided meditations, which comes with ambient background sounds to keeping you feel as zen as possible.