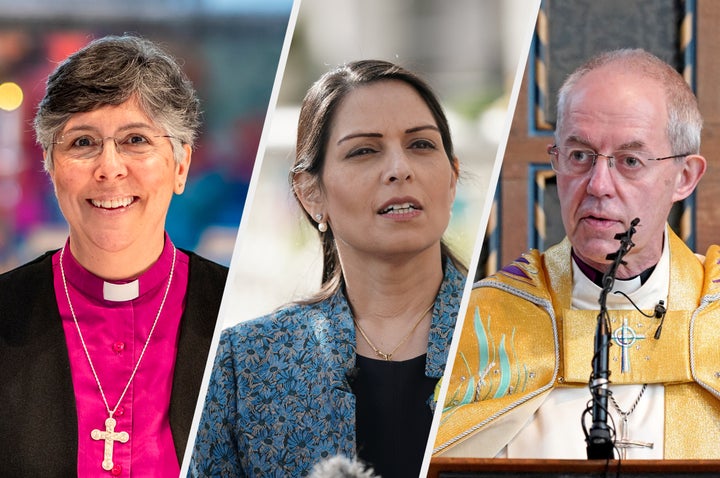 A senior church leader has described the government's plan to send asylum seekers one-way from the UK to Rwanda as "cruel and inhumane" – as she said Priti Patel challenging critics to provide alternatives "misunderstands" the role the Church of England plays in public discourse.
The Bishop of Chelmsford, the Rt Rev Dr Guli Francis-Dehqani, has written an open letter to the home secretary about the controversial policy following the Archbishop of Canterbury's own criticism of the scheme during his Easter sermon.
Dr Justin Welby described the plan to send migrants on a plane for almost 6,000 miles to east Africa as "sub-contracting out our responsibilities" and "ungodly".
Francis-Dehqani fled Iran for the UK with her family as refugees amid the Islamic Revolution of the late-1970s.
In her letter, she said: "I stand full square behind (the Archbishop of Canterbury's) comments, and my own lived experience as an asylum seeker makes me extremely anxious about this scheme and its implications.
"This policy treats the most vulnerable in our midst in a cruel and inhumane way and it is for this reason that I am being compelled to appeal to you, even at this late stage, to listen to the voices that are being raised from a cross section of public opinion.
"Those who find their way to this country, often through treacherous means, deserve to have their cases considered and processed here."
Writing in The Times with Rwandan foreign minister Vincent Biruta, Patel said her plans were "bold and innovative".
They said: "We are taking bold and innovative steps and it's surprising that those institutions that criticise the plans fail to offer their own solutions."
In response, Francis-Dehqani said: "This is to misunderstand the important role of the Church of England, particularly through the national leadership of the Archbishop of Canterbury and the parliamentary responsibilities of the Lords Spiritual.
"We are not tasked with providing worked out political solutions – that is the job of government and politicians. But it is our responsibility to point out where there are serious ethical and moral implications arising from government proposals."
The bishop went on to call Jacob Rees-Mogg's suggestion that Welby "misunderstands" the policy as "disingenuous".
She said: "Thoughtful criticism should not be dismissed in this off hand manner."
Dr Rowan Williams, a former Archbishop of Canterbury, backed his successor in condemning the move on Monday, saying it is "not in accord with what I understand about God".
He told Times Radio: "Is the policy sinful? I think, in a word, yes. I think that without commenting on the motivation or moral standing of any individual involved, the policy itself seems to me to be not in accord with what I understand about God."