An advert depicting 'period blood' is to air on social and digital platforms in an attempt to smash menstrual stigma by feminine care brand Bodyform.
In the past, adverts have used an unrealistic blue liquid to demonstrate the absorbency of sanitary products when a woman is on her period.
Now, for the first time in the UK, we will see blood-red liquid poured onto pads.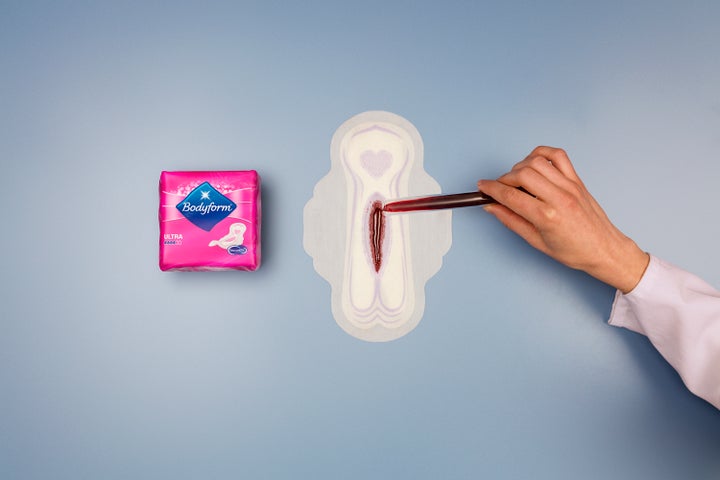 Bodyform has high hopes of normalising periods with its latest ad campaign #bloodnormal, which sees a young man purchase pads from a convenience store and a woman shower with period blood running down her legs.
Nadia Mendoza, from The Self Esteem Team, labelled the use of the blue liquid currently used in adverts as "damaging".
"Have you ever seen a woman bleed blue liquid? No," she said. "So why is this still the image that so many associate with periods?
"It not only suggests that period blood is unsightly, shameful and something that should live firmly behind closed doors, it also paints a wholly unrealistic picture for young girls who are yet to start their periods.
"Starting your period for the first time is hard enough without the fear associated with the unexpected sight of blood. It's scary, it's unsettling and it's unnecessary."
She added: "Showing a true-to-life representation of period blood might seem like a small step, but it's one that will be hugely beneficial in helping a new generation of young women to understand that periods are nothing to be ashamed of."
Smashing stigma is vital. A survey by Bodyform from earlier in October, shared exclusively with HuffPost UK, revealed 52% of girls would rather get bullied at school than discuss periods with their parents. On top of that, 43% believed periods are an "off-limit" topic for discussion and 87% said they had gone to great lengths to "hide" their periods.
Traci Baxter, Bodyform's marketing manager, said: "We were so shocked by the results of our research that we publicly vowed to address the continued silence around periods.
"We know that the 'period taboo' is damaging. It means people are more likely to struggle with the effects of period poverty, whilst others struggle with their mental health and wellbeing.
"As a leader in feminine hygiene, we want to change this by challenging the taboo and ultimately removing the stigma, making it even easier for anyone to talk about periods, now and in the future."
It's worth noting that, due to health and safety reasons, the latest advert doesn't show real blood but a substitute made from corn syrup and food colouring.
Baxter continued: "We believe that like any other taboo, the more people see it, the more normal the subject becomes. So, for Bodyform, after showing blood and a real, in-situ sanitary towel, bringing the two together was a natural next step."
Along with its new campaign, Bodyform is teaming up with The Self Esteem Team to offer educational classes in schools around the country, whose focus will be on tackling issues associated with mental health, self-esteem and the taboos surrounding menstruation.