The prime minister has been accused of squeezing Edwardes' thigh under the table during a private lunch when he was editor of The Spectator in 1999.
He has repeatedly denied the claim as it threatened to overshadow the Conservative party conference in Manchester.
But when asked by ITV News on Tuesday if he remembered the lunch, he said: "I don't, to be honest, I have no memory whatever."
Pressed on how he could deny the allegation if he could not remember the occasion, he said: "Because it is not true, for all sorts of reasons."
He added: "I don't wish as I say to minimise importance of subject, I don't wish to you know cast aspersions on the motives of anybody who makes this type of allegation, but it is not true, and what I want to do is focus on our domestic agenda."
In a separate interview with the BBC, Johnson replied "there is not much more I can say" when asked twice if he remembered the event in question.
And he appeared to suggest questions about his personal conduct were being raised by people who did not want to see his government take the UK out of the EU on October 31.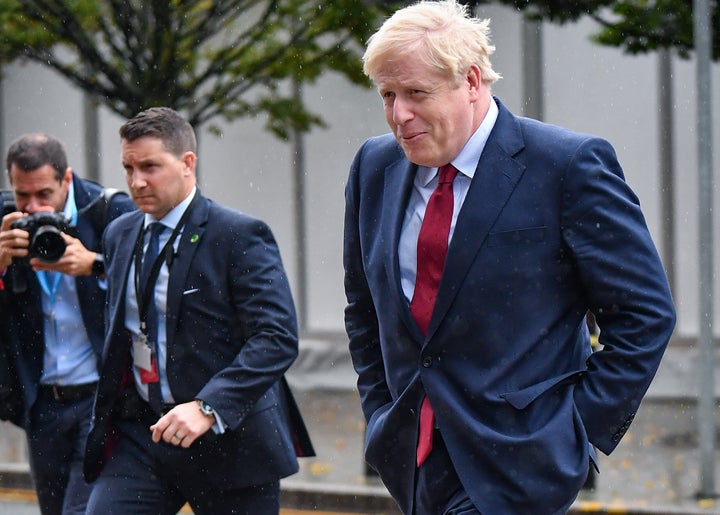 "A lot of people don't want Brexit to be done," he told BBC Breakfast on Tuesday morning. "I think rightly or wrongly they conceive of me as the person who is helping to deliver Brexit, and it is inevitable that I'm going to come under a certain amount of shot and shell."
She recalled: "I'm seated on Johnson's right; on his left is a young woman I know.
"More wine is poured; more wine is drunk. Under the table I feel Johnson's hand on my thigh. He gives it a squeeze. His hand is high up my leg and he has enough inner flesh beneath his fingers to make me sit suddenly upright."
After the lunch, Edwardes said she had confided in the young woman who was sitting on the other side of Johnson, who told her: "Oh God, he did exactly the same to me."
Conservative party chairman James Cleverly told BBC Radio 5 Live: "I know Boris Johnson very well, and if Number 10 say it didn't happen, I believe that."