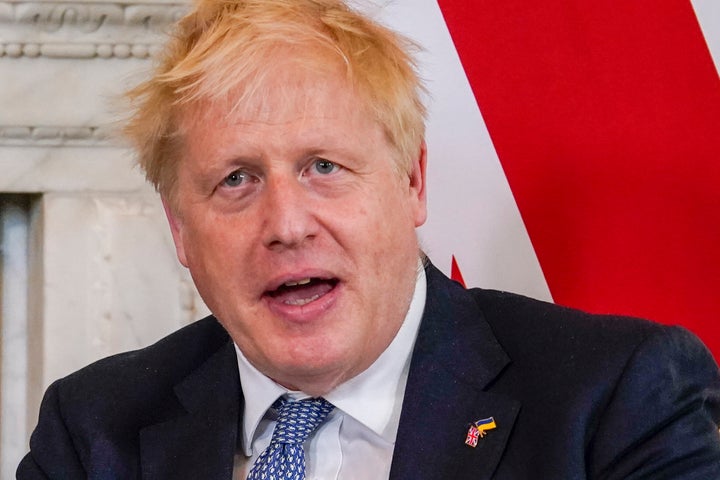 The prime minister has been criticised through yet another brutal video from the activist group Led By Donkeys on Monday ahead of the Tory MPs' vote on Boris Johnson's future in No.10.
As at least 54 Tory MPs have handed in letters of no confidence to senior backbencher Sir Graham Brady, the entire parliamentary party will vote in a secret ballot tonight between 6pm and 8pm on whether Johnson should stay in power.
With his place in No.10 looking more tenuous than ever, the activists released their scathing video with the caption: "Message to Tory MPs. This is who you're voting on."
The eight-minute video starts from 1964 when Johnson was born and touches on unflattering school reports from Eton College, as well as his life at the University of Oxford, where he was part of the infamous Bullingdon Club.
It then runs through his jobs with The Times, the Spectator and The Telegraph, the controversies he triggered in each of these roles, as well as his personal life.
The video recaps how he was once sacked as Tory vice-chairman and how he sat on the fence over Brexit ahead of the EU referendum. It mentions his gaffes as foreign secretary too, and his previous description of Muslim women who wear burqas as "letterboxes".
Led By Donkeys then concludes: "Everything in this film was known before the Tory Party made his prime minister. His tenure has been an administrative and a moral failure.
″The question now is, what will Conservative MPs do now about it?"
The video amassed more than a million views in the first four hours of its publication.
In the letter, Johnson said: "Tonight we have the chance to end weeks media speculation and take this country forward immediately, as one united party.
"Tonight is the moment to draw a line under the issues our opponents want us to talk about and to focus instead on what really matters: the needs of the voters who sent us to Westminster."
He added: "I'm asking you for your support tonight because I know how much we can achieve together. Together, we won the biggest mandate for the Conservative Party in 40 years."
It remains unclear if the threshold of at least 180 Tory MPs needed to oust the prime minister will be reached.
No.10 is currently presenting the vote as a chance to "end months of speculation" and reunite the party once again.
A spokesperson said: "The PM welcomes the opportunity to make his case to MPs and will remind them that when they're united and focused on the issues that matter to voters there is no more formidable political force."