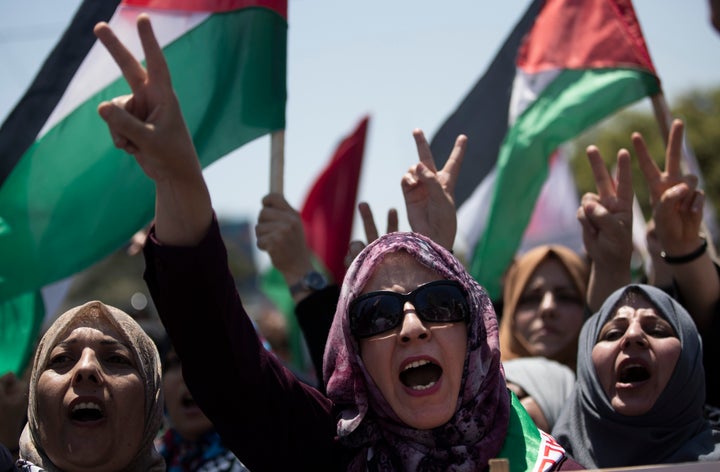 Witnessing injustice, in person, leaves an indelible mark.
When I visited Jerusalem and the West Bank back in 2008, I was shocked by how individual Palestinians and whole Palestinian communities were treated by the Israeli government.
From the illegal settlements to daily humiliations at checkpoints, the evidence of gross injustice and the human suffering it brings is indisputable.
It is not enough to say that the Middle East and Israel/Palestine in particular is complex – with right and wrong on all sides.
Abuse of human rights and international law demand resolution – whoever is responsible. Yet, peace talks for the longed-for two-state solution have never seemed so far away.
And thanks to President Trump and Prime Minister Netanyahu, the situation is set to get significantly worse next week.
Backed by Trump's misnamed "peace plan", Netanyahu has announced he plans to annex parts of the lands Israel occupied in 1967, from next Wednesday, July 1. In other words, the Israeli Government plans to break international law, again. And formally steal Palestinian lands, it has been informally stealing for years.
When this happens elsewhere in the world, there is an outcry. Resolutions at the UN Security Council. Calls for sanctions.
When Russia annexed the Crimea in 2014, the US, the UK and much of the rest of the world rightly acted, to demonstrate a commitment to upholding international law. Back then, I was a member of Britain's National Security Council, and when we backed sanctions against Russia, it was on the basis of a serious breach of Ukrainian sovereignty. Only this January, our Foreign Secretary, Dominic Raab, was promoting more sanctions against Russia due to its annexation of Crimea and Sevastapol.
So for the British Government to have any credibility over upholding international law, action should now be taken if Netanyahu proceeds with his illegal act. Sanctions against produce coming from Israel's illegal West Bank settlements must now be on the table.
"If the UK follows up our past co-operation with European allies, we can take a meaningful stand. And not just on West Bank sanctions."
But will Boris Johnson and the British Government act?
So far, the signals have been less than encouraging. The UK, with European allies, did state last year that Israel's proposed unilateral annexation of any part of the West Bank would be "a serious breach of international law".
But after I joined with 148 other British politicians in writing to our prime minister on May 1, calling for the government to "make clear publicly to Israel that any annexation will have severe consequences including sanctions", the silence from Number 10 has been deafening. Global Britain was a good Boris soundbite: in reality, it amounts to very little.
Failure to act now, will set a very dangerous precedent. Russia will be able to claim double standards over Crimea. And Chinese plans to realise its territorial ambitions on its borders and in the South China Sea will be boosted.
Most worryingly in the immediate future, British calls to defend our international agreement protecting Hong Kong Chinese will ring hollow. The signal will be clear: the West will only uphold international law when it suits them. And Boris Johnson will always fall into line with President Trump.
It doesn't have to be like this. If the UK follows up our past co-operation with European allies, we can take a meaningful stand. And not just on West Bank sanctions.
Britain should next week recognise the state of Palestine. It's a step which the majority of other nations have already taken. And after four decades of talking about a two-state solution, and faced with this latest flagrant breach of international law, now is the time to take a stand.
As someone who regards himself a friend of Israel, this call for action against the current Israeli government is not taken lightly. But it is taken with the memory of the Palestinians whose oppression I witnessed. And taken with a determination that fighting injustice and upholding international law must be central to British foreign policy.
Sir Ed Davey is Acting Co-Leader of the Liberal Democrats.