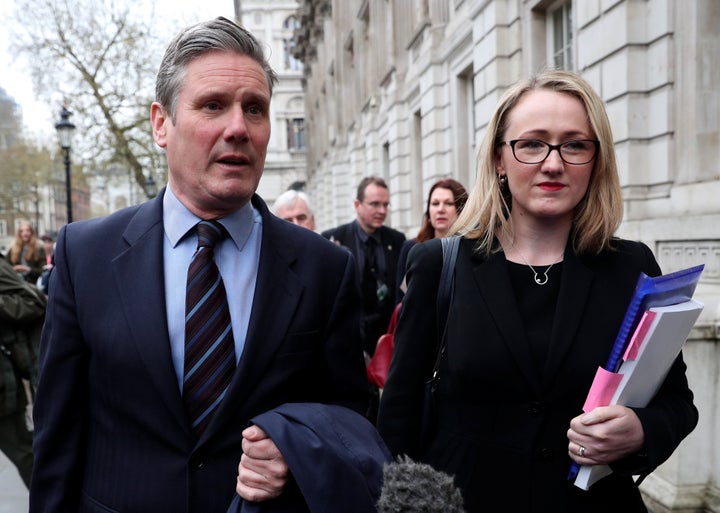 Coronavirus has changed everything. Make sense of it all with the Waugh Zone, our evening politics briefing. Sign up now.
Keir Starmer has rejected left-wing MPs' demands to reinstate Rebecca Long-Bailey to his top team, after sacking her for sharing an allegedly anti-Semitic conspiracy theory.
In a statement, the Labour leader confirmed he had held an hour-long meeting with members of the Socialist Campaign Group of MPs, who had demanded his former leadership rival be returned as shadow education secretary.
But Starmer – who has pledged a "zero tolerance" approach to anti-Semitism in his party º– said, while the discussion was "constructive", his "mind is made up" on the issue.
He told the Press Association: "I had a meeting with a number of Labour MPs this morning. That was constructive and the tone was absolutely right.
"We engaged in for about an hour a discussion but my mind is made up on this. I took my decision yesterday."
In the interview with The Independent, actress Maxine Peake said: "The tactics used by the police in America, kneeling on George Floyd's neck, that was learnt from seminars with Israeli secret services."
A spokesperson for the Israeli police said in response: "There is no tactic or protocol that calls to put pressure on the neck or airway."
Long-Bailey tweeted the article along with the comment: "Maxine Peake is an absolute diamond."
Following a conference call with the Labour leader, the Socialist Campaign Group said there had been a "significant disagreement" over Long-Bailey's dismissal.
It said it had also raised the issue of the freedom of party members to speak out on Israel.
"The Socialist Campaign Group of Labour MPs made it clear that Rebecca Long-Bailey should not have been sacked and should be reinstated," the statement said.
"The imminent annexation of the West Bank by Israel's government was discussed and the need for the Labour Party, MPs, party members and supporters to speak out against Israel's illegal annexation and ongoing human rights abuses by the government of Israel was raised.
"This was a businesslike exchange of views which took place in a mutually respectful manner."
Starmer has yet to name a replacement for Long-Bailey.