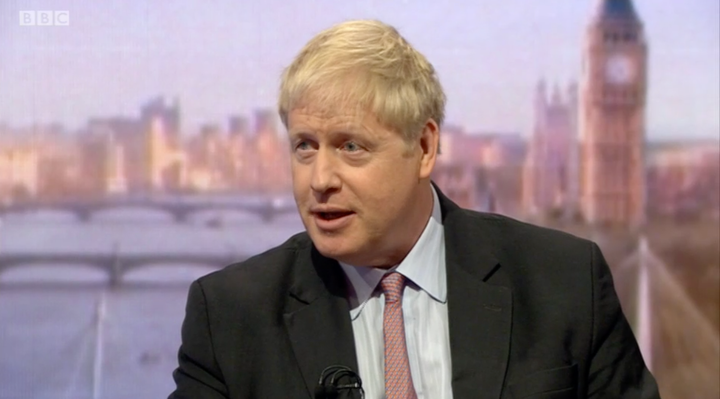 Ahead of what could be the most dramatic week in Westminster in decades, politicos were treated to a bumper three-hour session of Sunday politics shows this morning as MPs on both sides of the Commons set out their stalls on Brexit.
Boris Johnson - sporting a freshly-trimmed hairdo - appeared on The Andrew Marr Show to set out his plan for the Brexit deal, calling for half of the £39 billion divorce payment to be withheld from the EU until after a free trade deal is agreed and slamming the backstop as a "legal lobster pot".
Saying it is a "myth" there is no alternative to the backstop, the former foreign secretary told Marr: "The real problem with the backstop is that it gives the power to Brussels and all the other EU member states effectively to blackmail us and get what they want out of the future trade negotiation."
It is a "diabolical" trading position to be in," he added, saying it must be renegotiated.
But despite setting out exactly what he would do if he was Prime Minister, Johnson was quick to reassure viewers he was not launching a leadership bid, saying people don't want to hear "stuff about leadership elections and personalities".
"What they want to hear is - is there a plan to get out of this mess?'"
Shame that absolutely no-one believed him.
To be fair, Boris hardly helped his own case. Asked by Marr whether he could promise he would not stand against Theresa May for the Tory leadership, he replied: "I will give you an absolute categorical promise that I will continue to advocate what I think is the most sensible plan to get out of this mess."
But Johnson was far from the only former Cabinet minister who appeared to be making manoeuvres on the Sunday shows.
Also refusing to rule out a leadership was May's former work and pensions secretary Esther McVey, who resigned last month.
Much like Boris, McVey used her appearance to attack the backstop and the £39 billion exit fee, calling on the PM to go back to Brussels to rehash the deal.
"If she goes out and gets the deal we want on those two key points then she will remain as our Prime minister as she will have done the deal that she was asked to do," the Tatton MP told Sky's Ridge On Sunday programme.
"And if she doesn't then it is going to be very difficult for her."
Asked by Ridge whether she would go for leadership, McVey said: "For me, the most important thing is not the personalities, it's the deal for our country."
She added: "If people asked me, then of course you'd give it serious concern and do it if people asked me."
The backbencher also used the interview to deny claims that she cried during a key Cabinet meeting on the Brexit deal, telling Ridge: "People who know me know that I'm forthright, I am feisty, I am straight-talking and quite rightly I'm passionate about this issue."
Meanwhile, former Brexit secretary Dominic Raab was keen to tell Ridge's viewers he expects May's deal to be voted down by MPs on Tuesday, calling it a "lousy deal for the United Kingdom" that offers "incredibly good terms for the EU".
"This deal is worse than all the alternatives," he said during the interview.
According to the Esher and Walton MP - who spent five months as the secretary of state leading Brexit negotiations - UK officials were not firm enough when discussing the backstop with the EU.
"The idea we could not have negotiated a better deal I'm afraid is not my experience," he said, going on to add there is "more flexibility than is being suggested" when it comes to rejigging the current deal.
Raab said he too "wouldn't rule out" being the leader of the Conservatives one day, but refused to "get sucked into that debate".
May had more support from current Brexit secretary Stephen Barclay, who denied claims in the Sunday Times that Parliament's meaningful vote on the Brexit deal could be pushed back while May makes a last-ditch attempt to alter the agreement in Brussels in a bid to save her government.
"The vote is going ahead because it's a good deal and it's the only deal," he told Marr.
Brexit minister Kwasi Kwarteng went one step further in an interview with Ridge, declaring: "My understanding is that we will have a vote on Tuesday and we are looking to win that vote."
The Labour ranks looked equally divided on what the party would do if May loses the vote on Tuesday.
Despite reports that shadow Brexit secretary Keir Starmer had told Labour's parliamentary party that it could call for a vote of no-confidence if May's deal crashed, both Labour's shadow business secretary Rebecca Long-Bailey and veteran MP Jon Trickett refused to be pinned down on the party's plan.
While Trickett told Ridge: "We simply don't know what is going to happen on Tuesday night", in a near-perfect echo, Long-Bailey told Marr: "We'll have to see what happens on Tuesday".
However, Trickett added: "We are ready to form a minority government should that be necessary and it could happen on Wednesday morning and to begin to reset the negotiation and take the country forward in a much better direction."