Key elements of Boris Johnson's secret Brexit plans have been shown to EU officials, but not handed over amid fears they will be leaked.
As the prime minister gears up for a fresh diplomatic push next week to get a deal agreed with Brussels, government sources revealed that worries about confidentiality meant crucial documents have been shared in person and then retrieved as soon as joint meetings ended.
The move ensures that no copies of the material are made and then distributed to the 27 EU states and other multiple branches of the European Union.
European Commission president Jean-Claude Juncker and others have repeatedly expressed frustration that Johnson has so far failed to come up with concrete proposals.
On Monday, Luxembourg PM Xavier Bettel said "There are no concrete proposals. Time is ticking so stop speaking and act!"
However while UK officials are keen not to show their hand too early in the negotiations, they have been "sharing our working" in talks between Johnson's chief aide David Frost and his counterparts.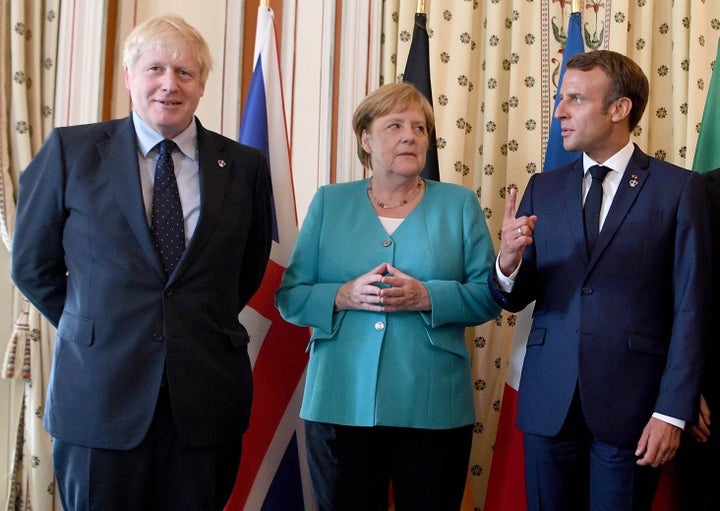 A new British text of the Withdrawal Agreement - with the controversial Northern Ireland 'backstop' removed - has been shared with Europan Commission officials, sources said.
Other documents have set out the technical parameters of the UK's thinking, although it is understood that on customs issues there is "a long way to go" to get any agreement.
Other documents setting out detailed legal alternatives are not expected to be handed over formally until next month, after the Tory conference and ahead of the crunch EU summit.
"We've been going to meetings with papers but not left them behind," one government source said.
"There is an opportune time to do it. Now is not that time. The minute we shared anything with them, you're effectively sending it to 27 countries. Once it's done, you're not in control of the documents."
No.10 revealed on Tuesday that Johnson and German chancellor Angela Merkel had agreed in a phone call to meet up at the UN general assembly next week.
The PM is already due to meet EU chief Donald Tusk at the meeting in New York and his fresh contacts will be backed up by daily meetings between both sides in Brussels.
His spokesman said: "The prime minister reiterated that the UK and the EU have agreed to accelerate efforts to reach a deal without the backstop, which the UK parliament could support.
"And that we would work with energy and determination to achieve this ahead of Brexit on the 31st of October. And the leaders look forward to meeting to discuss these issues further at the upcoming UN General Assembly in New York."
The EU summit takes place on October 17, giving just two weeks for Johnson to get any agreement passed by the Commons and Lords before his self-imposed deadline for Brexit of October 31.
Johnson told MPs earlier this month he would come up with concrete plans before the 30-day deadline Merkel appeared to set him during a trip to Berlin last month.
With the deadline due to expire this Friday, No.10 said he had already been clear on key elements of his proposals such as technological solutions and 'trusted trader' schemes to solve the Irish border issue.
"I think you can expect a mix of technical and political talks to take place later this week, and then following that the talks will shortly move to being on a daily basis," the PM's spokesman said.