One of Scotland's biggest-selling newspapers is backing a second independence referendum in the wake of the Brexit vote to leave the European Union.
The Daily Record said Scottish First Minister Nicola Sturgeon has "little option" but to pull the trigger on a second referendum after Scots voted overwhelmingly to remain in the EU while England and Wales opted for Brexit.
Saturday's edition of the Record, which largely held a pro-Union stance during the 2014 campaign over Scotland's future, appeared to go further and give its tentative support for independence, saying it offered a "positive, outward-looking option" for the country.
The newspaper's editorial reads: "The First Minister is right to raise the prospect of a second IndyRef, no matter how weary we all are of the constant constitutional war of attrition.
"Now the prospect of Scots returning a Yes vote in a second referendum is very much alive."
It concluded: "Many of those who voted to stay in the UK two years ago did so because they wanted to reject a narrow nationalism and its insular view of the world.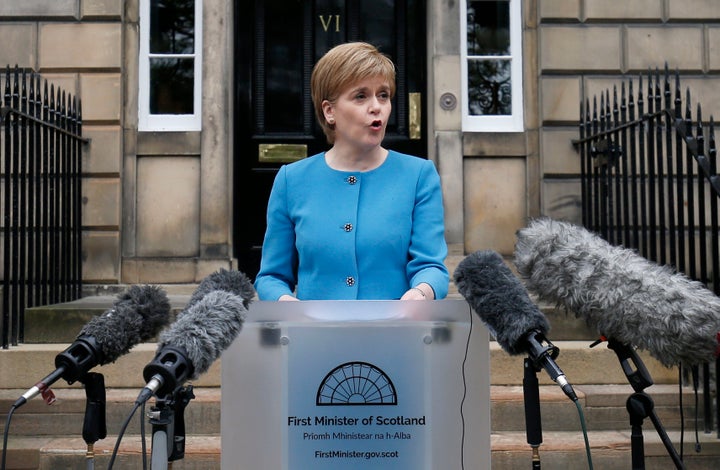 "But yesterday's result recast independence as the positive, outward-looking option for Scotland.
"This morning, Scotland and England have never felt politically further apart."
Days before the 2014 independence vote, the traditionally Labour-supporting Record carried on its front page "The Vow" - a written commitment to delivering extra powers for Scotland signed by David Cameron, Ed Miliband and Nick Clegg and deemed by many to have influenced the resulting 55% No vote.
The day after the Brexit vote, the paper headlined EU Go, Girl, said Sturgeon "had to be bold for Scotland".
In contrast, the front page of the Scottish edition of the pro-Brexit Daily Express read, Here We Go Again, and reported that Scotland "faced fresh constitutional chaos" after Sturgeon unveiled plans to pursue a second independence referendum within hours of the EU vote results.