Almost £6 million has been spent policing far-right demonstrations and counter rallies outside of London in the past two years, The Huffington Post UK can reveal, raising questions over how precious police resources are being spent.
The figure does not include the estimated £10m spent by the Metropolitan Police on events staged in London, including protests by groups such as the EDL and Britain First over the same time period.
Three police forces - South Yorkshire, West Yorkshire and the West Midlands - accounted for more than two thirds of the total expenditure, acquiring a bill of more than £4.1m between them.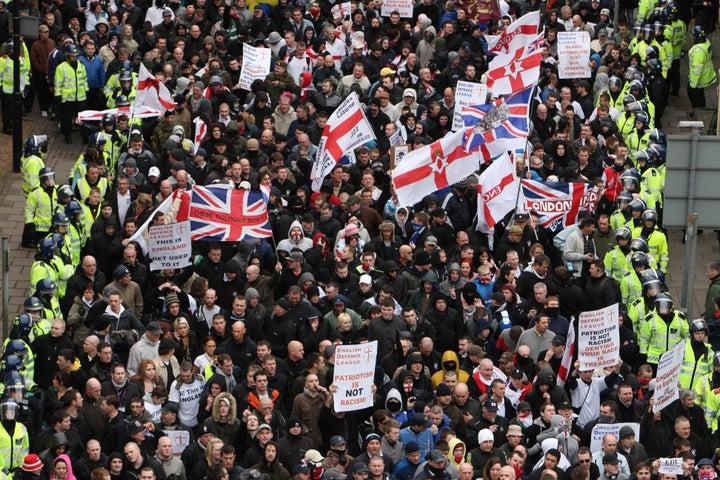 The mounting pressure on forces to police the marches - and counter demonstrations - has led to calls for either more financial support from the Home Office or a restriction in the number of protests allowed to take place.
Neil Bowles, chair of the South Yorkshire Police Federation, said the money could instead be spent on "correcting, probably, what they are demonstrating about".
Between January 2014 and February 2016 a total of £5,800,142 was spent on policing far-right demonstrations, a freedom of information request revealed.
All 43 regional police forces were asked for their operational costs, as well as British Transport Police, the Ministry of Defence, Police Northern Ireland and Police Scotland. The latter did not respond, while 17 forces, including the Metropolitan Police, did not give figures and 10 had no demonstrations in that period.

Last year 61 demonstrations were held, compared to 41 in 2014.
An investigator from the campaign group told HuffPost UK that the far-right is not growing in size, but are now "more active, more violent and more dangerous than they ever were".
The cost of policing far right demonstrations is now a growing concern to many forces.
Police forces are facing £160m of cuts from Whitehall, despite George Osborne's claims in his autumn statement last year that there would be "no cuts at all in police budgets".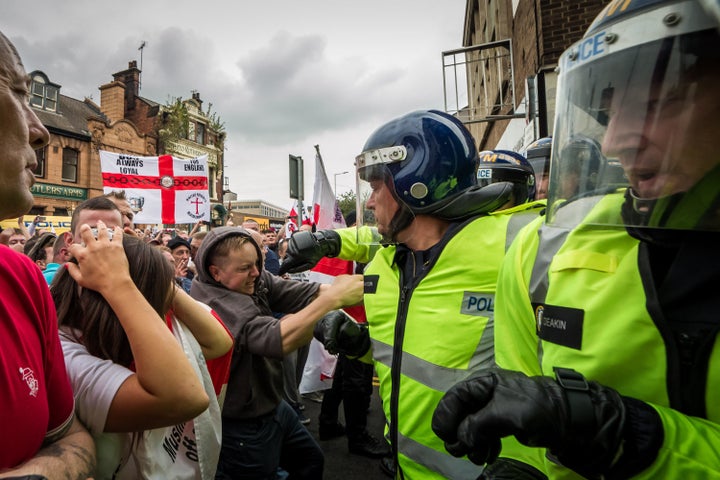 He said: "It cannot be right, in this time of austerity and police funding reductions, that a small force such as Bedfordshire and its local taxpayers must bear the burden of these extremists demonstrations."
South Yorkshire's Bowles described the increase in far-right demonstrations as a "drain on resources".
He told HuffPost UK: "It is a big bite on our funding that could be spent correcting, probably, what they are demonstrating about.
"The more they come the less we have got to spend on general policing in the county," adding: "Obviously we are concerned."
The most expensive demonstrations to police were held in South Yorkshire, West Yorkshire and Sussex, with a single EDL march in Rotherham in September 2014 racking up a bill of just over a £1m.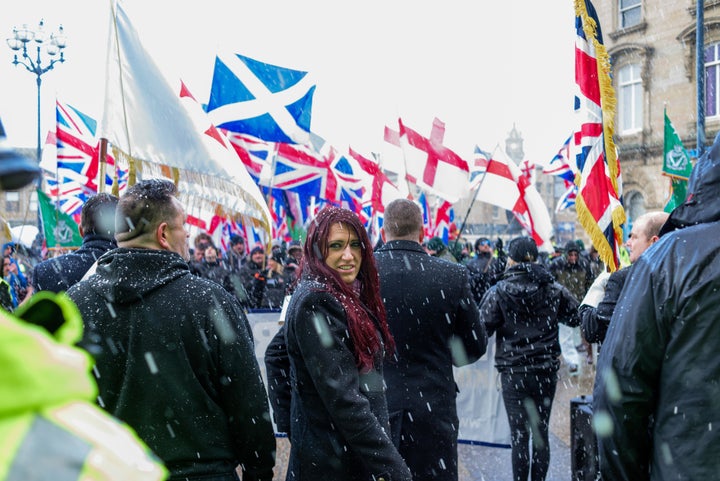 The EDL march in Rotherham, which resulted in arrests after police were attacked, came following the revelations about child sexual exploitation in the town.
Yet Bowles said that the money spent policing demonstrations, like the costly one in Rotherham, could be better spent protecting vulnerable people - such as children.
"It's a drain on resources"
Bowles added: "It's a democratic right to protest and it's the police's job to facilitate that as far as we can go.
"What we do object to is the continual protest and disruption to certain communities about the same point.
"So that's why our command team and crime commissioner are trying to approach the Home Office for either some assistance in the funding or actually to actually change the public order laws about restricting certain demonstrations but that is always going to be difficult in a democratic society."

Rotherham has seen an increasing number of far-right and counterdemonstrations.
Bowles said that it is the communities that facilitate the protests that end up suffering in the long-run.
He warned that there is a "lasting effect" left on local people, with businesses "fed up to their back teeth" of losing out on customers when a demonstration is taking place.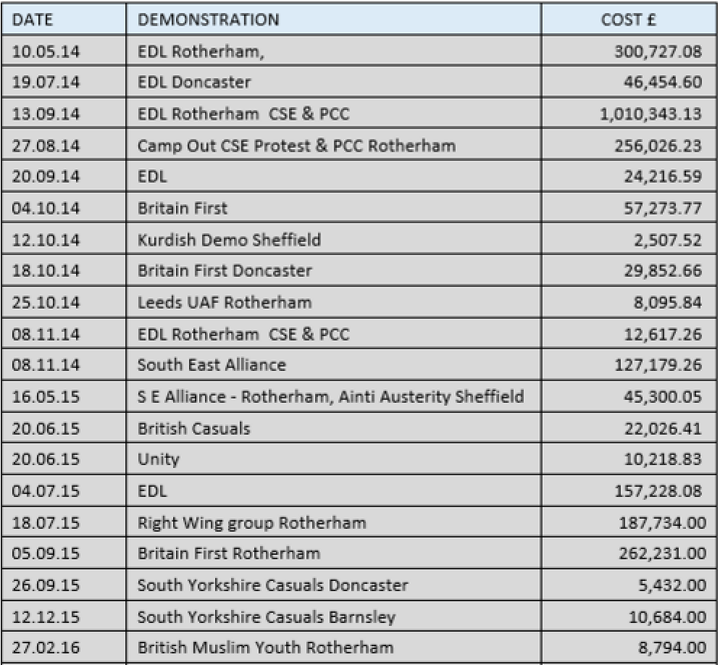 Britain's largest force, the Metropolitan Police, say they do not "routinely cost" such operations and so did not provide the details of their expenditure.
But Bowles estimated that the Met would have spent in excess of £10m to police far-right demonstrations in the two-year period.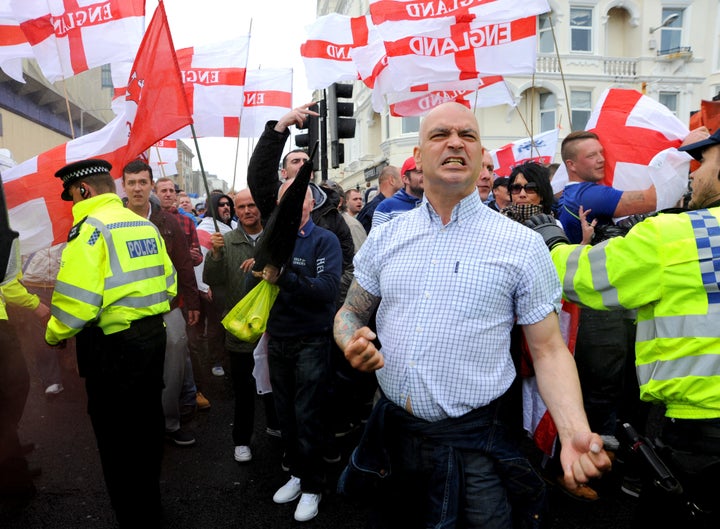 Hope not Hate's Matthew Collins said that the far-right has increased their demonstrations as a way to keep their limited membership engaged because they have little prospect of progressing in democratic elections.
In this month's London mayoral elections, Britain First leader Paul Golding only managed to secure 1.2% of the vote. The group also ran in the London Assembly elections but failed to get any seats.
"They realise they have no electoral potential"
Collins told HuffPost UK: "I think that for too long people have paid too much attention to what they [far-right groups] do online as opposed to what they do offline.
"They're aware of this themselves. They realise they have no electoral potential.
"They realise they have very little sway, they leave very little footprint in mainstream society.
"And so all that's left of them now is these totally, totally pointless demonstrations around the country which they are persisting with.
"People sometimes say 'oh, the far right are growing'.
"They're not. They're just more active and more violent and more dangerous than they ever were.
"And again that might be a contributing factor to increase costs."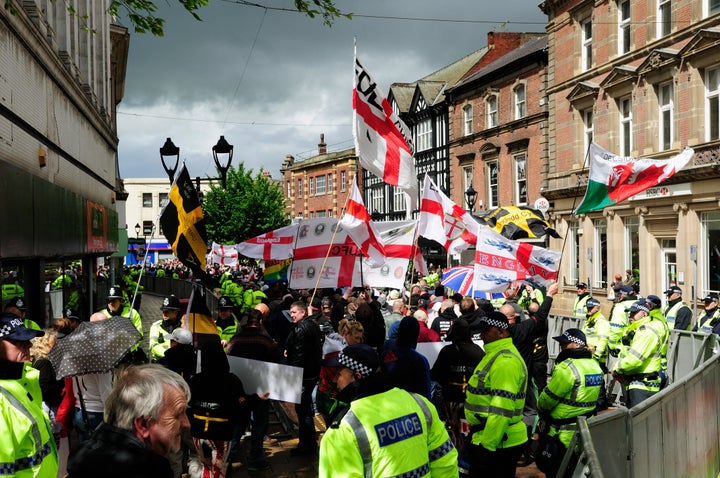 Bricks were thrown between the two sides after it escalated into a violent confrontation as hundreds of police struggled to keep the groups apart.
Some demonstrators were left bloodied and injured and arrests were made, with weapons including a knife, knuckle duster and hammers being seized.
That demonstration cost £49,960 to police.
Collins, who is part of Hope not Hate's investigative team, said that in most instances, aside from Dover and Liverpool, these protests leave "very little footprint" on community relations.
He said: "In terms of community cohesion, these groups don't represent any worrying narrative in mainstream society."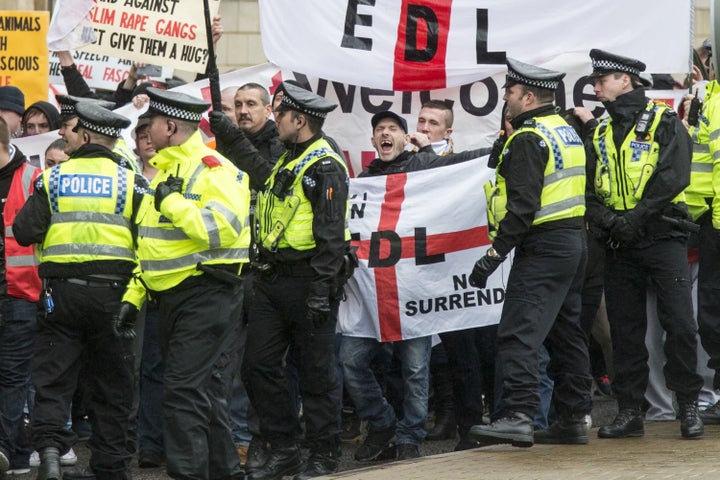 Collins said that taxpayers' money should be spent on policing such demonstrations, but he felt that the police needed to be more prepared in handling them.
He said: "The police don't seem to have a grip on the realistic numbers of people that are travelling, they don't seem to have a grip on who the known troublemakers are or the potential for violence.
"And that is probably one of the reasons why it is such a high bill, but I'm not going to complain about them having a duty of care but you tend to have some police forces that are caught short "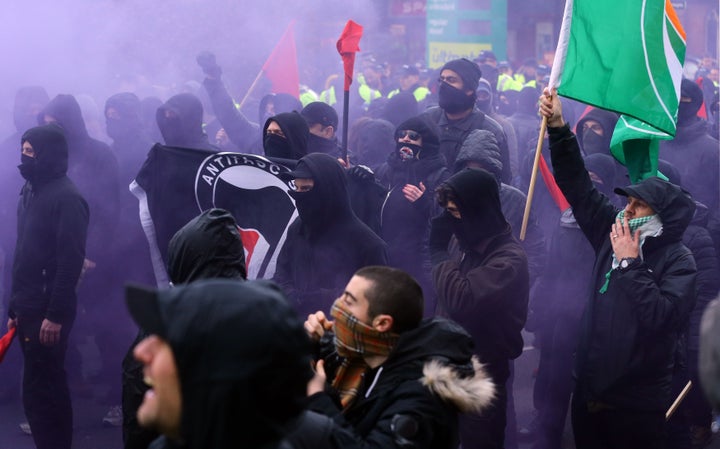 Collins signalled towards the Dover protest as an example of police "losing control".
No demonstrations were held in Dyfed Powys, Humberside, Norfolk, Suffolk, Northamptonshire, Surrey or Warwickshire between January 2014 and February 2016.
In a survey conducted in 2013, people who lived in the West Midlands, East Midlands and Yorkshire and Humberside were the most likely to describe themselves as racially prejudiced.