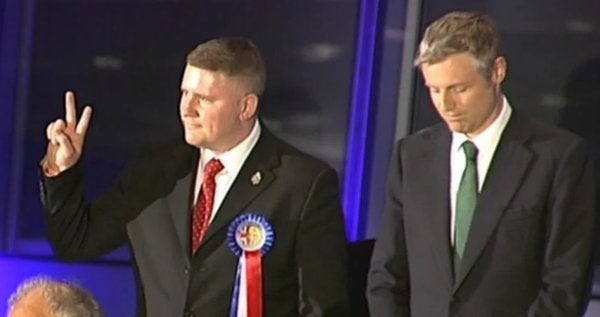 In the first of two awful gestures during the London mayoralty election result announcement, Britain First showed their grasp of electoral maths might be somewhat poor.
Paul Golding, the right-wing party's leader and London mayoral candidate, made a 'V for Victory' gesture after his pitiful haul of 31,372 votes was announced, placing him eighth out of 12 candidates, with only three largely unknown independents and the BNP polling fewer.
In his speech, Khan said Londoners had chosen "hope over fear" in electing him.
Golding's platform for election in one of the world's most diverse cities was to "promote British culture and Christian" and "half immigration and the influx of migrants".
His campaign literature emphasised how he "grew up on a London council estate" - like Khan - and had "confronted hate preachers and terrorists".
Previously, Golding had said they would need around 5% of the vote, to "send shockwaves through the political establishment".
"Immigrants and Muslims have all moved in."
After Golding turned his back on Khan, Britain First posted "ISLAMIC EXTREMISTS NOT WELCOME" to Facebook.
Golding, an member of the BNP, polled nearly three times as many votes as that party's candidate David Furness, who got 13,325.
Khan's election, after a campaign condemned for its "dog whistle" xenophobia, led to #LondonIsFallen to trend on Twitter, as Islamophobes lamented the election of the first Muslim mayor.
But the hashtag was quickly co-opted by people condemning the racism of others.
In his victory speech, Khan said: "This election was not without controversy and I am so proud that London has today chosen hope over fear and unity over division.
"I hope that we will never be offered such a stark choice again. Fear does not make us safer, it only makes us weaker, and the politics of fear is simply not welcome in our city."