Britain First have posted a picture of school children seemingly doing a yoga pose which it said was "heartbreaking" in what appears to be attempt to subtly imply the youngsters were being made to perform a Muslim prayer.
The far-right political party posed a picture of 10 young girls it said were at a British school, sitting upright on foam mats. A second picture showed the group leaning forward to touch their heads on the mat, with their arms outstretched.
A caption on the image read: "A British school. Heartbreaking."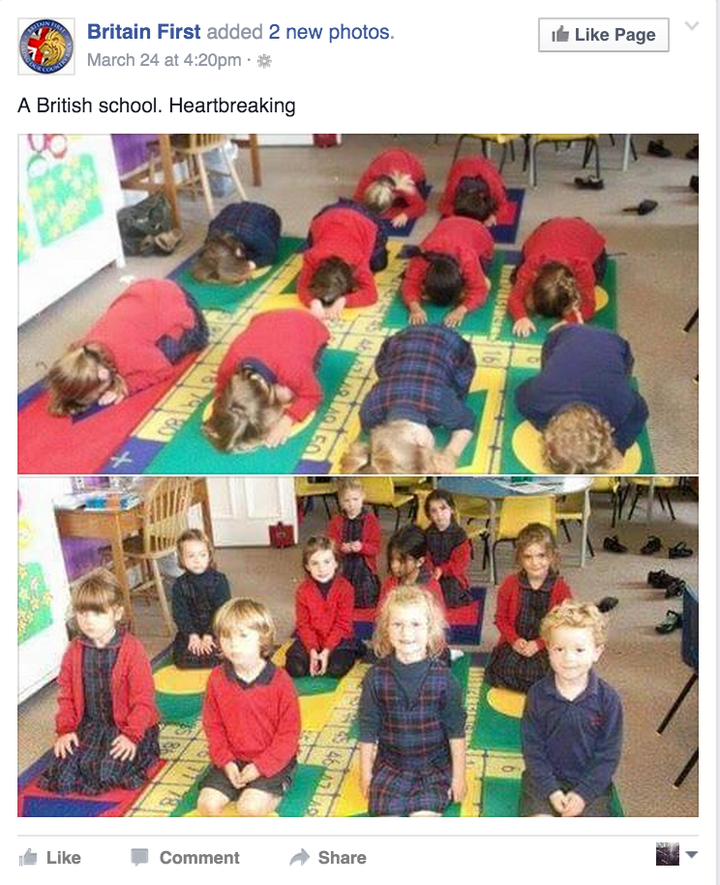 The yoga pose is known as balasana, or child's pose. The position is similar to the final position of the Muslim pray ritual - a move called sajdah - which sees followers place their head, knees and hands on the floor.
The picture has been shared over 1900 times and has prompted 11,000 comments.
While Britain First did not explicitly say what was happening in the picture, the fact it said the image was "heartbreaking" led a lot of their followers to assume it was further evidence of what the party regularly claims is the "Islamification of Britain". Although some commenters suggested the children were either doing yoga, or some sort of relaxation exercise.
Richard Dickinson wrote: "That school should have the headmaster sacked.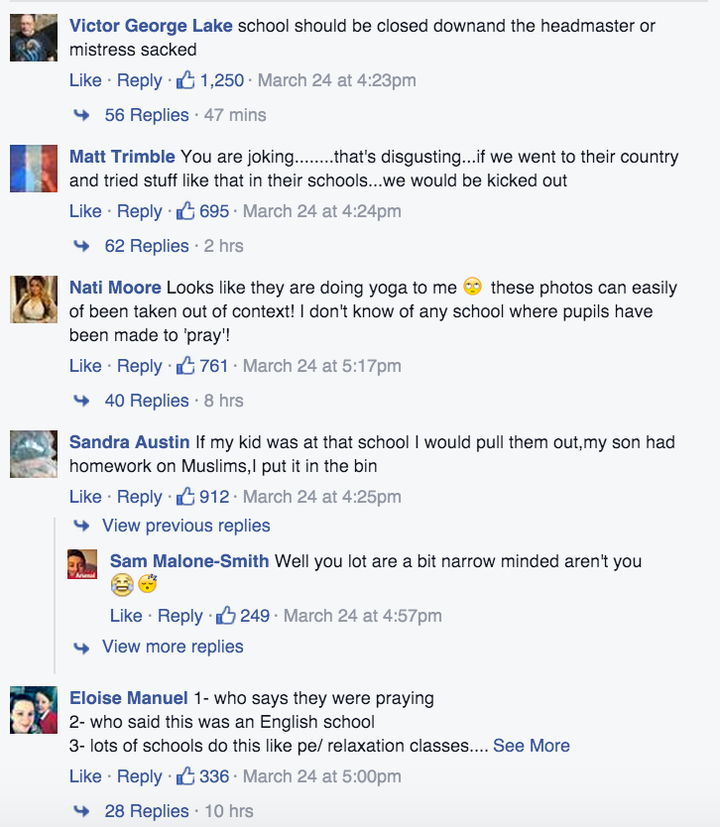 "Islam should not even be mentioned in our schools it's about time we sorted this out this (sic) is Britain we are British not Muslim.
"Get them out of our country. We should have someone like Donald Trump being our Prime Minister."
While some observers were a little more skeptical.
Nati Moore wrote: "Looks like they are doing yoga to me 🙄 these photos can easily of been taken out of context! I don't know of any school where pupils have been made to 'pray'!"
Eloise Manuel posted a series of questions under the image. They read: 1- who says they were praying; 2- who said this was an English school; 3- lots of schools do this like pe/ relaxation classes; 4- if they were learning to pray, they look happy about it.
Noori Akhtar, who said she works at a British school, said she thought the picture illustrated a "typical game of sleeping lions/sleeping bunnies!!!!!!!!! Oh how you love to stir the s***!!!"