A British teenager arrested at a Donald Trump rally after going for a police officer's gun told investigators he wanted to kill the US presidential hopeful.
Michael Sandford, 19, tried to grab the weapon from the officer on Saturday after asking for the Republican candidate's autograph at the Treasure Island Casino in Las Vegas.
He was then said to have been handed over to the US Secret Service who he reportedly told he had been "planning to kill Trump for about a year".
Police added he "decided to act on this occasion because he finally felt confident about trying it".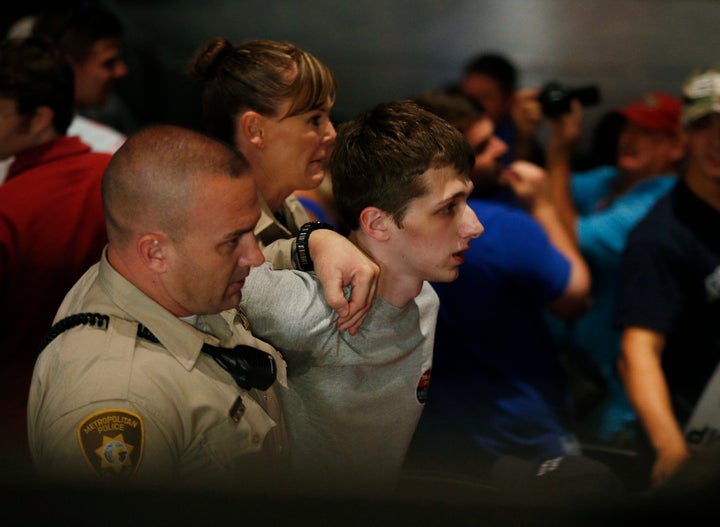 The teenager told investigators he had spent time on a firing range in recent days, and was convinced he would die in the attempt.
The Telegraph reported that Sandford, from Dorking in Surrey, had been a highly intelligent schoolboy who was "obsessed" with the television series Robot Wars. It said the teenager had bought robots which had appeared in the Robot Wars television programme, and rebuilt them for live roadshows linked to the event.
John Findlay, who was behind the television show, told the newspaper that he was "totally shocked" about Sandford's arrest.
The newspaper reported suggestions that Sandford, a former student at Ashcombe School, had suddenly sold up his robot collection in 2014, before moving to America.
Sandford, who was carrying a UK driver's licence, appeared before Federal Magistrate Judge George Foley on Monday charged with an act of violence on restricted grounds.
The justice found Sandford a danger to the community and a flight risk and denied him bail.
Assistant US Attorney Jared Grimmer argued for Sandford to remain on remand as he was unemployed and living in the States illegally with no ties to Las Vegas. He also said Sandford had some "mental health issues".
It emerged during the hearing that Sandford had been living in his car on an expired Visa and suffered from a form of autism.
The British national had lived in Hoboken, New Jersey, for around 18 months and had driven to San Bernardino in California before travelling to Las Vegas on Thursday.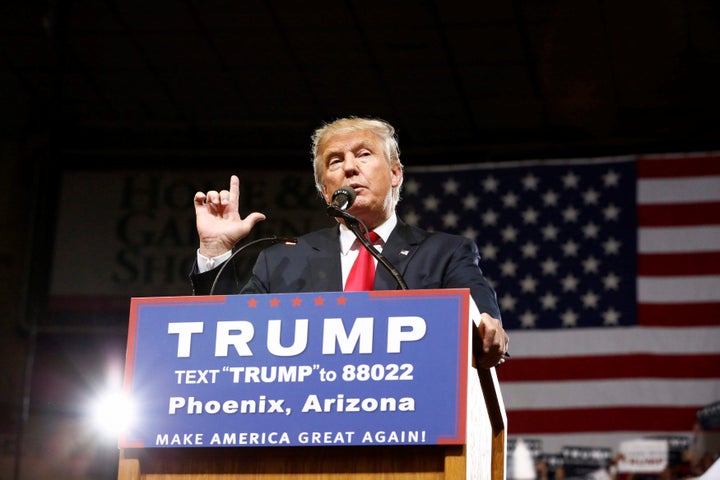 The teenager told police he visited the Battlefield Vegas shooting range on Friday where he fired off 20 rounds from a 9mm Glock pistol to learn how to use it.
On Saturday he went to the Treasure Island Casino where Trump addressed a rally of 1,500 people amid tight security.
After approaching a police officer and asking for an autograph he grabbed the handle of the officer's gun.
A police report filed at the court detailed the incident.
According to the Mirror, it read: "At the rally, uniformed Las Vegas Metropolitan Police Department officer Ameel Jacob was stationed at the rally to assist providing security," said the report.
"An individual later identified as Sandford approached Officer Jacob, stating that he was seeing an autograph from Trump.
"Sandford then attempted to seize the sidearm Officer Jacob by grabbing the holster and handler of the firearm with both hands in an attempt to remove the firearm from the holster.
"Sandford was arrested and on his person was located a United Kingdom Driving Licence."
Police said Sandford claimed he grabbed the officer's weapons as it was the "easiest way to acquire a gun to shoot Trump".
He also reportedly told the Secret Service "if he were on the street tomorrow, he would try this again".
Sandford also told investigators he had a ticket for a Trump rally in Phoenix, Arizona, for later on Saturday as a back-up.
A Foreign Office spokesman said: "We are providing assistance following an arrest of a British national in Las Vegas."
The attempt on Trump's life came just days after MP Jo Cox was killed in Birstall, West Yorkshire on Thursday.