Protesters are set to meet at a south London police station Friday following backlash over the arrest of three charity workers last night.
Police were booed by crowds outside Brixton Underground station about 6pm after arresting the trio who were promoting black literature.
The Met said they were carrying out a pre-planned operation to clamp down on drugs and weapons, when an officer was assaulted.
Members of the public have criticised the arrests, saying the charity workers are often outside the tube and don't cause any problems.
It is understood the stall belonged to Black Child Promotions run by Sulaiman Lee, Noel Kerr and Leonegus Darealest. Lee is believed to be one of the men arrested.
On their Facebook page, the group describes itself as "a black-owned business with the sincere mission to educate the minds, uplift the spirit and liberate the nation of black people.
"We can't afford not to know our history & our current social, economic, physical, mental and spiritual condition on this earth."
Video of the confrontation shows a dispute between one of the trio and a police officer over the stall and whether the group are selling or giving away the books.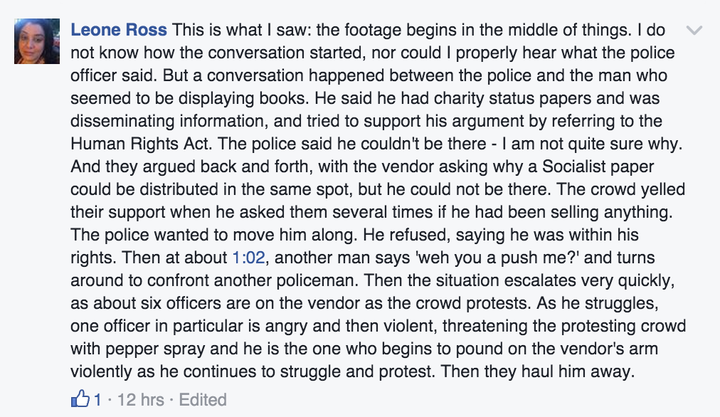 A Met Police spokeswoman said that officers arrested one man on suspicion of assaulting a police officer and that two other men were arrested on suspicion of obstructing a police officer in their line of duty.
The Mirror quoted a Met spokesperson as saying that police were at the station at the part of a "pre-planned operation".
While trying to speak to a "market trader" the spokesperson told the newspaper a number of people interrupted officers from "performing their duties", which led to an officer being injured. He did not require hospital treatment, police said.
In a separate incident police posted a picture of a long knife police confiscated from someone at the station.