Four people were arrested and a knife seized after a fight at the McDonald's in Brixton, south London on Wednesday.
Police said a security guard at the restaurant was assaulted during the fight, to which they were called at around 4pm.
Sgt Richard Cross confirmed the arrests on Twitter, though more details aabout them .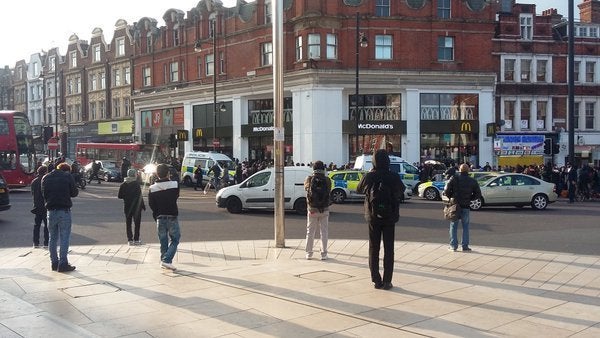 One witness told The Evening Standard that "crowds" of teenagers became involved in an altercation between a teen and a guard at the restaurant.
She said: "Then he made a run for it up Acre Lane and police caught up with him and got him to the ground.
"Then, just a lot of youths got involved and were kicking off, being typically rude and disrespectful to the police as you can imagine.
"Then another youth ran for it, towards Brixton Road again and I think that's what caused the commotion.
"There were just a lot of people kicking off and police had to be called in to help handle the situation."
Chief Inspector Roy Smith said officers would remain in the area.
A police spokesman said: "One man suffered a head injury and has been taken to hospital for treatment - his injuries are not life threatening.
"A knife was recovered at the scene. Officers from Lambeth investigate - enquiries are ongoing.
"Lambeth officers remain in the area carrying out high visibility patrols."
Popular in the Community