A mother has hit back after receiving a negative review for her doughnut store form a customer who claimed she was breastfeeding behind the shop counter.
Megan Zahari co-owns Bronuts in Canada responds to all her shop's reviews and came across the complaint on review site Zomato.
A Zomato user named Lord Igor gave Bronuts a rating of one, writing: "Too much for donuts. They won't last long. Six donuts and a coffee, eighteen dollars. Good luck hipsters, you are going to need it.
"Oh, and the baby being breastfed behind the counter and the dude using his finger to level off my coffee before it was perked were nice touches too."

Contrary to what the user wrote, Zahari said she wasn't breastfeeding behind the counter, but she would defend her right to do so because "breastfeeding within the shop does not affect the hygiene of the kitchen".
"It would be really impressive if I could multitask enough to work behind the counter and feed her at the same time."
Meghan Zahari and her daughter
After the complaint was posted, other users stepped in to defend Zahari breastfeeding.
"Hey breastfeeding isn't disgusting. It is totally natural and the opposite of disgusting," a man named Bradley wrote.
Another woman commented: "There is a time a place for feeding your baby - the time being whenever they're hungry and the place being wherever you may be when they're hungry. Maybe you should try eating with a cover over your head and see how comfortable."
After the comments came flooding in, Lord Igor decided to reply.
"There is a time or place for everything, behind the counter at an eating establishment breastfeeding a child, without a privacy cover, is not only unprofessional, it is unhygienic," he wrote.
"I wouldn't want the little tyke to puke all over the counter and contaminate the area. With that said, if you choose to use my page as a venting ground for non-food-related diatribe, do it elsewhere. Thank you for your input."
Zahari's partner and her daughter
Zahari took to her own Instagram account to respond to how she felt about the comments.
"From the business account, I had to write a nice reply explaining that breastfeeding within the shop does not affect the hygiene of the kitchen (duh), but I wish I could have said many more things...." she wrote.
"I hope those people are, at the very least, grateful for their own mothers' efforts and I hope that next time someone leaves a negative review about me as a business owner, it's actually about my work."
She later posted an update, with a photo of her daughter sitting next to two of her doughnuts.
"The community has been overwhelmingly positive and I think it's the perfect way to drown out a few negative voices," she wrote.
"And to empower all mothers, as I know my story is just one in a million. Thank you for all of your support."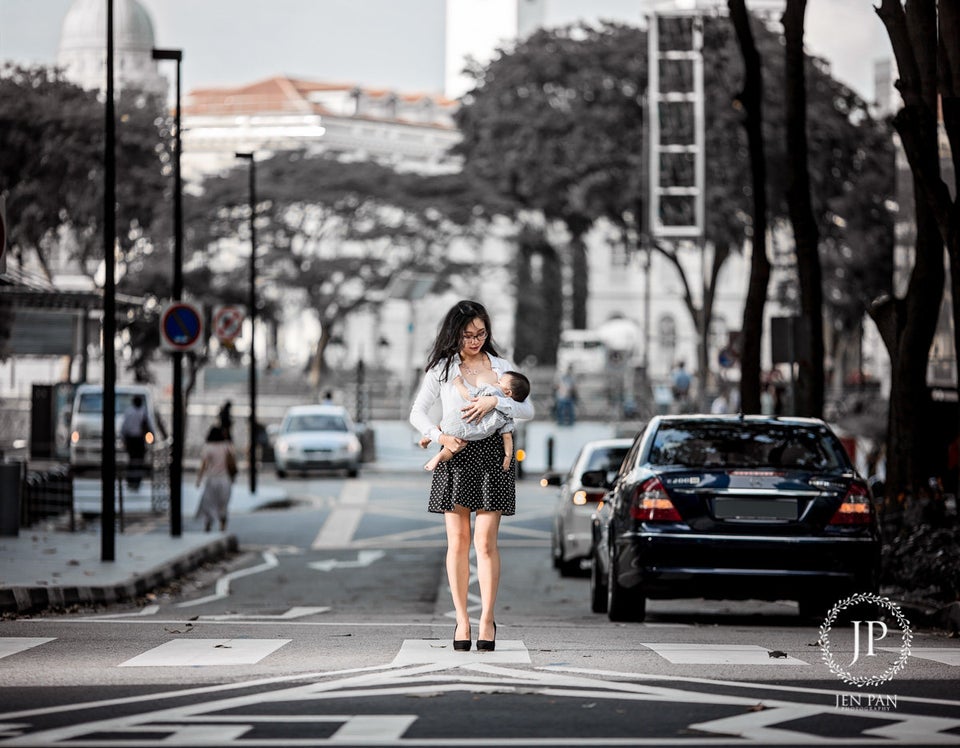 Breastfeeding Photo Series Stands Up For Working Moms