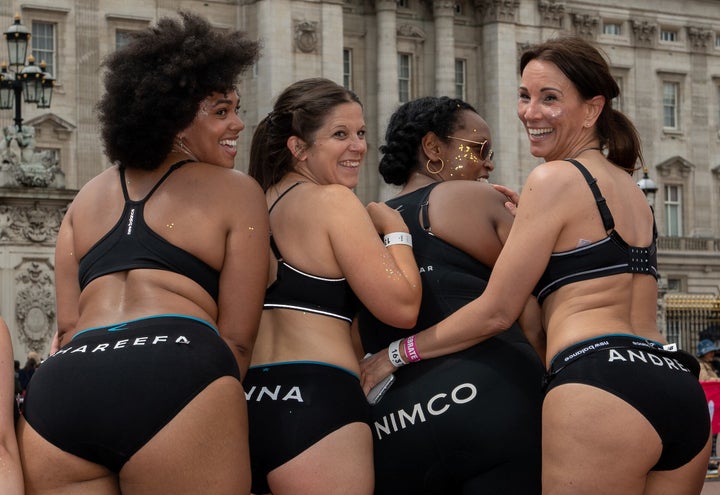 On bank holiday Monday, 700 women came together to run the Vitality London 10,000 in nothing but their underwear – all in the name of promoting body confidence.
Led by journalist Bryony Gordon and mental health advocate Jada Sezer, the group of women joined 19,000 runners taking part in the annual celebration of road running, crossing the line in front of Buckingham Palace.
"It was emotional, really incredible," said Sezer after completing the race. "We just want to show that anyone can do this, whatever their size or shape. People have turned out for us in their thousands. It's amazing.
"It's empowering to show the world that these are our bodies and we are proud of them."
Gordon added: "It was great to do it with so many other women. It was not about getting a time, it's about having fun and showing that we don't need to be ashamed of the way we look."
Last year, Gordon and Sezer ran the Virgin Money London Marathon in their bra and pants to celebrate women's bodies and boost the confidence of women of all ages, shapes and sizes. This year, they decided to turn things up a notch, inviting hundreds of women to run alongside them in their undies – including Loose Women's Andrea McLean and social activist Nimco Ali.
The body confidence run – which was coined 'Celebrate You' – was endorsed by Britain's 2012 Olympic heptathlon champion, Dame Jessica Ennis-Hill, who greeted runners at the finish line some three hours later.
"They are so brave," she said. "I wouldn't run half-naked round my house and they've run round London in their knickers. It's an amazing campaign and so important for women's body confidence. Hats off to them."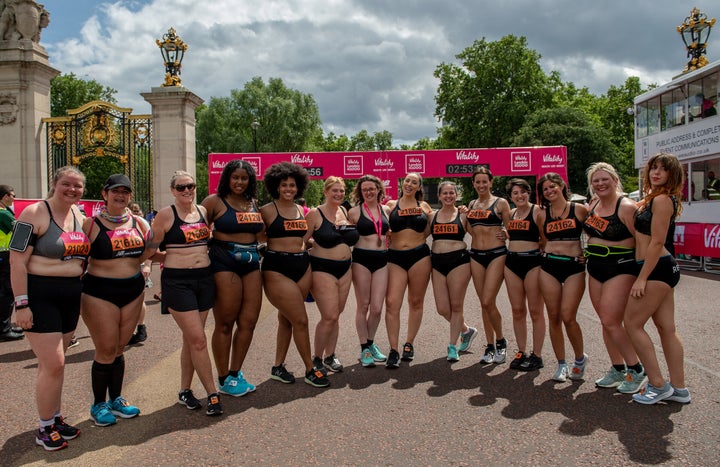 One of the women running was 43-year-old Elaine Starborg, from Kingston upon Thames. She told HuffPost UK: "I am not a born runner, I am very much a curvy gal who doesn't have the speed or pace to run in a quick time. But I am me - there is only one of me after all - and I wanted to celebrate that."
Running in her underwear was "one of the most inspirational and daring activities" she has ever done. "Shouting to the world this is what women look like in the flesh, with no airbrushing or clever make-up, was as liberating as it sounds," she said.
"We went from a bunch of slightly nervous, semi-doubting females to a tribe of proud women doing it not just for ourselves but for all womankind."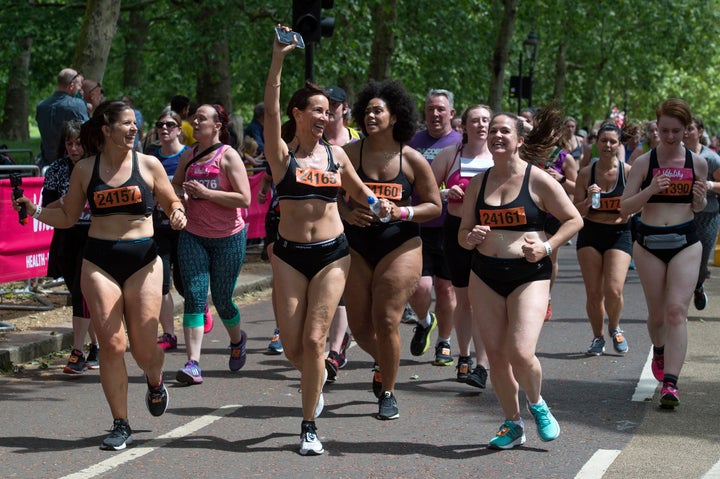 Heidi Gowthorpe, a 26-year-old folk rock musician from Camden, was another one of those who'd been spurred on by Gordon and Sezer's inspiring call. "Twelve weeks ago I couldn't run for five minutes and now I've just run 10K in my underwear. It's beyond awesome," she said at the finishing line.
Despite being asthmatic and not a fan of running, she managed to complete the task in under an hour. "It's so important for us women to take back our bodies and show that we don't all look like supermodels, and that's OK," she said. "It's amazing to see so many of us – all sizes, colours, shapes and sorts."
Meanwhile activist Nimco Ali reflected on the fact that this time last year she was in bed, devastated by her grandmother's death. "Now I just did a 10k in my underwear in an hour," she tweeted. "I ran with incredible women and celebrated ourselves."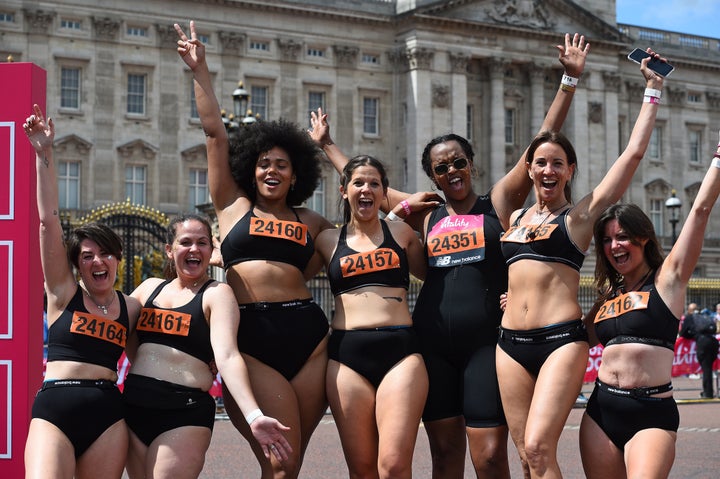 Another runner was 70-year-old fashion designer Esme Young, of the BBC's Great British Sewing Bee, who had designed and printed a set of long white T-shirts featuring black lacy underwear.
"I didn't want to run in my actual underwear but I wanted to make a statement," she said. "This meant I could run in something that really looks like a lacy bra and knickers. I'm not a runner but I walk a lot. I've never done an event like this before but I just wanted to support the campaign."
Starborg, who is director at a social media agency, praised the supporters along the race route. "The support we got was incredible – from runners, marshalls and spectators – and any fear of running my size-14 ass down the Mall and around the city was soon forgotten.
"It was a truly once-in-a-lifetime moment. Today my cheeks hurt from smiling and I can't help but be proud of myself and all the wonderful ladies I met."