Hackers aren't just getting better at cracking your digital security systems, increasingly cheap technology is now making your physical assets more vulnerable to criminals too.
Using a pair of gadgets, that can cost as little as $22, a team of researchers were able to demonstrate just how quickly and simply your vehicle can be targeted, without you having any awareness that it is happening.
In order to demonstrate just how easy it is to break into a stranger's car (without needing a crowbar or smashing any windows) a team of Chinese researchers at the Beijing-based security firm Qihoo 360, recently pulled off the stunt on film.
There are more and more cars on UK roads that rely on keyless entry systems, and fob devices, to keep them safe.
But by using a simple radio relay gadget, thieves are able to spoof the wireless signal from your car key and convince your car that you are standing next to it.
Rather than trying to crack the code, they just copy it, then transmit it via radio.
And this style of attack, which automakers are aware of, doesn't just allow hackers to break into the car, but also to drive it away.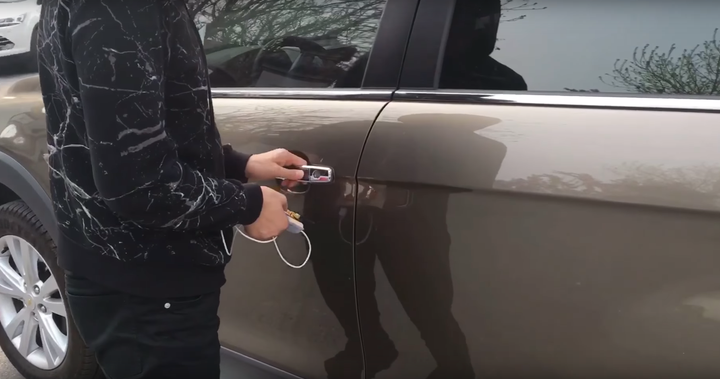 Researcher Jun Li, told Wired: "You're working in your office or shopping in the supermarket and your car is parked outside. Someone slips near you and then someone else can open up and drive your car. It's simple."
Showing their results at the 'Hack In The Box' conference in Amsterdam, Li explained that the devices used by his team significantly multiply the radio attack's range and allows them to steal cars parked more than a thousand feet away from the owner's key fob.
Back in August, it was announced that hackers could wirelessly unlock practically every Volkswagen, excluding the latest models, built since 1995, due to vulnerabilities in the keyless entry system.
Again, the attack only relied on a cheap and common piece of radio hardware, which clones a victim's key fob by intercepting its signals and then tricks the car into believing it is the owner operating it.