Catalonia's parliament has passed a motion to establish a new republic independent of Spain.
Hundreds of people reacted with jubilation outside the regional parliament in Barcelona on Friday but Spain moved quickly in its uncompromising respond to efforts to break away.
In retaliation the Spanish government sacked Catalonia's cabinet, Prime Minister Mariano Rajoy said, with elections to take place on December 21 in a bid to draw a line under Spain's worst political crisis in 40 years.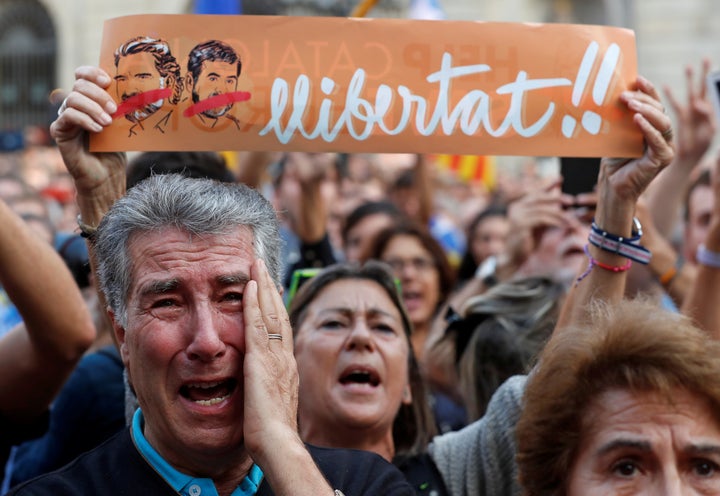 "We believe it is urgent to listen to Catalan citizens, to all of them, so that they can decide their future and nobody can act outside the law on their behalf," Rajoy said in a televised speech on Friday evening.
The independence motion was passed in the 135-member assembly with 70 votes in favour, 10 against and 2 blank ballots, the assembly's speaker said.
Catalan leader Carles Puigdemont left the chamber to shouts of "President!"
Lawmakers from the Socialist Party, the People's Party (PP) and Ciudadanos had left the chamber before the vote in protest.
Britain will not recognise the Catalan parliament's declaration, Downing Street has said.
"It is based on a vote that was declared illegal by the Spanish courts," a statement said. "We continue to want to see the rule of law upheld, the Spanish Constitution respected, and Spanish unity preserved."
After the vote, those that remained in the chamber for the vote sang the Catalan anthem.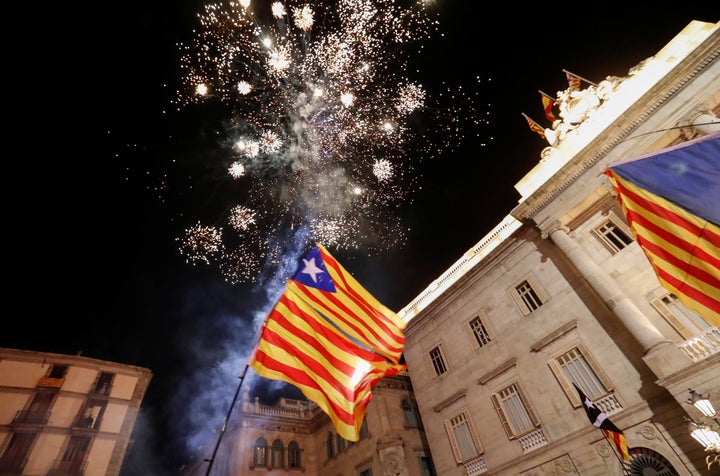 A huge crowd watched the session on giant screens and burst into celebration and popped champagne when the vote was carried.
Pro-separatists groups put out calls to arms for supporters to flood the streets, amid fears of police retaliation against Catalonia's leader.
Rajoy called for calm in a tweet posted minutes after declaration.
"I ask for calm from all Spaniards. The rule of law will restore legality in Catalonia," he wrote.
Spain's Senate approved Article 155, the law that allows the central government to take over the autonomous region. It has never been used before.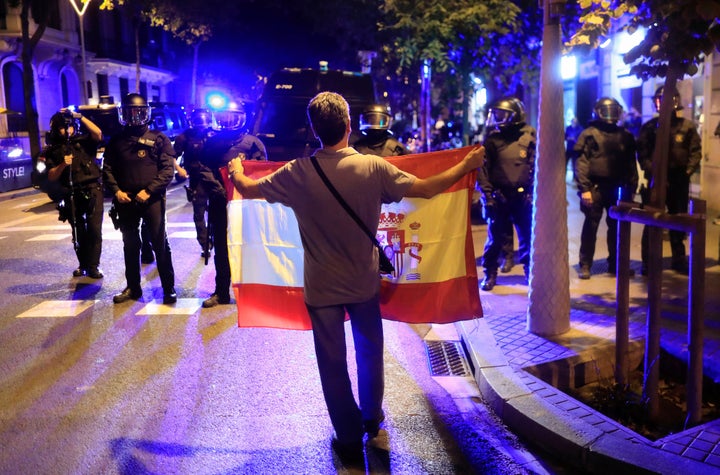 "Exceptional measures should only be adopted when no other remedy is possible," Rajoy told the Senate.
"In my opinion there is no alternative. The only thing that can be done and should be done is to accept and comply with the law."
The Catalan leadership was ignoring the law and making a mockery of democracy, he said.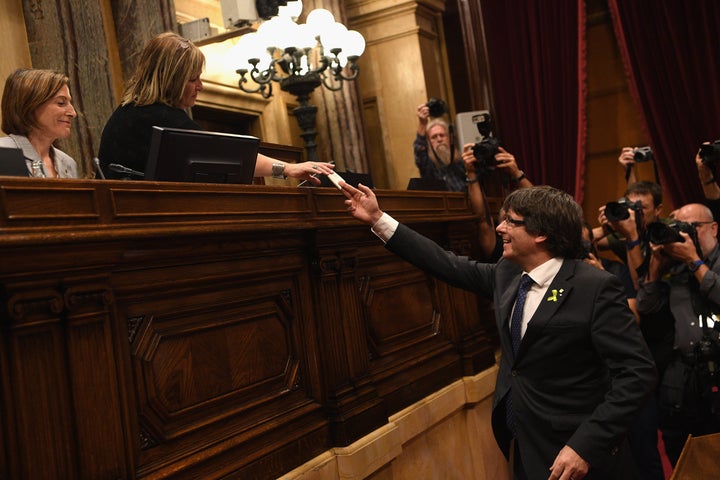 "We are facing a challenge unprecedented in our recent history," said Rajoy, who has staked out an uncompromising position against Catalonia's campaign to break away from Spain.
Rajoy is now expected to convene his cabinet to adopt the first measures to govern Catalonia.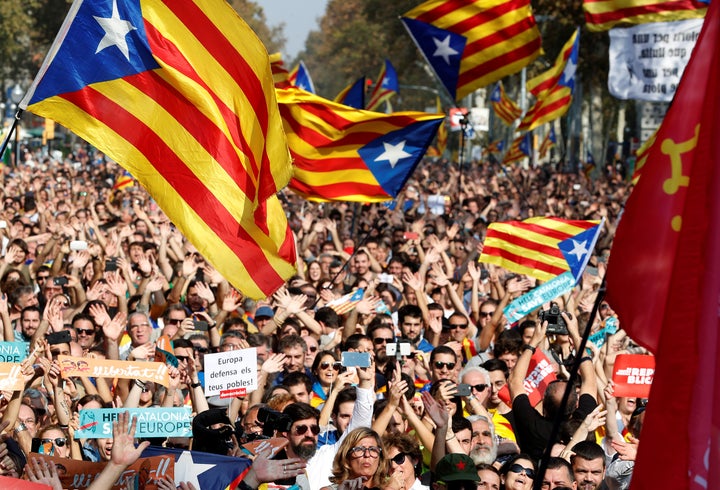 European Commission president Donald Tusk tweeted nothing had changed for the EU, which has maintained the issue is an internal matter for Spain.
"Spain remains our only interluctor," he said and added, in an apparent reference to police violence that marred the October 1 referendum, that he hoped Madrid "favours force of argument, not argument of force".
The Catalan Parliament's motion called on other countries and institutions to recognise it the region as a new nation.
It also said it wanted to open talks with Madrid to collaborate on setting up the new republic.
"It is not going to be easy, it is not going to be free, it is not going to change in a day. But there is no alternative to a process towards the Catalan Republic," lawmaker Marta Rovira of the Junts pel Si pro-independence alliance said in a debate leading to the vote.
Germany said on Friday it supported the Spanish government in its dispute with separatists in Catalonia and would not recognise the vote.
Government spokesman Steffen Seibert said Berlin viewed the escalation of the situation with concern, noting that the unilateral declaration of independence violated the principles of sovereignty and territorial integrity of Spain.
The US State Department has said Catalonia "is an integral part of Spain" and it backs the Spanish Government's measures to keep Spain united.
Related