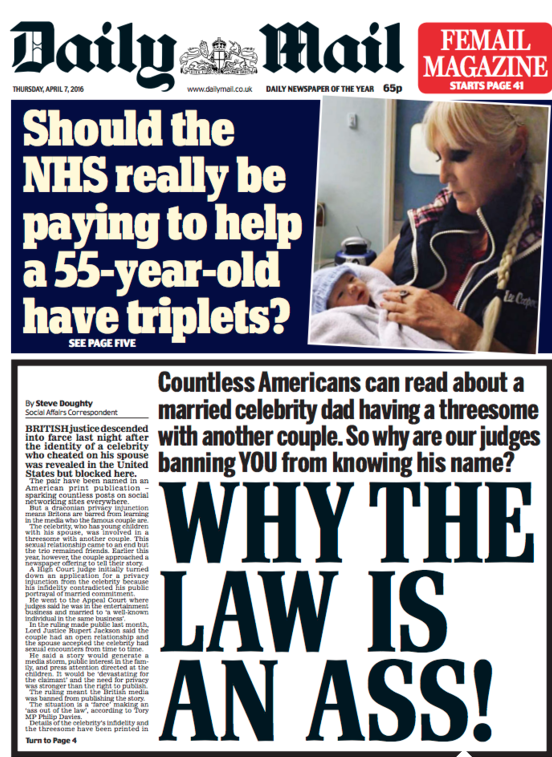 Labour shadow cabinet minister Chris Bryant, who was previously shadow culture secretary, told the BBC: "It seems the press were quite deliberately holding a sword of Damocles over John Whittingdale.
"He has a perfect right to a private life but as soon as he knew this he should have withdrawn from all regulation of the press."
Evan Harris, the Joint Executive Director of press regulation campaign Hacked Off, suggested it was suspicious that newspapers didn't cover the Whittingdale relationship "despite the fact that tabloid editors don't even need a single public interest justification, subjective of otherwise, to run these sorts of stories... Even though there are several public interest justifications, which their lawyers would have told them it was ok, they didn't run."
Yet, he added on the BBC's Today programme: "When there's a judge saying there's no public interest in discussing this celebrity threesome where there's an injunction, there's a front page of the Daily Mail demanding the right to publish it."
Many were keen to compared the two cases:
Whittingdale though has pointed out that was not a minister at the time of the six-month relationship in the escort, and was not aware the woman was a sex worker.
Editors, journalists and media law experts have claimed Whittingdale's relationship was simply a "non story".
Media expert and Guardian columnist Roy Greenslade added on told BBC Newsnight that: "It's pure speculation that the newspapers have conspired to keep out this story.
"Newspapers have decided that they will try and get a story, they've investigated the story and discovered there isn't a story that they can justify publishing."
Former tabloid editor Neil Wallace, who edited The People and deputy edited the News of the World, told The Today programme that there the press simply didn't cover Whittingdale's relationship because "on the bottom line, what we have here is single man dated single woman before he was a minister. What you saw here, is press regulation works."
When Today presenter Nick Robinson asked him why tabloid editors didn't cover the story, Wallis hit back that the BBC had been attacking newspapers for breaking privacy for years but: "Now, you have Hacked Off, some nut-job conspiracy theory website, and the BBC, all joining together to attack the press not revealing that a single man, who was not a minister at the time, had a relationship with a woman he didn't know was a dominatrix."
Aside from Whittingdale's relationship being a "non story", Dominic Ponsford, editor of Press Gazette, questioned why the judge in the celebrity threesome couple had granted an injunction at all, given that the celebrities in question have spoken publicly about their "open" marriage.
"A line on privacy has to be drawn somewhere," Ponsford wrote, "And I don't think many in the UK media would argue that intimate sexual details should be revealed.
"But I think there is a strong case for arguing.. that a court should only use its power to gag all concerned in extreme circumstances.
"The Court of Appeal said it was concerned for the welfare of the married famous couple's children. And perhaps there is some detail which will come up at the full trial which will explain why this story has the potential do such harm to them.
"But one has to wonder what the issue is if the pair have already been clear about the fact that they have an 'open' marriage."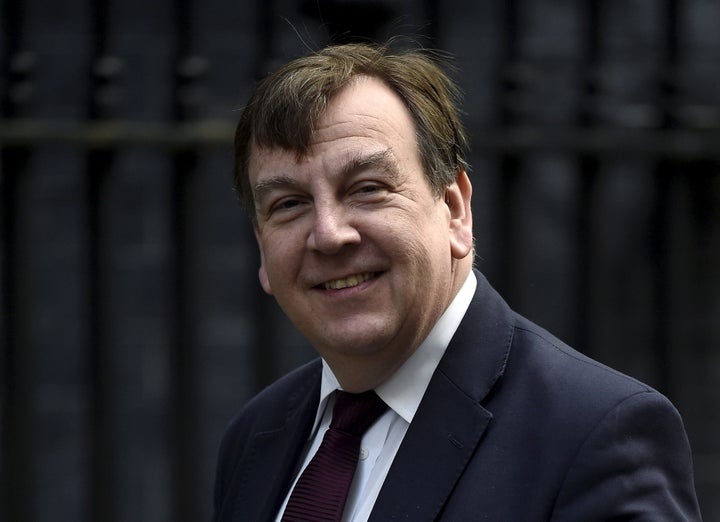 But Brian Cathcart, a founder of the Hacked Off campaign, called for readers to be "skeptical" of why the press didn't publish the Whittingdale story, claiming it was "once pure speculation that newspapers hacked phones."
He added that the idea that newspapers wouldn't want to "tackle [Whittingdale] on this" when he became culture secretary was "naive".
He said Whittingdale had made three "vital decisions" as culture secretary that were favourable to the press.