A body found on a Brooklyn beach earlier this week had feet that were encased in hardened concrete - an execution method best known from Hollywood films and crime novels.
Crime writers have since speculated that the case of Peter Martinez "cement shoes" killing may be the first documented real-life example of the underworld body disposal trick. The New York Times went as far as calling "cement shoes" the unicorn of true crime, in that they are often described, but seldom seen.
Martinez was a known gang member, better known Petey Crack, and according to his girlfriend, owned "a lot of money".
"This individual was wrapped in plastic bags and his arms were tied behind him and his feet were submerged in concrete," Detective Robert Boyce said in a press conference, adding that it was an "obvious homicide".
Martinez was found washed-up by a college student on Monday. According to the Times, his head was wrapped in duct tape and his feet, and legs up to the shins, were set in cement inside a five-gallon bucket.
Investigators from New York's Office of the Medical Examiner are still determining the cause of death, and if the cement was affixed to Martinez's body before or after his murder.
But whoever did it failed to wait for the cement to fully dry, according to reports, as it was filled with air bubbles. This haste, it has been suggested, may have caused the body to come to shore.
Although part of criminal folklore, cement shoes, or leaving someone "swimming with the fishes", is a murder-method that is very rarely uncovered.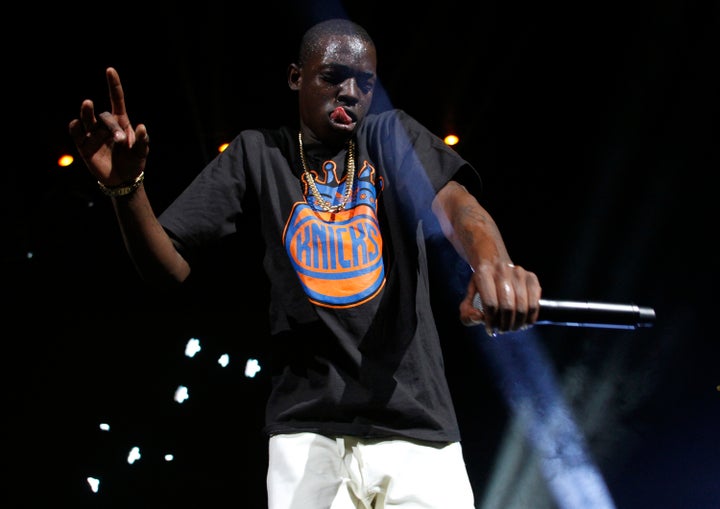 The last known example, which was similar, was over 50 years ago. It involved Ernest Rupolo who was found in New York's Jamaica Bay with two concrete blocks tied to his legs.
In the opening pages of E.L Doctorow's 1989 novel, "Billy Bathgate", a character, barefoot, "delicately, gingerly, placed one foot at a time in the laundry tub in front of him that was filled with wet cement".
As another example of the phenomenon, the Times wrote how a juror was dismissed at the 1987 trial of John Gotti after relating what a boyfriend had once told her: "If you do anything wrong, I'll get the Mafia after you. You'll be wearing cement shoes."
Shmurda was arrested in 2014 on a string of weapons and drug charges and remains in custody, with bail set at $1.3 million.
Related