Terminally-ill Charlie Gard whose treatment sparked a series of highly-emotive legal battles, has died, his parents have announced.
He was just seven days shy of his first birthday when a spokesman for Chris Gard and Connie Yates announced his death on Friday.
In a statement, his mother said: "Our beautiful little boy has gone, we are so proud of you Charlie."
The family of Gard has been sent "heartfelt condolences" from Great Ormond Street Hospital (GOSH), where he was treated.
He was born on 4 August 2016 with mitochondrial depletion syndrome, a rare genetic disease which left him brain damaged and unable to breathe or move his limbs unaided.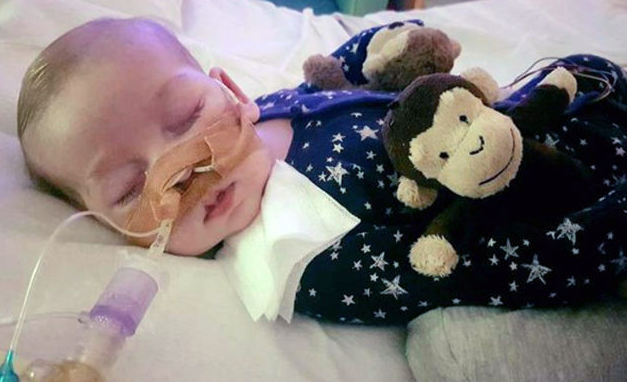 Charlie had been treated at GOSH in London, where doctors said he was in pain and that further treatment would only increase his suffering. They sought permission from the courts to switch off his life support and allow him to die peacefully.
Gard and Yates resisted, arguing that an experimental treatment available in the US could extend and improve Charlie's life.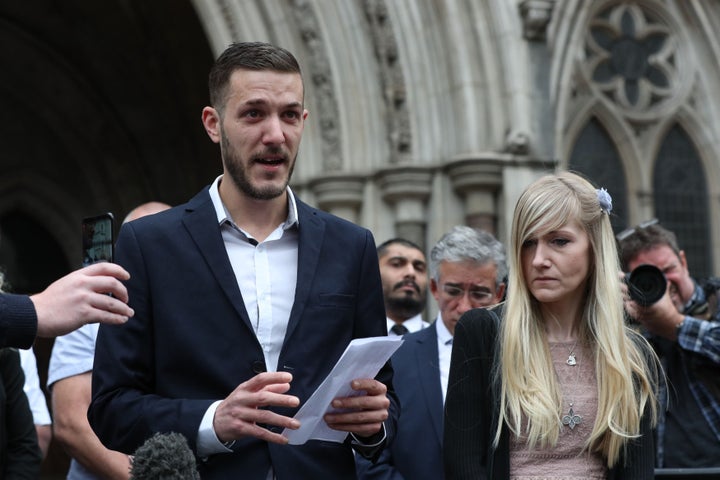 The case gained international attention after Charlie's parents received support from Pope Francis, Donald Trump and some members of the US Congress.
The judge ordered that the name of the hospice and the time at which Charlie would go there will not be made public.
Here's how the fight for Charlie Gard unfolded:
2016
4 August: Charlie Gard is born at full term and at a healthy weight.
September: At eight weeks old, Charlie is diagnosed with a rare inherited disease – infantile onset encephalomyopathy mitochondrial DNA depletion syndrome (MDDS). It causes progressive muscle weakness and brain damage. His parents had taken him to a doctor after noticing he was less able to lift his head and support himself than other babies of a similar age. Charlie is only the 16 person in the world ever to have been diagnosed with the condition. Both his parents were found to be carriers of a faulty gene.
11 October: Charlie is transferred to GOSH for children in London. By this point his breathing is shallow and he is lethargic.
2017
January: A crowdfunding page is set up to help finance trial therapy in the US after Yates finds an American doctor willing to offer her son a trial therapy treatment called nucleoside.
3 March: GOSH asks High Court judge Mr Justice Francis to rule that life-support treatment for Charlie should stop. GOSH's position was every day that passed was a day that was not in his best interests.
2 April: Charlie's crowd funder meets its initial fundraising target of £1.2m.
11 April: The judge responds by saying doctors can stop providing life-support treatment after considering the case at a hearing in the family division of the High Court.
22 April: Supporters gather outside Downing Street to light candles and show their support for Charlie's parents. More than 100,000 sign a petition calling on Prime Minister Theresa May to help release Charlie from GOSH.
25 April: MP Ruth Cadbury speaks in the House of Commons and pleads with the Justice Secretary to intervene.
3 May: Charlie's parents ask three court of appeal judges to consider the case.
25 May: The judges uphold the High Court's ruling that Charlie's life-support treatment should end.
8 June: Three Supreme Court judges dismiss a further challenge by Charlie's parents.
27 June: Charlie's parents lose their final appeal with the European Court of Human Rights after judges refuse to intervene.
30 June: It is reported that Charlie's life-support is due to be switched off, but his parents say GOSH has agreed to give them more time to "say the final goodbye."
2 July: Demonstrators gather outside Buckingham Palace to protest against the decision to allow Charlie's treatment to be withdrawn.
2 July: Head of the Catholic Church Pope Francis issues a statement calling for Charlie's parents to be allowed to "accompany and treat their child until the end."
3 July: US President Donald Trump tweets: "If we can help little #CharlieGard, as per our friends in the UK and the Pope, we would be delighted to do so."
4 July: Bambino Geus, the Vatican's children's hospital in Rome, offers to take Charlie in.
7 July: GOSH says it has applied to the High Court for a fresh hearing in light of claims of new evidence relating to Charlie's treatment.
9 July: Charlie's parents join a demonstration outside GOSH, delivering a petition of more than 350,000 signatures calling on doctors to allow him to go to the US.
10 July: Charlie's parents return to the High Court and ask Mr Justice Francis to carry out fresh analysis of the case.
17 July: New York neurologist Dr Michio Hirano travels to London to examine Charlie and discuss the case with GOSH doctors. Dr Hirano had earlier claimed there was a 10 per cent chance of significant improvement in Charlie's muscle use with the treatment known as nucleoside therapy, though he conceded it had never been tried on a human with Charlie's exact condition and no tests had ever been done on mice to see whether it would work on a patient like Charlie.
21 July: GOSH lawyer says new scans make for "sad reading."
22 July: GOSH announces staff have been receiving abuse and death threats over the case. Police are contacted.
24 July: Gard and Yates abandon legal battle to take him to the US for experimental treatment. In a tearful speech outside court, Gard said too much time had been wasted in the bid to get Charlie the right care and that they had decided to let the 11-month-old go and "be with the angels."
July 28: Charlie Gard's parents announce he has died.