Christine Shawcroft has resigned from Labour's National Executive Committee following the latest anti-Semitism row to hit the party.
In a statement, the Labour official, said: "It has been a privilege to serve on the Labour Party national executive committee for the last 19 years, and I was standing down in September in any event. I have, however, decided to resign with immediate effect.
"It is clear that my continued membership of the NEC has become a distraction for the Party and an excuse for endless intrusive media harassment of myself, my family and friends."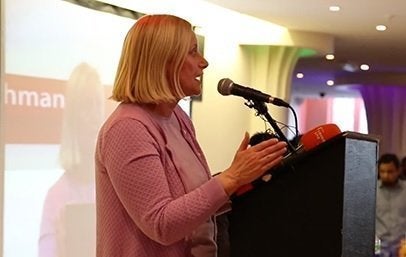 She added: "I reaffirm my complete opposition to anti-Semitism and my abhorrence of Holocaust denial, and support all measures to tackle this within the party.
"And I pledge my full energy to securing for our country the Labour government under Jeremy Corbyn that it so desperately needs."
She will be replaced by comedian Eddie Izzard, who she beat to the position in the last election.
Shawcroft – who has already resigned as chairman of the disputes panel – has been under pressure to quit her post on the NEC after it emerged she opposed the suspension of a council candidate accused of Holocaust denial.
She said she would not have sent an email calling for the candidate to have his suspension lifted if she had been aware of all the facts in the case.
Shawcroft, an ally of Jeremy Corbyn, said she had not seen the "abhorrent" image posted on Facebook when she made the request.
Corbyn had been urged to suspend her from the NEC over the incident.
Wading into the on-going anti-Semitism row, the businessman and 'Apprentice' tycoon shared a doctored image of the two men together carrying the caption: "When you're pictured at Nuremberg and claim you were going to a car rally."
Writing his own comment, Lord Sugar said: "Many a true word spoken in jest Corbyn."
He later deleted the post and apologised.
Darren Williams, who sits on the National Executive Committee (NEC), retweeted a new statement by the Welsh equivalent of Momentum that suggests claims of Jew hatred in Labour are "inflated" and designed to damage the party ahead of the May local elections.
Welsh Labour Grassroots, of which Williams is secretary, said in its statement that there are only "a few individuals with anti-semitic ideas" in the party and argues that those who make false accusations should themselves be subject to disciplinary action.