Christmas cards are back in our letterboxes. The volume of cards we're sending to friends and family has skyrocketed in 2020 – and industry experts predict this burst of festive correspondence is here to stay.
More than half of Brits (55%) believe that sending Christmas cards to loved ones is more important than ever, according to research by the Royal Mail.
One in 10 (11%) UK adults said they plan to send up to 10 more Christmas cards this year than they usually do, as a direct result of lockdown restrictions.
And in a year like no other, it seems the traditional round-robin is having a resurgence – because a hastily scrawled message simply won't do.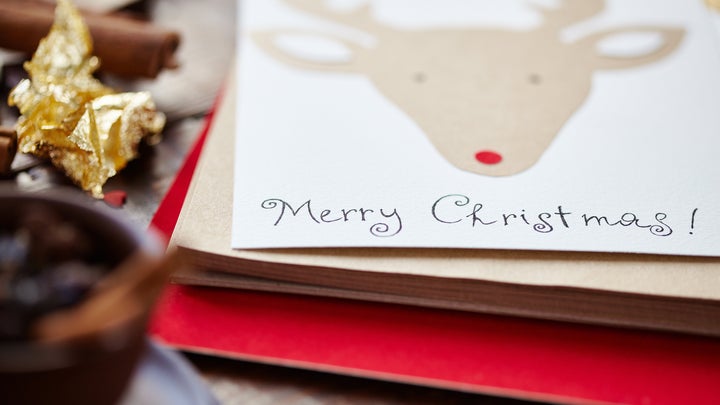 Rebecca Hastings, who wrote an article for HuffPost about creating new festive traditions this year, is among those who are joining the big card send.
"I've never sent them before, but this year, with not much else to do, I decided to try making my own," she said. "The process was so lovely and therapeutic that I've already decided to make it a yearly ritual – getting all the bits in from Hobbycraft, lighting a festive candle, blasting Mariah Carey and spending a peaceful evening at the kitchen table, doodling and folding and sticking."
Social media is also full of people talking about sending cards for the first time in years – or the first time ever.
There's been a "huge upturn in general card sending this year" as people find ways to keep in touch remotely, says Amanda Fergusson, CEO of the Greetings Card Association. That's also translated into Christmas card sales in the UK.
"We've had members selling Christmas cards all year, practically," she tells HuffPost UK. "We saw retailers putting Christmas cards out when people started to ask for them as early as August, which never usually happens."
Some retailers are scrambling to re-order cards stocks because supplied have sold out, she says. "People aren't able to meet up with loved ones and obviously this time of year, people are thinking about close family and friends. A Christmas card is a tangible way of keeping in touch," says Fergusson.
"There's nothing nicer than seeing familiar handwriting on an envelope on the door mat and seeing an image and wording that's been chosen specifically to reflect your relationship with a loved one. It's very special and it creates a very powerful connection. People love receiving cards and sending them, too."
The increase in card sales may have been boosted by our renewed sense of community during the pandemic, Fergusson speculates. "So many people send cards to neighbours they don't even know, then report getting cards back."
The Royal Mail research also uncovered that young people are pushing sales; 15% of 18-24 year olds said they will be sending more Christmas cards this year, compared to just under one in 10 (8%) of those aged 55 plus.
Younger people have been sending more post in general over the past three years, says Fergusson. "We think it's because of social media, so people are more likely to see if someone is having a tough time or feeling down."
There's also a precedent for our fondness for post during times of adversity.
"During the second world war, the government actually declared greeting cards essential to the war effort, because of the positive effect they had on morale," says Fergusson.
"The British send more cards per person than any other nation and we also lead the world with innovation and design. We export greeting cards across the world. Greeting cards are a big British thing – and they're clearly here to stay."