Christmas is supposed to be the most wonderful time of the year, but it's also the most wasteful. From irresponsibly discarded Christmas trees to all those unwanted presents – bought, given, then promptly discarded. And the food.
According to a 2017 study, Brits throw away 54 million platefuls of leftovers, bin some 108 million rolls of wrapping paper, and fill almost 100 million black bags with packaging from toys and gifts over Christmas. But we can change that.
For many, being eco-friendly has taken a backseat during the pandemic, as our streets, beaches and waterways have been hit by a tidal wave of Covid-related waste, including disposable face masks, plastic gloves, and sanitiser bottles.
Having a green Christmas might be the last thing on our minds, especially when we're still figuring out how to pick and choose our Christmas bubbles. However, there are ways we can celebrate the season and reduce our environmental footprint without scaling back on our favourite traditions.
From shopping smartly to gifting mindfully and thinking about traceability, here's how we can all do our bit.
Shop smarter, shop locally
"The origin of food is sadly something yet to fully trickle into people's consciousness, but it's shifting," he explains. "We've seen people move towards local independent greengrocers, buying direct from farmers and opting for veg box schemes. People were already thinking about those sorts of things, but Covid-19 tipped them over the edge, and especially with Brexit around the corner, that's going to be something increasingly on the agenda for next year."
There's almost nothing sorrier than scrambling around a crowded supermarket, fending off the rest of your neighbourhood for that last coveted turkey. Ditch the stress of the last-minute supermarket dash. You'll not only save yourself time and energy, but also avoid mass-produced food that's been sitting around in distribution centres before reaching your plate. Not what you want for your festive feast, aka the best-meal-of-the-year, right?
And if you do visit a supermarket, consider some of the vegan and veggie options. The likes of Sainsbury's, Marks and Spencer, and Iceland are all putting out their biggest and tastiest plant-based festive ranges yet.
Meanwhile, Waitrose and John Lewis have followed through on their 2019 pledge to ditch glitter from single-use Christmas products. "All own-brand cards, crackers, wrapping paper, gift bags are now 100% glitter-free," a spokesperson says. "Glitter is made up of tiny pieces of plastic, and when washed off, they can end up in water where they never break down."
Morrisons has also pledged that it will be going glitter-free, removing 50 tonnes of plastic from its shelves ahead of the festive season. Tesco says it will scrap more than 20 million pieces of single-use plastic from its Christmas range – including crackers, lights, cards, and the packaging for puddings.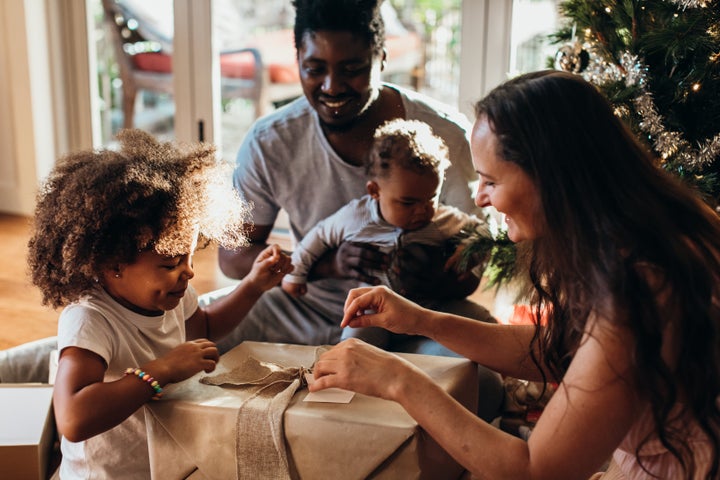 Gift less, give better
Giving less means not contributing to the vicious cycle of cheap and disposable items destined for landfill. Say no to pointless presents and don't bundle up on gifts either. Tempting as it may be to add on a few little extras here and there, it makes for a better experience to give one, well-thought-out present.
"Gifts can be more sustainable if they've been used already, like something from your local vintage store or Christmas market full of handmade gifts," says Honor Cowen, retail sector lead at global sustainability consultancy, Anthesis. "Take time to think about your options. Would your relative prefer a gift or an experience?"
While we've had it drilled into us that Christmas gifts must sit under the tree for Christmas cheer, tickets or experiences can be just as meaningful, if not more.
"There's this idea of a 'non-physical presence' and we're seeing an uptick in people opting for experience gifts such as restaurant vouchers, pre-booked days out or massage vouchers," Hunt agrees. "It's less about having an actual item these days and more about being in the moment and being together."
Tempting as it is to go out and buy all-new shiny things, sometimes we have everything we already need to decorate our house with sparkle and delight.
Almost anything can be given a new lease of life or lick of paint – and if you've got kids, you can make it a family activity to wile away those lockdown hours.
Be sure to store stuff to be used again and again for years to come. Except perhaps for the tree. "A controversial topic, but a real tree has a smaller carbon footprint than a plastic one," Cowen says. "Crucially, it's bio-degradable."
There are plenty of options, whether you're renting a tree, clinging on to that old plastic one for years, or opting for a freshly cut spruce – just check the seller. And when you're done with a real tree, donate to your local council to recycle or turn into compost or wood chip mulch, rather than dumping it out in the street.
Then there's wrapping and cards, which tend to be most wasteful element, as they're torn off or read once, then headed straight for the bin. "Wrap your gifts in left over newspaper or re-use paper and boxes from the rest of the year," Cowen advises. "Shoeboxes can always be decorated. A re-used ribbon will go a long way in the presentation of your presents! Plus, cards – who appreciates them? Who'd rather have a personal text with a goofy photo or an email?"