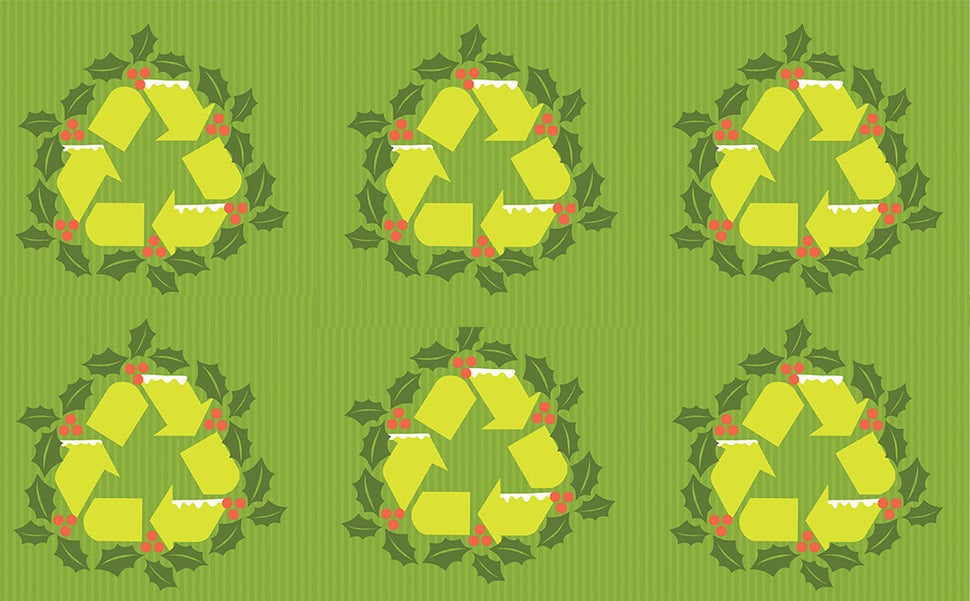 Picture the scene: a tree with no tinsel, a table without turkey, a stocking that's free from knick-knacks, and a shelf of cards that no longer shed glitter. That's the reality of a green Christmas – an environmentally-friendly overhaul of some of our most ingrained festive traditions. But are we ready for it?
With the change in headlines, consumer demand for eco-friendly products does appear to be increasing, too; search volume for sustainable gifts is up 118% on Pinterest compared to last year, while the site has seen an 81% increase in searches for zero-waste party decorations. Meanwhile the number of people claiming to follow a vegan diet has skyrocketed, according to the vegan society. So, will Christmas taste and look different, too?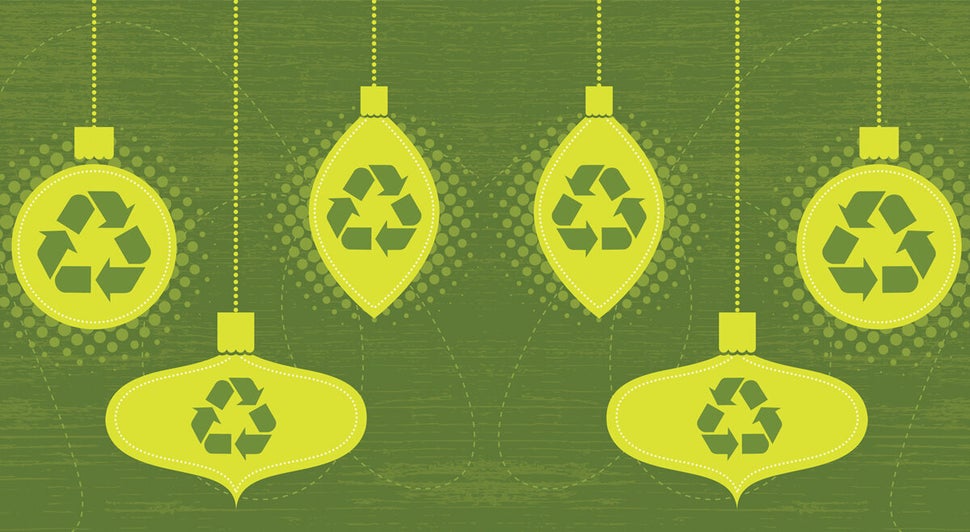 On the shelves already, things are shifting. This season, supermarkets including Tesco, Aldi, Marks and Spencer, Morrisons and Iceland have each extended their vegan food ranges. "We're seeing the traditional meat categories slowing down, so we're taking shelf space off that to push our vegan ranges and we'll be expanding them further next year," Iceland's managing director Richard Walker tells HuffPost UK.
For those not ready to ditch the traditional Christmas turkey, but concerned about waste, the supermarket's Perfect Turkey Crown is sold in a recyclable paper wrap, rather than a plastic bag, with just one plastic band seal. Other items have also been given a minimal plastic packaging redesign, while 16 items from stuffing balls to Beef Wellington are now entirely plastic-free.
Meanwhile, John Lewis has increased its range of own-brand wooden toys by 15, giving it 120 different items in time for Christmas 2019. The move builds on a longstanding commitment towards sustainability, argues Dan Cooper, head Christmas buyer at the retailer. The department store has focused on selling items that last "as long as possible", he says.
It has improved the environmental impact of its Christmas lights in recent years, with a switch to LED, low-voltage bulbs. "We've also been pre-empting things like the conversation about glitter, by starting to reduce the amount we use," Cooper tells HuffPost UK. "We've reduced it by two-thirds this year, so that's quite a lot of it gone."
"There's scope for retailers to be doing much, much more and we urge them to do much more."
Steps towards a greener Christmas are also being taken at Boots – the home of "3-for-2" toiletry gift sets, often filled with miniature plastic bottles. Boots signed up to the UK Plastics Pact back in 2018, joining corporate giants including Unilever UK and Coco Cola Europe in committing to tackling plastic waste. Given budget hotel chains have made efforts to reduce their dependency on plastic minis this year, will 2019 be the first Christmas we see "3-for-2″ sets overhauled? The answer: kind of.
Working alongside its UK suppliers, Boots has reduced plastic in its Christmas gift range by 149 tonnes this year, which is the same as 11 double decker buses, says Liz Hewitt, senior seasonal buying manager at Boots UK. But products from UK suppliers only make up around half of Boots' own-brand Christmas gift range, meaning it'll be business as usual for a lot of the gifts.
The company has introduced "3 for 2 pick 'n' mix stations", where you can select your own minis to build a personalised gift made up of products you know the recipient will love. The idea being "there will be no wasted products", says Hewitt. But again, this service is only available "in some stores".
For Fanny Calder, director of campaigns and public affairs at WWF, retailers across the industry are simply not doing enough. "I think there's no question that there's scope for retailers to be doing much, much more and we urge them to do much more," she tells HuffPost UK. "At the moment our current levels of consumption are wiping out nature and are driving climate change and we've got to change the model pretty massively."
So, why aren't retailers going further? Put simply, they say "it's complicated". For starters, there's a lag between public conversation and what's on our shelves come Christmas, Cooper explains.
"I start planning Christmas about 18 months before it launches online in August, so for this Christmas, we started to come up with the trends and the product direction in February 2018. By the end of October last year we would have developed everything, then we finalise stock just after the previous Christmas when we can see how sales have gone." Once a retailer decides to change its products, there's a complex manufacturing and supply chain to contend with, he adds. "It's not something you can just do overnight. Some of the materials that we'd like to move to just aren't readily available."
Food retailers also face logistical challenges. "The reason it takes a long time from our perspective is we have to test, trial, implement and then scale up all of these alternatives," says Richard Walker, who cites as an example Iceland's move to scrap the use of non-recyclable black plastic on ready meals. "We had to test all of the different ready meals that we produce to ensure that there's no seepage, that they can tolerate minus 20 in the freezer and then tolerate it being zapped in the microwave. This technology requires time to transition."
Fanny Calder acknowledges that supply chains are complex but says from WWF's perspective "there's no question that things need to move faster".
"One of the problems is that a lot of the changes happening in this area are being driven by businesses taking voluntary action," she explains. "Underlying all of this it that moving faster at the moment is likely to cause any individual business an economical disadvantage compared to their competitors."
To kickstart the mass change we need, retailers need to pull their resources and commit in unison, Calder says. "Absolutely key to that is government action."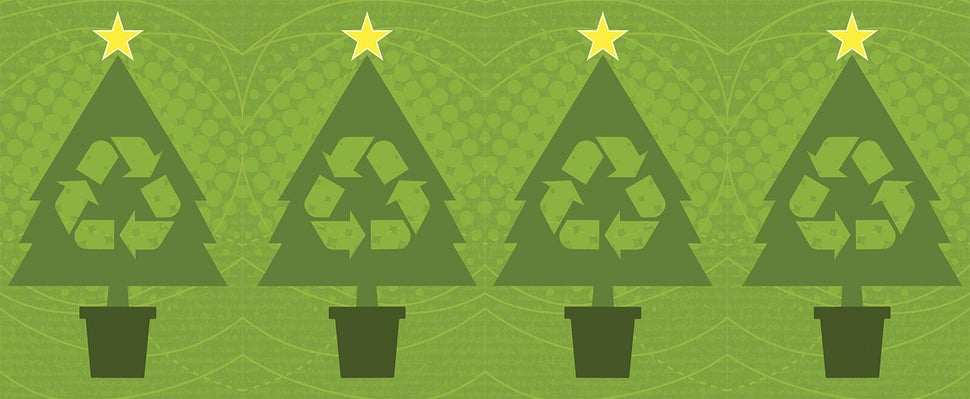 Until the government imposes tougher laws on retailers, consumer demand is the biggest motivator for retailers to stock (or discontinue) certain products. But when it comes to environmental concerns, there's some evidence that customers saying one thing online, then doing another IRL.
Sustainability was the talk of the town in the run up to Christmas 2018, when Iceland's advert – which used an animation originally created by campaigning organisation Greenpeace – told the story of rainforest destruction caused by palm oil production and its devastating impact on endangered orangutangs.
"There is quite a lag between what customers are conscious of and when that translates into actual action."
The ad was banned by the TV regulator for "support[ing] a political issue", but once it was launched on YouTube, more than one million people signed an online petition calling for it to be approved for television. Despite this public debate, Christmas heavyweight John Lewis did not notice a significant shift in consumer buying in favour of sustainable products last year, buyers reports.
"This is a very honest thing from my point of view, but I would say that there is quite a lag between what customers are conscious of and when that translates into actual action," says Cooper. "We did not see any big changes in the makeup of what we sold last Christmas in favour of [green products]. I haven't necessarily seen people voting with their feet in the way that you might imagine based on what you read and what you see on the television."
A possible exception could be wooden toys, says Cooper, with sales already up 21% this year compared to 2018. But it's difficult to pinpoint what's driving certain trends. For example, he's not convinced the increase in wooden toy sales is wholly about parents' aversion to plastic. "I think there's a part that's to do with sustainability, and there's a part that's to do with the reaction against too much technology creeping into children's lives," he says. "Similarly, we've seen a big upsurge in board games in the last few years, but I think that's just people wanting to switch off and reconnect with people at Christmas."
Christmas card sales at John Lewis are also down, but again, alongside environmental concerns, this could be down to the increased price of postage and the fact they're just not as popular as they once were, says Cooper.
The wider public do seem more open to adopting greener habits the rest of the year; sales of reusable water bottles were up 15% at John Lewis in the week running up to Glastonbury, while Iceland's best selling burger throughout the summer heatwave was its 'no bull' vegan burger.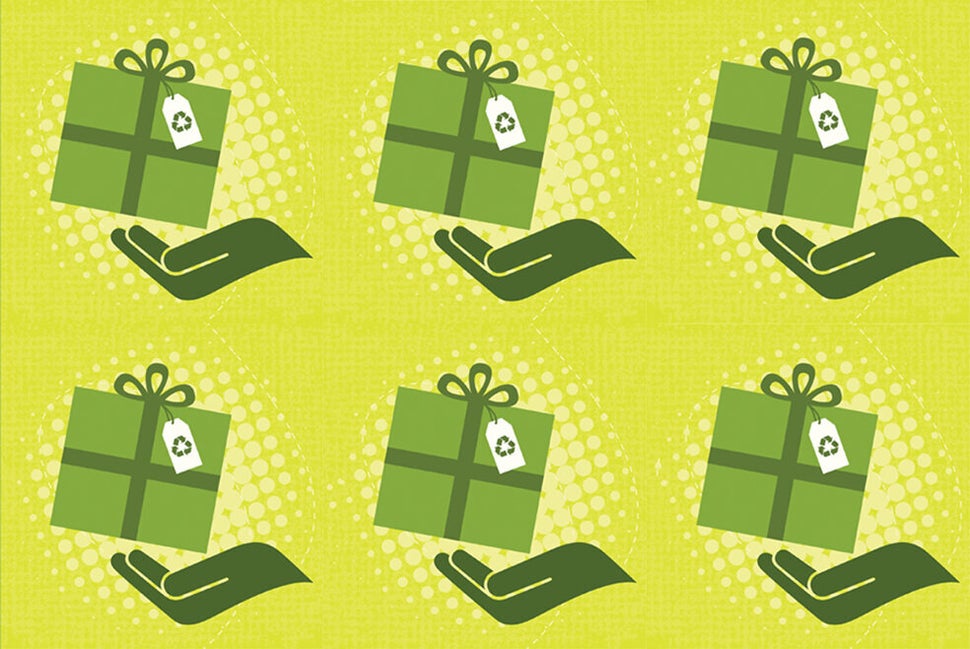 Christmas will always be important for Iceland, says Walker – the supermarket sees an "unusually large uplift" in December compared to other retailers, as customers descend on its stores for frozen desserts and party nibbles. Yet despite the buzz around the 2018 Christmas ad, we won't be seeing a green focus in our ad breaks this year. "We don't have the big centrepiece sustainability-focused ad," Walker reveals. "But that's partially because we're working on a lot of things, like food waste, for next year. But we've got lower level campaigns, if you like."
Walker predicts the percentage of the population enjoying a meat-free Christmas will continue to grow in the next decade, with supermarkets offering more and more alternatives to the traditional turkey roast – as well as an overhaul to Christmas food packaging, with less reliance on single-use plastic.
Unless retailers find a way to make them sustainable, [lastic-based miniatures in the form of gift sets, beauty advent calendars and stocking fillers could also become a thing of the past, according to experts at market researchers Mintel, who identified "sub-zero waste" as the key emerging beauty trend of 2019.
"Consumers are becoming more concerned with the impact beauty products and packaging have on the planet," says Andrew McDougall, Mintel's associate director of beauty and personal care. "In five-10 years' time, the expectation will only grow further as people demand beauty brands be more eco-conscious."
Will there be a place for Boots' signature gift sets in the future? Yes, argues Liz Hewitt, but with new collaborations such as Fearne Cotton's Happy Place range, which she says is vegan-friendly, completely free of secondary plastic, and with outer packaging that is 100% recyclable. "We are making changes to the way we design, produce and use plastics, so our use of mini products at Christmas is something we will review and adapt going forwards," she adds.
While beauty advent calendars such as Boots No7 calendar are so popular, they have garnered waiting lists in recent years, McDougall predicts big brands will soon be following the lead of companies making sustainable alternatives.
French brand L'Occitane is offering two different beauty advent calendars, says McDougall, one marketed as luxury and one as sustainable (the latter offers advice on ways to be kinder to the planet, but when HuffPost opened it, it contains single-use plastic). "It may only be a small step, but it highlights how this conversation is being had already – so the beauty advent calendar of the future will have to take notice," says McDougall.
"Kiehl's has also designed its advent calendar with sustainability in mind, using a seeded paper bag for the outer packaging so that consumers can replant it as flowers afterwards, and all empties can be recycled at Kiehl's stores through TerraCycle. Again, this shows how this practice is becoming more commonplace, and may offer insight into how the popular beauty advent calendar market can look to combat sustainability concerns in the future."
"The way that modern society has been set up to just endlessly consume is something that doesn't really work and isn't really sustainable."
Christmas crackers could also look different in the near future, particularly if retailers follow the leads of stablemates John Lewis and Waitrose, which announced that 2019 will be the last year their crackers contain plastic toys. Waitrose has confirmed that by Christmas 2020, its own label cards, wraps, crackers, tags, flowers and plants will either be glitter-free or the retailer will use an environmentally-friendly alternative and John Lewis plan to follow suit.
But Walker argues we won't experience a Christmas that's entirely sustainable until we see systemic change in the UK's waste management infrastructure, noting that recycling and food waste capabilities vary significantly from borough to borough. "As a national-based retailer, how on earth can we produce one type of packaging that can be recycled or properly disposed of across all of the different boroughs? The reality is we can't," he says.
For more significant changes to occur, the government must require retailers to pay due diligence to each part of their supply chain, says Fanny Calder, citing deforestation caused by the food industry, with Christmas a key contributor.
"A lot of the deforestation in our food comes from soy, which is grown on deforested land, which is then imported to be fed to British chickens," she explains. "There's no way for the British consumer to know that that's happening and it's actually quite hard for the British retailer to know that that's happening, but we absolutely have to turn that around."
Calder notes that consumers can do their part, with a culture shift towards gifting sustainable and vintage products, plus enjoying a meat-free Christmas. "The way that modern society has been set up to just endlessly consume is something that doesn't really work and isn't really sustainable," she says. But ultimately, she says, the onus is on big business to offer better, greener alternatives: "The real systems change that we need is going to be driven big businesses working with the government to change the rules of the game."
If these things are cracked, could the way we celebrate Christmas change forever? "I think there will always be an element of waste, but I think people will have far more choice about what they do buy and use than maybe they do now," says Dan Cooper at John Lewis. "But I absolutely think that we will look back in 10 years time and think that we made some very unusual choices."

A note: after this article was published, Boots contacted HuffPost UK to say it has decided to make some changes to its 'Pick n Mix' offering. The concept will no longer be available in stores, but "it is available online instead for everyone to access".