Christmas present wrapping: one of those tasks that starts off enjoyable and swiftly becomes annoying as you realise the dent in your 'to-be-wrapped' pile isn't getting any smaller. But is it good for the planet?
Whether you choose fancy patterns or a glittery design this year, there's a chance your wrapping paper could contain plastic, which means it can't be recycled and could stick around on the planet for a long time.
Wrapping paper is often lined with a "plastic membrane" which has a role to play in protecting the paper, Dr Karl Williams, head of the centre for waste management at the University of Central Lancashire tells HuffPost UK.
"It's to make the paper stronger and more resistant to tearing," he says. "Your paper doesn't have to be as thick because it's got a plastic membrane on it."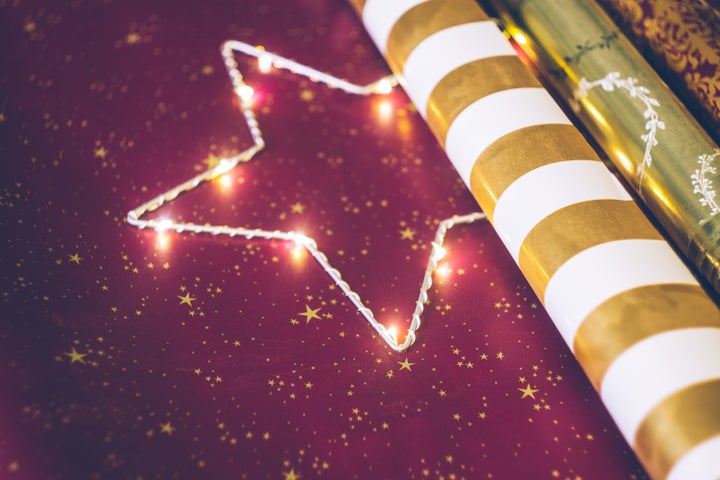 This plastic-covered paper - which you can usually spot as it'll be shiny or smooth to touch - is great for wrapping as it helps us get those lovely creases along the paper and neat edges.
But whereas traditional, plain wrapping paper could biodegrade on its own, the same isn't true of plastic-lined paper. It also can't be recycled as it's made from more than one material, which makes it difficult to treat.
The same can be said for paper covered in glitter. Glitter is often made of plastic because it's a durable and reflective substance that is relatively easy to colour.
For an eco-friendly Christmas this year, here are some options to consider:
If you're going to stick with traditional wrapping paper, opt for uncoated papers made from recycled materials. Try Recycle Now's wrapping paper test – "if it scrunches, it can be recycled".
For a retro look, try brown wrapping paper (as long as it's not plastic-lined) or even old-fashioned newspaper tied with string. You can jazz it up by decorating the paper with reusable ink stamps.
There is also a recent trend (called 'Furoshiki') for using reusable fabric – a traditional Japanese style of wrapping presents, which includes tying a beautiful piece of cloth around a gift. They are widely available online.