Skipping meat and dairy doesn't have to make a festive meal any less tasty. In fact, vegans are often inspired to be more creative when cooking, combining delicious flavours with added extras.
To get those taste buds going, we asked three vegan households to share what they eat at Christmas. From butternut, lentil, kale and mushroom Wellington to chestnuts, mushrooms, and cranberries wrapped in puff pastry – they've shared their recipes for you to nick in preparation for 25 December.
Butternut Squash, Kale And Lentil Wellington
Nicola Neal, 45, from East Sussex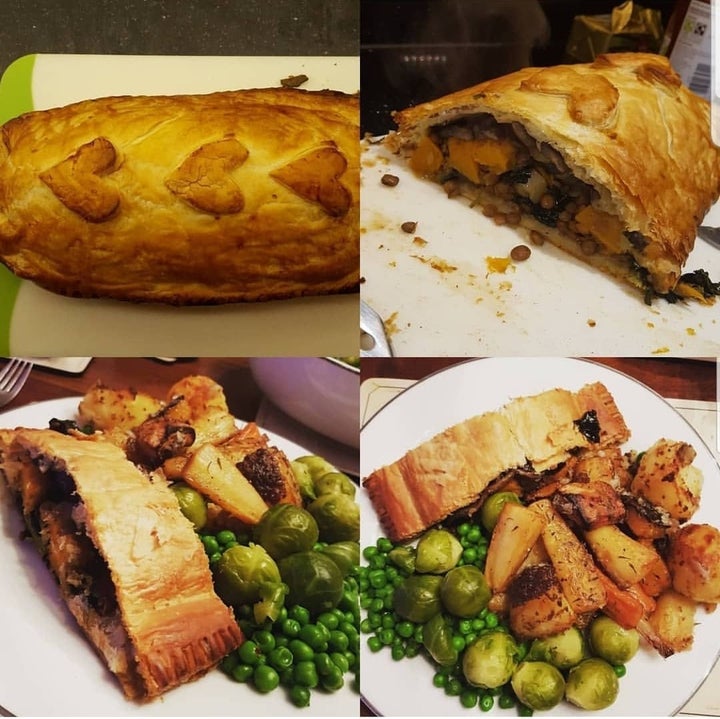 You Will Need: One butternut squash, one onion, one bag of kale (black or curly), one tin of green lentils one vegetable stock pot, three portobello mushrooms, vegan butter and two rolls of ready rolled puff pastry. Serves six.
1. Peel and chop butternut into 1cm cubes, roast in a little olive oil and black pepper for 25-30 minutes, until starting to caramelise. Set aside to cool.

2. Dice and fry onion in oil, add some chopped kale and stir fry until cooked. Add a knob of vegan butter and tin of lentils. Add half a veg stock pot and splash of water. Stir to combine. Then add the butternut to the lentil and kale mix and stir to combine. Set aside to cool.

3. Slice portobello mushrooms and sauté in a little vegan butter. Set aside to cool.

4. Unroll one puff pastry and spoon the butternut mixture on to the centre in a Wellington (fat sausage) shape. Top with mushrooms. Lay second puff pastry sheet over and cut excess pastry from round edges. Seal by pressing the edges with a fork. Use excess pastry to decorate the top and paint all over with plant milk or melted vegan butter to glaze.

5. Bake at 180 for 45 minutes, depending on how fat your Wellington is. Watch to ensure it doesn't burn.
Chestnut, Mushroom And Cranberry Roast
Catherine Oliver, 29, from London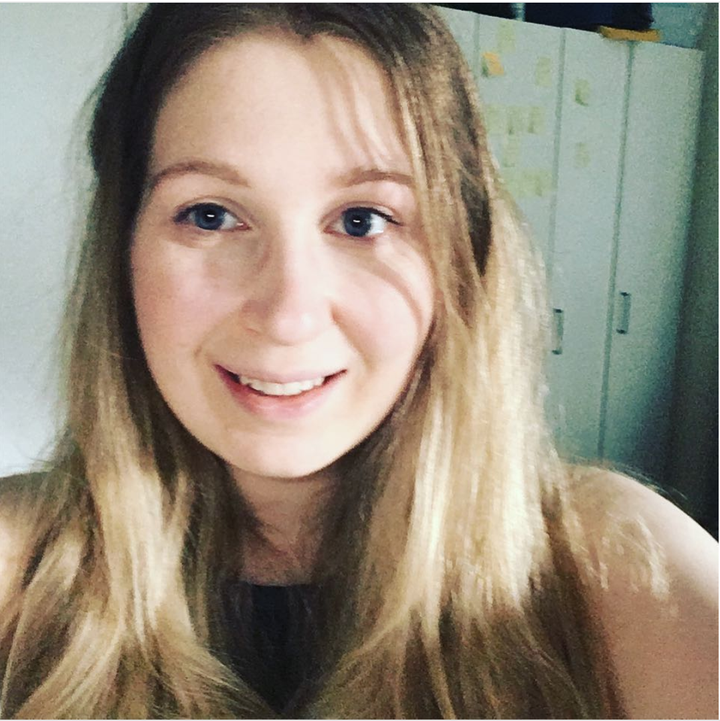 You Will Need: Cranberries (fresh or you can use cranberry sauce), pre-roasted chestnuts, a tin of chestnut paste, a handful of breadcrumbs, vegan puff pastry, vegan red wine (optional), mushrooms, onions (1 or 2 to your liking) and garlic (1 or 2 cloves to your liking). Serves four.
1. Mix the chestnuts, cranberries, chestnut paste and breadcrumbs in a bowl and set aside.

2. Cook mushrooms, onion, and garlic with oil in a pan until soft but not completely "done". Add them to your chestnut mix.

3. Add a generous splash of wine to the bowl and mix with a wooden spoon. The consistency should be firm but a bit gooey (but certainly not too wet). If it seems so, add more breadcrumbs.

4. Roll out the puff pastry and lie one sheet flat on a lined baking tray. Greaseproof paper works best.

5. Spoon the mixture on to the pastry down the centre, leaving the edges free of mixture so you can add the pastry 'lid'.

6. Roll out a second big sheet of puff pastry and place it on top of the mixture on your baking tray. Line up the edges of the pastry and squeeze together with a little water so it looks like a giant Cornish pasty.

7. Bake in the oven for 40 mins on gas mark five or six, checking on it after 25 minutes. It's not an exact science, it's just done when the pastry is risen and golden.
Tofurkey With Trimmings And Red Onion Gravy
Harriet Barclay, 27, from London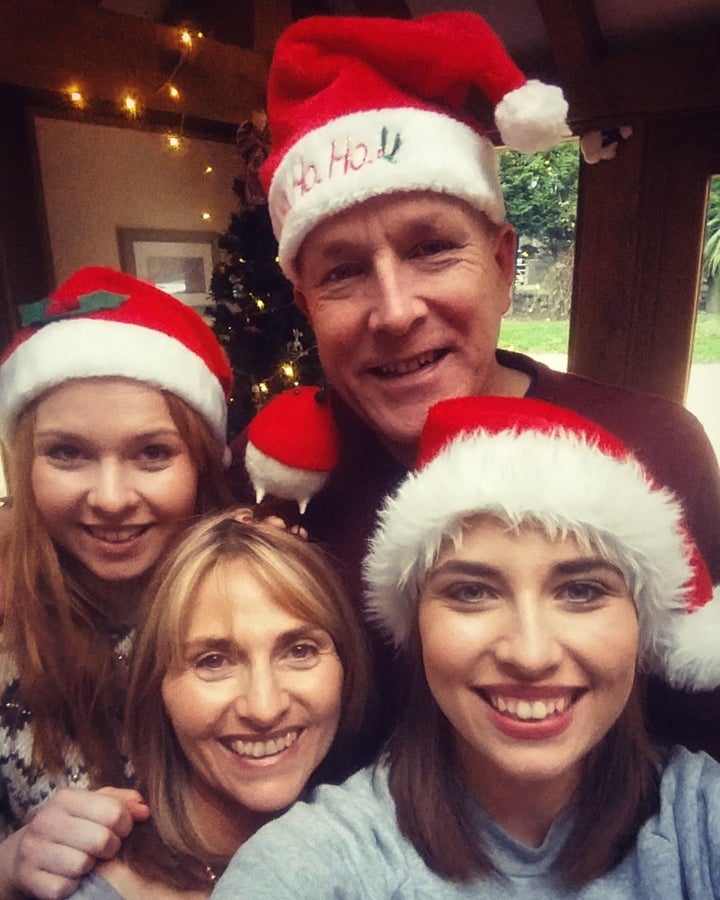 You Will Need: 25g of olive/soya/vegetable oil, vegan butter, one tbsp of olive oil, four large red onions peeled, one tsp sugar, a few sprigs of rosemary, two cloves of garlic crushed, two tbsp of mustard (ideally wholegrain but any will do), one tbsp of tomato puree, two tsps of flour, 200ml red wine, 500ml vegetable stock (make your own or use a stock cube) and salt and black pepper. Serves six.
1. Heat the vegan butter and olive oil in a large saucepan. Add the onions.

2. Put the heat up and stir for a few minutes. Turn the heat low and cover the pan. Leave the onions to cook gently for about 40 minutes, checking and stirring occasionally to prevent sticking. Add small amounts of water if the onions start to stick. You're aiming for the onions to be soft and translucent.

3. Remove the lid, turn up the heat and sprinkle the onions with sugar. Stir and allow the onions to caramelise for two minutes until lightly browned.

4. Add the crushed garlic, rosemary, mustard and tomato puree. Stir everything together with a splash of water. Turn the heat low, stir in the flour and cook for a few minutes, stirring occasionally.

5. Pour in the red wine, give everything a stir and put the heat up so the gravy starts to simmer. Leave it for 10 minutes before adding the stock, then cook for a further 20 minutes to reduce and thicken the sauce to your liking. Add salt and pepper for your taste.