BA cabin crew will strike on Christmas Day and Boxing Day in a row over pay - the latest airport staff to announce industrial action that threatens travel chaos at one of the busiest times to fly.
The 2,500 crew, who are based at Heathrow, confirmed on Friday night they would go ahead with a threatened strike.
The news comes just after 1,500 check-in staff, baggage handlers and cargo crew who work at Swissport, the world's largest ground and cargo handler, announced they would strike for 48 hours from December 23 at 18 airports, including Heathrow, Gatwick, Stansted, Edinburgh and Glasgow over a pay dispute.
The news about Swissport in turn came an hour after an announcement that pilots at Virgin Atlantic had voted for industrial action short of a strike, in a dispute over union recognition.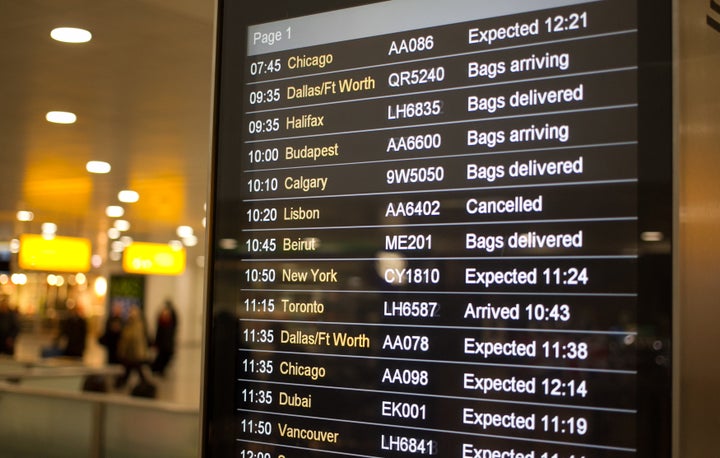 Members of the Professional Pilots' Union (PPU) will "work to contract" from December 23.
A BA spokesperson said: "We have been informed tonight by Unite that it has called strike action by Mixed Fleet cabin crew on Christmas Day and Boxing Day.
"We are appalled that Unite proposes to disrupt customers' travel plans on such special days when so many families are trying to gather together or set off on well-deserved holidays.
"This calculated and heartless action is completely unnecessary and we are determined that it will fail.
"We will plan to ensure all our customers travel to their destinations so that their Christmas arrangements are not ruined. We will publish more details within the next 72 hours."
On Wednesday, Unite said the BA cabin crew would strike if talks failed.
At the time, the union said: "Unite is urging British Airways to return to the negotiating table and engage with the union in a meaningful way otherwise over 2,500 Unite members who crew long and short-haul routes to dozens of destinations could go on strike."
Regarding the Swissport staff, Unite said they had not had a pay rise since 2014.
Oliver Richardson, the union's national officer for civil air transport, said: "We appreciate that this is a very busy time of year at the UK's airports and that's why we are calling for the company to engage in constructive talks under the auspices of Acas to resolve this dispute.
Unite's door is open 24/7 for such talks.
"Our members are only taking this industrial action as a last resort in a bid to reach a fair settlement – our members have not had a pay rise since 2014."
Swissport staff will walk out of the following airports: Aberdeen, Belfast, Birmingham, Bristol, Bournemouth, Cardiff, Doncaster, East Midlands, Edinburgh, Gatwick Glasgow, Heathrow, Leeds/Bradford, Luton, Manchester, Newcastle, and Southampton and Stansted.
A spokesperson for MAG, which owns Manchester, Stansted, East Midlands and Bournemouth airports, told the BBC: "We are aware of this potential action and are contacting the airlines which use Swissport to understand their contingency plans to minimise any disruption were the strikes to go ahead
Unite members voted by 62.5% to reject a 4.65% three year pay deal for 2015-2017, which the union said barely kept pace with inflation.
The staff were also said to be angry that detrimental changes to terms and conditions have been linked to the pay deal.
The changes include freezing overtime payments for the foreseeable future and restructuring pay.
Popular in the Community