Clare Smyth became the first woman in the UK to hold three Michelin stars during her time as chef patron at Restaurant Gordon Ramsay.
Now, she's out to prove she can have the same success with her own name above the door. The 38-year-old is set to open her first solo restaurant, Core by Clare Smyth, in London's Notting Hill, with British ingredients at its heart.
Making it in the male-dominated world of fine dining has never intimidated the Northern Irish chef, who's a firm believer in "changing others' opinions of what they perceive our gender should be".
"We should never allow that to stand in our way. In a kitchen, there is no difference between the sexes," she tells HuffPost UK.
We speak to the UK's highest-achieving female chef ahead of her restaurant's big launch.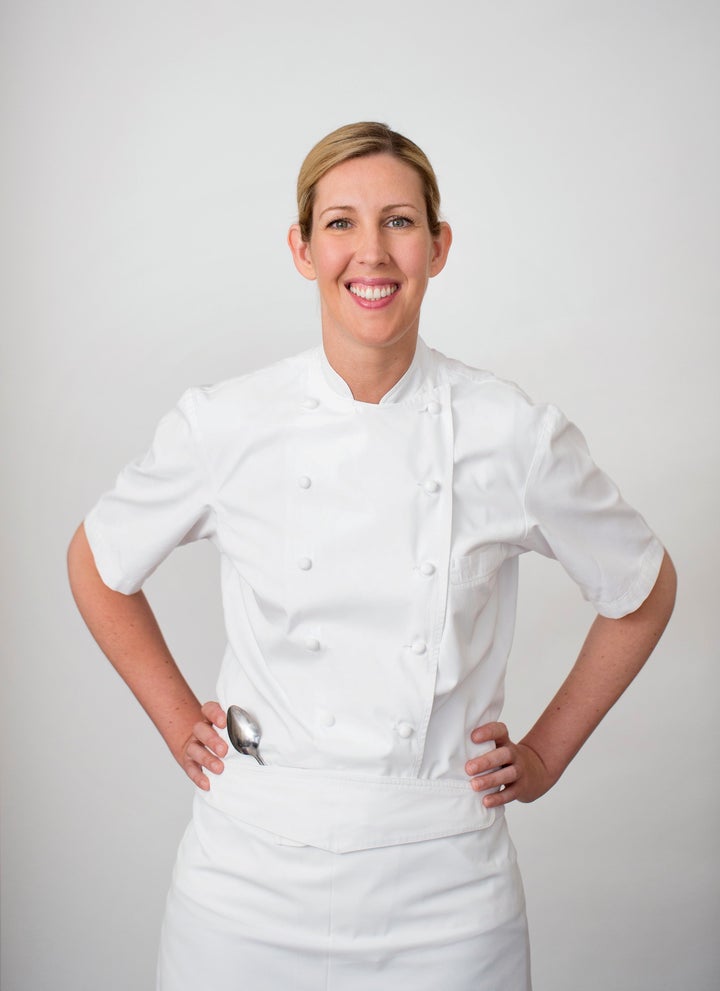 What was the last thing you did that made you proud?
"Every single time I hear of or see past colleagues and friends doing well. I know the commitment and time it takes to become a good chef and to watch your team grow and develop is so rewarding."
Who inspires you and why?
"Gordon [Ramsay] – his drive, energy and ambition to excel is so motivational. He gives everything he does 100% and is forever striving to be the best at everything he does."
What motivates you to get out of bed in the morning and keep pushing forward?
"Life! I enjoy what I do professionally and personally, and there's always stuff going on. It's fun. At the moment in particular it'd be something to do with the new restaurant as it's eating most of my time.
"Now we've got past all the major 'hard' building work we're onto the 'soft' work – the final fittings. I couldn't wait the other day just to finally unpack the crockery I had commissioned for Core and tearing off the packaging for the new kitchen stove too made me feel just that little bit closer to opening."
How do you think society views ambitious and successful women?
"I think sometimes we are considered differently to our male counterparts. It's like we have to prove we can take pressure. Maybe I've just been lucky to have only ever had positive experiences. When people see you doing well, I think they are nearly always happy for you. I've never really faced anything negative on my own journey."
Does success have a downside? If so, what is it?
"Yes sometimes. The downside is people's expectation of you is higher and that can add some pressure."
How do you practise self-care?
"I have a dog and I walk her every day. She doesn't care what kind of day I'm having, is always over the moon to see me and is just happy to hang out with me on my own. It's non-conditional with no judgement and is good for my soul."
What's your biggest regret and what did you learn from it?
"I don't have any really. When I've made mistakes or done something that I perhaps shouldn't have, I've taken the positive from it. It's all part of the process of learning – either at work or home. You can only hope, as you get older, the mistakes get fewer and you become wiser."
If you had one piece of advice for other women, what would it be?
"Decide what you want to do and just do it. And be nice about it regardless of what or who has gone before you."
What's the one thing you would change or do in 2017 to push women forward?
"I'd change others' opinions of what they perceive our gender should be. We should never allow that to stand in our way. In a kitchen, there is no difference between the sexes."
Core by Clare Smyth will open at 92 Kensington Park Road, Notting Hill, London, W11 2PN on 1 August 2017.