Coca-Cola, PepsiCo, and Nestlé produce the majority of plastic found on beaches, according to campaigners who analysed 187,000 pieces of rubbish found on coastlines around the world.
Break Free From Plastic, a campaigning organisation made up of more than 1,000 groups, including Greenpeace, audited plastic found from 239 cleanups across 42 countries and identified those brands as the most frequently occurring.
They admitted that because of the sample size of the audit, the brand audits "do not provide a complete picture of companies' plastic pollution footprints" but claimed they gave a strong indication. Of all the waste found, only 65% had clear and recognisable consumer branding.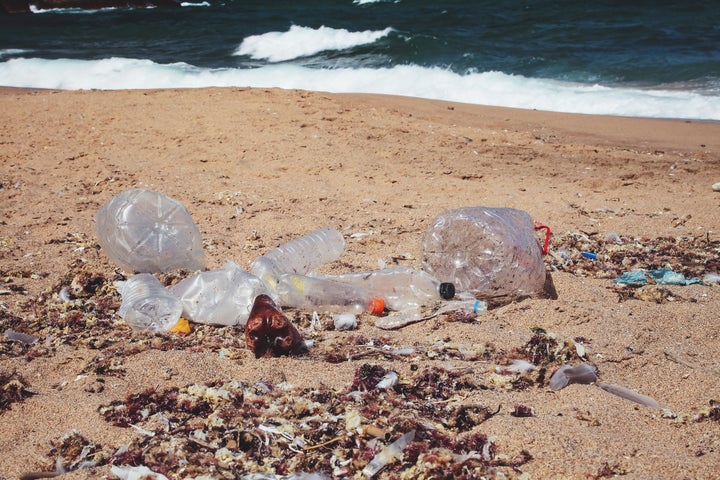 Of the identifiable waste, Coca-Cola was the "top polluter" according to the campaigners, with Coke branded plastic found in 40 of the countries.
PepsiCo, which owns brands including Mountain Dew, Walkers Crisps and 7-Up, and Nestlé, which makes products from Kit Kats to water brand Pure Life, were found to be in second and third spot respectively.
Danone, Mondelez, Procter & Gamble, Unilever, Perfetti van Melle, Mars, and Colgate-Palmolive were also frequently found in at least 10 countries.
In Europe, Coca-Cola, PepsiCo, and Nestlé brands were the top identified polluters, collectively accounting for 45% of the plastic pollution found.
A Coca-Cola Company spokesperson told HuffPost UK it shared Greenpeace's goal of eliminating waste from the ocean and had already set "ambitious goals" including collecting and recycling a bottle for every one it sells by 2030.
They said the company also wanted to use an average of 50% recycled content in plastic bottles and cans by 2030 and was working towards making all packaging recyclable by 2025.
PepsiCo said it too shared concern about plastic waste and that it also had a commitment to make packaging recyclable, compostable or biodegradable packaging by 2025. It said it was working with experts to bring sustainable alternatives to market.
"We don't have all the answers yet, and we will continue to collaborate with a number of leaders in this area to learn and share the latest science and practical solutions," a spokesperson said.
Nestlé pointed out it is a founding member of the UK Plastics Pact – a group of organisations working to reduce plastic waste – and said it plans to make 100% of its packaging reusable or recyclable by 2025.
"Collaboration and collective action is vital to transform how packaging is managed today. Recognising this, Nestlé is working with value chain partners and industry associations to explore different packaging solutions to reduce plastic usage; facilitate recycling; and develop new approaches to eliminating plastic waste," a spokesperson told HuffPost UK.
"Such system-wide change takes time, but we are committed to creating a world without waste, and delivering on the commitments we have made to achieve this."
They added that plastic packaging "plays an important role in safely delivering food and drinks" and Nestlé would "carefully consider alternatives before making changes".