Those torn between their love of caffeine and protecting the planet can now rest easy at night. The Eden Project has launched 100% compostable coffee capsules, meaning your used coffee pods can be transformed into nutrient-rich soil.
In contrast to biodegradable pods, which simply break down, the Eden Project's new coffee capsules are made from card and printed using recyclable vegetable-based inks. When thrown onto a compost heap, the pods will decompose in a matter of weeks, rather than clogging up landfill sites and oceans like their plastic counterparts.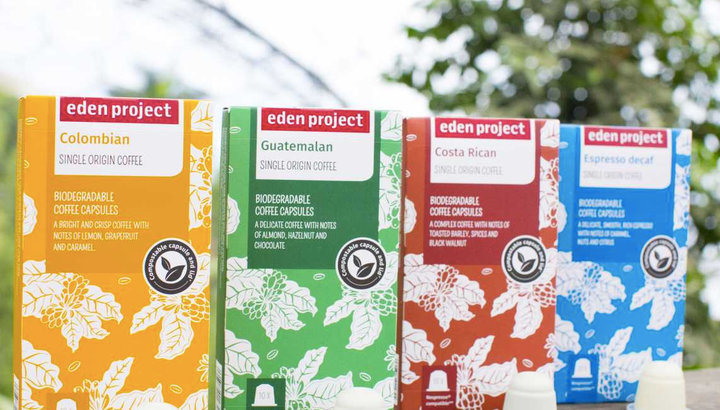 The new range consists of four distinctive organically-grown coffees: Colombian, Guatemalan, Costa Rican and Italian Espresso Decaffeinated. Pods are compatible with Nespresso coffee machines. They have just gone on sale in Waitrose supermarkets and will also be available in the Eden shop.
The Eden Project is by no means the first to create compostable coffee capsules, and it hopefully won't be the last. Smaller-scale coffee brands like Percol and Novel L'Espresso also sell compostable pods that are compatible with Nespresso machines. Percol's range is made from plant-based plastic, with ingredients like sugar beet and sugarcane, while Novel L'Espresso's is made using bio-based materials. (Find out more here.)
Commenting on the new pods, Tracey Smith, commercial manager for the Eden Project, said: "At Eden we are always searching for sustainable solutions and looking to reduce waste. These fully compostable capsules allow coffee lovers to enjoy delicious ethically-sourced coffees without creating additional plastic waste."
Steven Phelps, commercial director of Fresh Coffee, said: "The Eden Project coffee ranges are pioneering sustainability as a core theme and this range of Nespresso home-compostable capsules will build on the zero carbon roasted ground coffee range available nationally in Waitrose. They are unique and a world first."