Constance Hall was shopping for clothes when she was approached by a sales assistant who directed her away from the smaller sizes to a larger selection of clothes.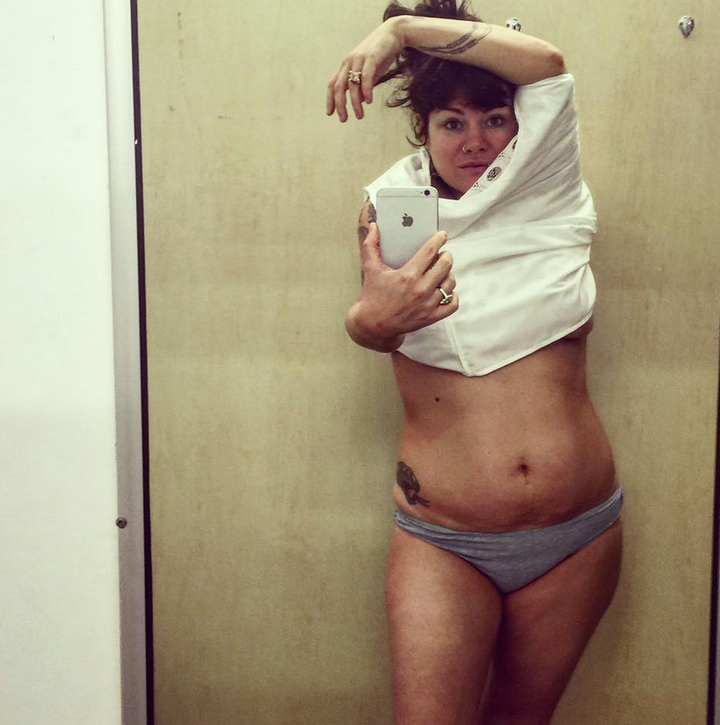 The mother-of-four explained: "Went shopping for a new dress, was happily browsing the racks when the shop assistant says, 'Sorry darling those racks are size 6 and 8 only, the other racks will be better for you'."
Offended by the comment, Hall deliberately took a dress that she knew was too small to the fitting room.
Sharing a photograph of herself failing to get the dress over her head (we've all been there) Hall had a realisation about feeling body shamed.
"She wasn't body shaming my delicious mum bod she was being practical, it was me who body shamed myself by taking offence," she explained.
Reminding her followers that no dress size is better than another and you can only be offended if you allow yourself to be: "It is your body, you only have one."
Hall has now inspired other women to share their feelings about their post-baby bodies (and the lumpy bits we'd all rather ignore).
Kylie Greenfield said: "I don't care about sizes anymore. I feel beautiful and accept my baby body. I find clothes that make me feel beautiful and comfortable in."
Marnie Bruce shared a story that we can all relate to: "I have a friend who went shopping and told the lady she was finding it hard to find something to wear because she was carrying her after baby fat. The assistant then said to her 'aw how old is your baby? ' She than replied 12."