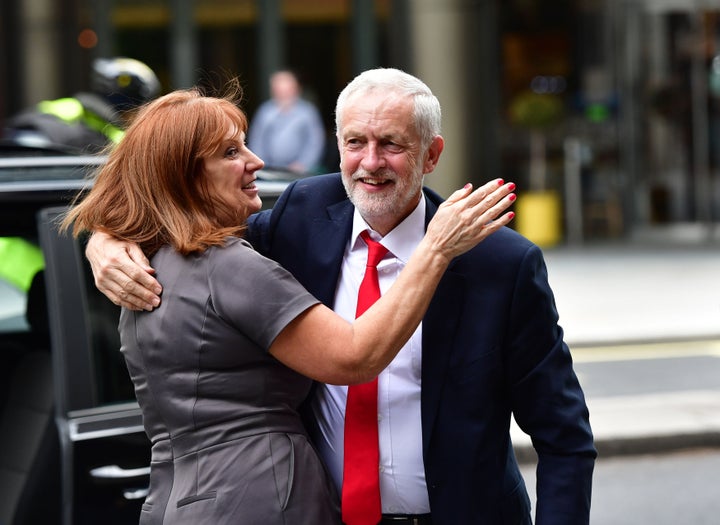 Jeremy Corbyn's chief of staff Karie Murphy has been moved from his Commons office and given a role at the party's HQ for the coming general election.
The switch follows fury at the highest levels of the party at the departure of policy chief Andrew Fisher, who is understood to have been frustrated with Murphy's management style and her handling of a range of issues including Brexit and internal party decisions.
Fisher's decision to quit emerged last month, when he sent a memo attacking some in the leader's team of a "lack of professionalism, competence and human decency", adding he was sick of their "blizzard of lies and excuses".
Several sources told HuffPost UK that both Jeremy Corbyn and John McDonnell were so shocked by the policy chief's resignation that it was inevitable that Murphy's role had to be changed.
Further doubts were raised over her part in a botched plan to remove Tom Watson as deputy leader on the eve of Labour's conference in Brighton, an incident that threatened to overshadow the party's election policies.
It is understood that Bob Kerslake, a former civil service chief who has worked closely with McDonnell, broke the news to Murphy in a phone call.
Party sources insisted that the move to Labour's HQ was not a demotion and that Murphy will lead "election delivery" including digital campaigning.
"As we ramp up campaigning ahead of a general election, we are maximising the use of the resources we have to ensure we are successful. Karie will drive this crucial work from HQ, as she did during the last election," one source said.
Some allies even suggested that her role was only temporary in the election and she was expected to join the rest of his team in government once Corbyn had led the party to victory.
However, other insiders claimed that the Labour leader himself had privately conceded Murphy had "lost the confidence" of the leadership team and it was time for her to move.
Murphy will take other key leader's office staff with her to party HQ, effective from Tuesday. They will all be officially 'seconded' from their current roles during the election.
Some senior shadow cabinet figures now hope that Murphy's departure will mean that Fisher can reconsider his decision to resign. Corbyn heaped praise on his policy chief during the party conference last month.
Meanwhile, it emerged that senior figures on Labour's ruling National Executive Committee (NEC) have agreed a new system to fast-track selections of candidates for Westminster seats not currently held by the party.
A compromise plan was approved on Monday to allow the NEC to draft longlists of candidates, while mixed panels of NEC, regional boards and local party reps would draft shortlists, LabourList reported.
The seven-day process is aimed at accelerating selections while still giving local party members a key role. The final decision will be taken by individual constituency Labour parties.