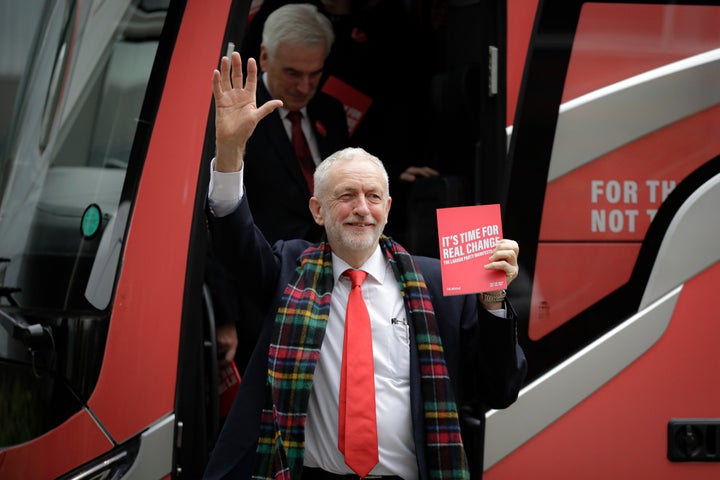 Jeremy Corbyn was "overwhelmingly unpopular" with voters and Labour lost support "in every social class and nearly every age group", a new report has found.
Labour was "within touching distance" during first half of 2019 before Boris Johnson's election as Tory leader saw support disintegrate, the 'Devastating Defeat' study written for Europe For The Many, an organisation that brings together academics and campaigners, claims.
It said that changing leader "could have asserted much more influence", but goes on to argue Brexit has "broken" Labour's electoral coalition and redrawn the political map.
The report said Labour could have limited damage by backing single market membership earlier, adding: "It is perfectly plausible that if Labour had the same position for a second referendum but with a different leader, or took this line at an earlier stage they could have asserted much more influence over these voters."
It adds: "What is clear is that Jeremy Corbyn's personal standing and approval ratings were undermined by Brexit (as well as other issues) and a large part of this was due to the perceived indecisiveness, lack of clarity and firm leadership."
The report claims the new political divide is between social liberals (who are more likely to be pro-Remain) and social conservatives (more likely to back Leave) with more traditional views on issues like crime and immigration.
It adds election victory for Labour is "impossible" if the next leader fails to win over socially conservative voters.
But it claims "insincere slogans" and "shallow appeals" such as Gordon Brown's 'British jobs for British workers' drive or gimmicks like Ed Miliband's 'controls on immigration' mugs will backfire as voters view Labour's core values as liberal.
The party should instead focus on economic messages and quality of life, it says.
The report warns: "Avoid making shallow appeals to these voters. Do not adopt insincere slogans or messages like 'one nation Labour' or 'British jobs for British workers'.
"This is self-defeating, reinforces Tory messaging and risks eroding the Labour coalition. Focus on the economic policy offers that have support."
Despite many claiming that Labour's socialist policies were roundly rejected, the report insists "there is broad support for the party's economic policy amongst a large majority of the British population".
The report divides seats into the following blocks:

• Labour's 'multi-ethnic working-class heartlands' - safe Labour seats with high levels of inequality, deprivation and ethnically diverse, such as many in London and Manchester

• Cosmopolitan 'centres of the new capitalism' - Seats, such as Canterbury and Putney, that Labour won for the first time in 2017 or 2019, which are relatively diverse, have large numbers of private renters and graduates.

• Brexit-voting towns - seats usually in the north or Midlands, also known as red wall seats. The report argues these areas are witnessing decline, with low house prices, low wages, low ethnic diversity and high numbers of older people.

• Affluent and middle-class 'Conservative shires' - Tory safe seats which are affluent, voted Leave and have low ethnic diversity and an older population.
While there were 800,000 voters who directly switched from Labour to Tory, 1.1 million Labour Remain voters deserted Corbyn.
"While around 200,000 to 250,000 Labour (2017) Leave voters split away to these parties, more notable perhaps is the 300,000 Labour (2017) Remain voters that moved directly to the Tories despite Johnson's promise of a hard Brexit," the report said.
"This may have been due to concerns over Corbyn's leadership, a change of mind, or receptiveness to the idea of 'getting Brexit done', which appears to have been a very powerful Tory message."
The report, penned by data analyst Christabel Cooper and LSE researcher Luke Cooper, and backed by Momentum's Laura Parker, said the Tories' victory is "inseparable from Brexit", adding of the result: "It built a new politics out of the sluggish economic conditions of left behind Britain.
"This politics was able to unite the traditional, affluent Tory vote, which also backed Brexit, with a breakaway group from Labour's electoral coalition."
The report also says that claims Labour has lost the working class vote are "woefully simplistic", underlining that of the 20 top seats for child poverty, 19 are Labour-held.
Pointing to how the leadership candidates might try to recover Labour's fortunes, the report adds: "The Tories now have a huge challenge.
"They have to keep control of seats desperate for investment, which look completely different to their consistently held seats, while also keeping their commitment not to raise any taxes over the next five years.
"We predict that they will combine very socially conservative policies on issues like crime and immigration with pork-barrel politics, targeting these areas for investment by cynically cutting funding to other areas, such as very deprived safe Labour seats."
Christabel Cooper, director of Sensible Analytics Ltd, who is also a Labour councillor in Hammersmith and Fulham, said winning support among socially conservative voters is key for Labour, but added: "But it would be a betrayal both of Labour's fundamental values and of its core voters, for the party to embrace illiberal policies on issues such as minority rights.
"So how to bring back these voters back without compromising our values is the big question facing the next party leader."
Bridget Phillipson, Labour MP for Houghton and Sunderland South, said: "This report is a really important start to understanding the party's defeat and how we can rebuild. It busts the myth that the working class is one big homogenous group, but also reveals the challenges we face.
"To win over voters who are less socially liberal than Labour is today, but more economically left-wing than the Tories, we should not impersonate them. We need to convince them. Going forward the party has to build that trust and credibility."
It comes as Keir Starmer, Rebecca Long-Bailey, Lisa Nandy and Emily Thornberry battle it out to be the next leader, with the result of the election due to be announced on April 4.