A contender to lead Britain's biggest trade union has been reported to the Labour Party for alleged anti-Semitism, HuffPost UK can reveal.
Labour Against Antisemitism has urged the party to suspend Unison assistant general secretary Roger McKenzie for sharing social media posts that compared Israel's treatment of the Palestinians to the Holocaust and that suggested anti-Jewish hatred was being exaggerated to undermine Jeremy Corbyn's leadership.
McKenzie has strongly denied that the posts he shared were anti-Semitic.
The left-winger is seen as one of the leading candidates in the race to lead Unison following the departure of general secretary Dave Prentis in the new year.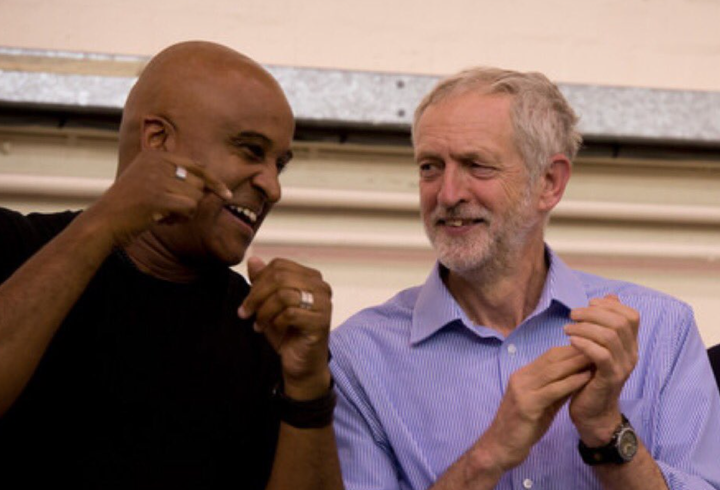 The union official stands accused by the group Labour Against Anti-Semitism (LAAS) of breaching party rules on conduct that conflicts with the International Holocaust Remembrance Alliance (IHRA) definition of anti-Semitism.
A lengthy dossier of allegations submitted to the party includes Facebook and Twitter posts shared by McKenzie that compared Israel's "apartheid" and "Zionist colonisation" to the Sobibor concentration camp.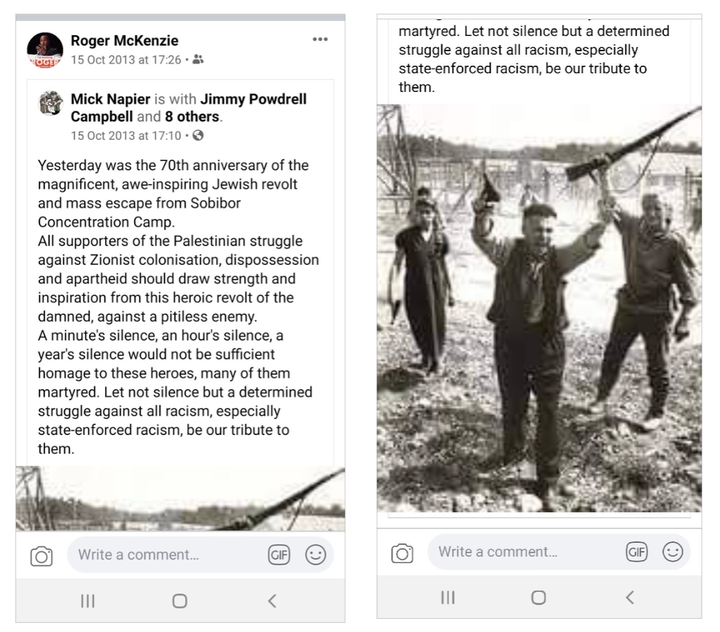 Other posts suggested anti-Semitism accusations were made to harm Labour in the local elections, that Jewish people were being used "as a political football to smear those against austerity" and that "no one gave a shit about anti-Semitism before Jeremy Corbyn was elected leader...except Jeremy Corbyn".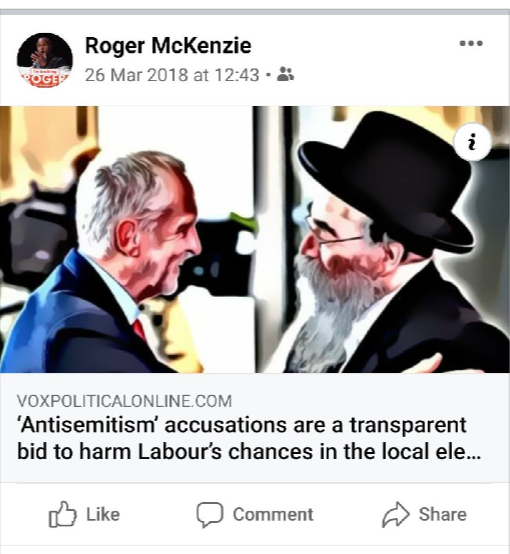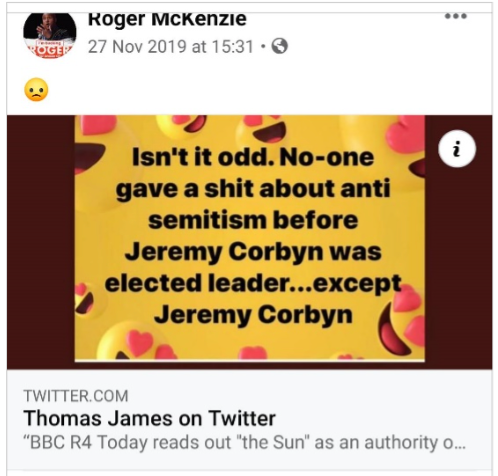 The blog suggested voters were "being manipulated by unscrupulous people with an agenda to discredit the best chance we have of removing the Conservatives from power".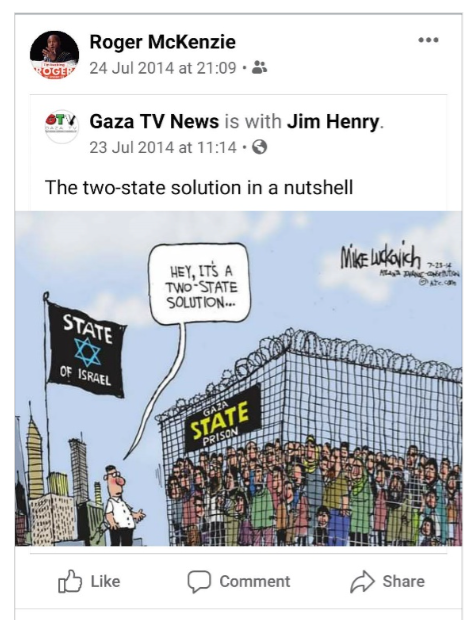 Other posts featured cartoons depicting Gaza as a prison camp, a comparison that Jewish groups find offensive as it suggests a reference to the Holocaust.
A spokesperson for McKenzie said: "Roger has not been contacted by the party and condemns an attempted trial by media.
"If necessary, he will contest any allegations that he has breached party rules and remains focused on his campaign for Unison general secretary and steadfast in his lifelong opposition to racism and antisemitism."
It is understood that he believes the Facebook post about the concentration camp uprising was not in any way an attempt to compare Israel with Nazi Germany but was rather about taking inspiration from one struggle against oppression and applying it to another.
McKenzie, who was endorsed by Corbyn early on in his campaign, faces a tough battle in the election to lead Unison's 1.4m members, with Christine McAnea and Paul Holmes his main rivals.
Corbyn was himself suspended from the party over his reaction to a critical report by the UK's statutory human rights watchdog that found it had broken equalities law with its treatment of Jewish members and in its approach to Jew hate.
The Equalities and Human Rights Commission found Labour guilty of "unlawful" harassment and discrimination during Corbyn's four-and-a-half years as leader.
Corbyn was suspended after issuing a statement that the problem had been "dramatically overstated" by opponents, and "for a failure to retract" his words.
The former leader reacted by calling the move "political" and promised to "strongly contest" it, but Keir Starmer insisted that the party was following its rules.
McKenzie made a passionate defence of Corbyn at an "I Stand With Corbyn" rally last week that was attended by former shadow cabinet ministers John McDonnell, Diane Abbott and Jon Trickett.
He also wrote on Facebook that: "Actively fighting anti-Semitism is the duty of everyone concerned with a decent and just society.
"We should have been moving forward from the EHRC report tackling anti-Semitism together – now we are distracted and arguing internally once again while the Tories are able to dismantle public services and place public service workers in harm's way during the pandemic.
"I hope that the party lift this suspension and I hope that we can fight all forms of racism together."
Allies of the Unison official point out that the EHRC report explicitly protects Labour members who "make legitimate criticisms of the Israeli government, or express their opinions on internal Party matters, such as the scale of antisemitism within the Party, based on their own experience and within the law".
They add that David Cameron once referred to Gaza as a "prison camp" and a United Nations humanitarian aid chief called it "an open prison".
The Labour Party has acknowledged receipt of the allegations. Its disputes team will consider the claims and if the case is deemed worth escalation it will be referred to the National Executive Committee's disputes panel.
Euan Philipps, spokesperson for Labour Against Antisemitism, claimed the dossier provided "substantial evidence" that McKenzie had breached party rules on not sharing anti-Semitic views.
"The Labour Party, the TUC, and Unison itself must intervene, or McKenzie should stand down," he said.
"After the publication of the damning EHRC report last week that found the Labour party guilty of unlawful acts related to anti-Jewish racism, further failures to act on clear evidence will be extremely damaging," he said.
Labour has been approached for comment.