Michael Gove has told colleagues that if he were a "betting man" he would "bet on a relaxation" of England's Covid rules on June 21.
Gove made the comments during a ministerial meeting on Monday as Boris Johnson prepared to make a decision on whether to proceed with so-called "freedom day" on the planned date.
The prime minister will study crucial Covid data this week before announcing next Monday whether step four of the roadmap out of lockdown can go ahead on June 21.
Reports have suggested the final step could be delayed by two weeks amid a spike in cases of the Delta variant first detected in India, with the decision resting on whether vaccinations have sufficiently broken the link between infection and hospitalisation.
The Times reported that ministers were given a "downbeat" briefing on the latest data on Monday by chief medical officer Chris Whitty and chief scientific adviser Sir Patrick Vallance.
But Gove's comments will add to optimism that the road map can proceed as planned.
HuffPost understands the Cabinet Office minister told colleagues "if I were a betting man, I'd bet on a relaxation" of rules on June 21.
His comments leave open the possibility of either a full or partial lifting of restrictions.
But the Times reported a feeling among some in the government that delaying step four completely would be better than partially relaxing rules, in order to avoid any confusion in messaging.
The Cabinet Office declined to comment on the private meeting.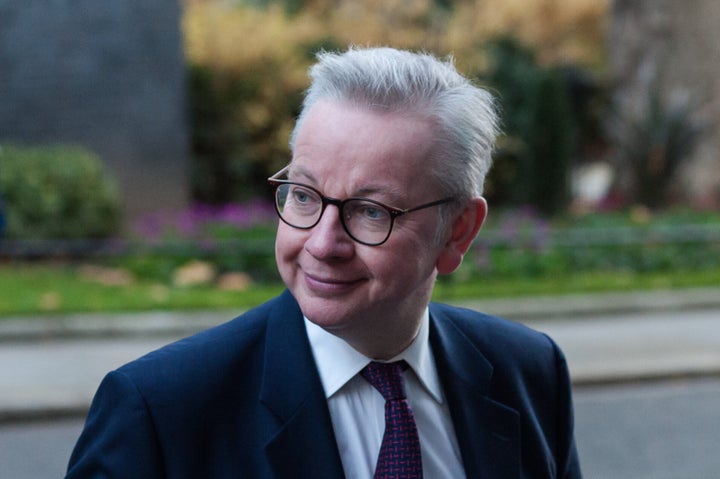 On Tuesday, Johnson told Cabinet ministers that the data needs to continue to be scrutinised ahead of any decision on lifting restrictions.
The PM told ministers that "while the relationship between cases and hospitalisations has changed, we must continue to look at the data carefully ahead of making a decision on step four".
Johnson is understood to be waiting for more definitive evidence on whether vaccines have stopped rising cases leading to unsustainable levels of hospitalisations that would threaten to overwhelm the NHS.
Out of 12,383 cases of the Delta variant, 464 people went on to seek emergency care and 126 were admitted to hospital, as of Monday.
Of these, 83 people were unvaccinated, 28 had one dose of vaccine and just three had both doses.
On Tuesday, health secretary Matt Hancock said the government faces a "challenging decision" as to whether to press ahead with ending England's lockdown on June 21.
Speaking in the Commons on Tuesday, Hancock said the government would be "guided by the science".
"We face a challenging decision ahead of June 21," he said. "These are difficult judgements."
Environment secretary George Eustice said the "critical test" ahead of the planned lifting of restrictions on June 21 will be whether those who are vaccinated are being hospitalised.
He told Sky News: "What we're not seeing at the moment is that growth in hospitalisations associated with (infections) and that's because we know that if people have the vaccine, particularly once they've had the second jab of the vaccine, it actually does give them immunity to this new strain that's around."
Commons health committee chair Jeremy Hunt has said any delay in easing restrictions would only be for a couple of weeks owing to the success of the vaccination programme.
The former health secretary said he was "feeling quite optimistic that we are going to see the restrictions lifted" as "being double-jabbed" works against the Delta variant.
"So, if freedom day ends up being put back a couple of weeks so we can get more people double-jabbed, I think it will only be a temporary setback," he told Times Radio on Tuesday.
He added: "I think we are on the way to getting back to normal."