Nursing leaders have slammed the government for proposing a "pitiful" 1% pay rise for NHS staff after a year spent battling coronavirus and administering vaccines.
The Royal College of Nursing (RCN) said the pay award proposed by the Department for Health and Social Care (DHSC) to the NHS pay review body would amount to just an extra £3.50 a week in take-home pay for an experienced nurse.
The government proposal comes after chancellor Rishi Sunak froze pay for all public sector workers aside from the NHS and those earning less than £24,000, despite their work in helping the country through the Covid pandemic.
The 1% pay rise proposal is not the final settlement, with the NHS pay review body able to make a recommendation after taking evidence.
In its submission to the body, the DHSC said that because of the strain on the public finances caused by Covid "pay awards must be both fair and affordable".
Anything higher than a 1% rise in NHS pay "would require reprioritisation" of the healthcare budget, the DHSC said.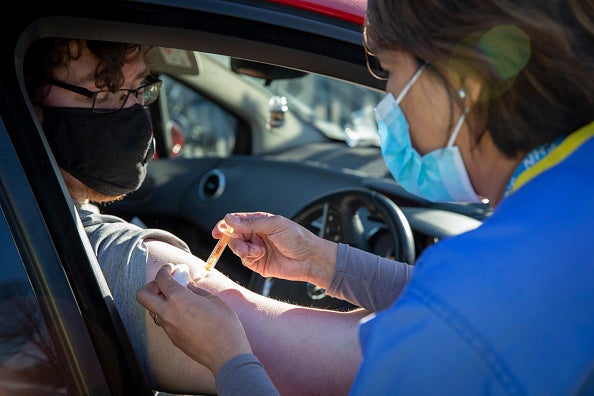 But RCN chief executive and general secretary Dame Donna Kinnair, said:
"This is pitiful and bitterly disappointing. The government is dangerously out of touch with nursing staff, NHS workers and the public.
"It is not a done deal but the government has revealed its hand for the first time. With the time remaining before the pay review body recommendation, the government can expect a backlash from a million NHS workers.
"Taxpayers are supportive of a significant and fair pay rise for NHS workers – this year of all years.
"If the pay review body accepts the government view, a pay award as poor as this would amount to only an extra £3.50 per week take-home pay for an experienced nurse. Nobody would think that is fair in the middle of a pandemic and it will do nothing to prevent the exodus from nursing.
"Nursing staff would feel they are being punished and made to pay for the cost of the pandemic. It is a political decision to underfund and undervalue nursing staff.
"Nursing deserves a 12.5% increase. Our members will be making sure the pay review body understands their reality and how the award would be received."