The UK's death toll from Covid-19 has now passed 100,000.
On Tuesday, 1,631 deaths were recorded, taking the total to 100,162.
The figures are based on government data for those who died within 28 days of testing positive for the virus.
The death toll exceeded 50,000 on November 11 when a further 595 people were reported to have died within 28 days of testing positive for coronavirus.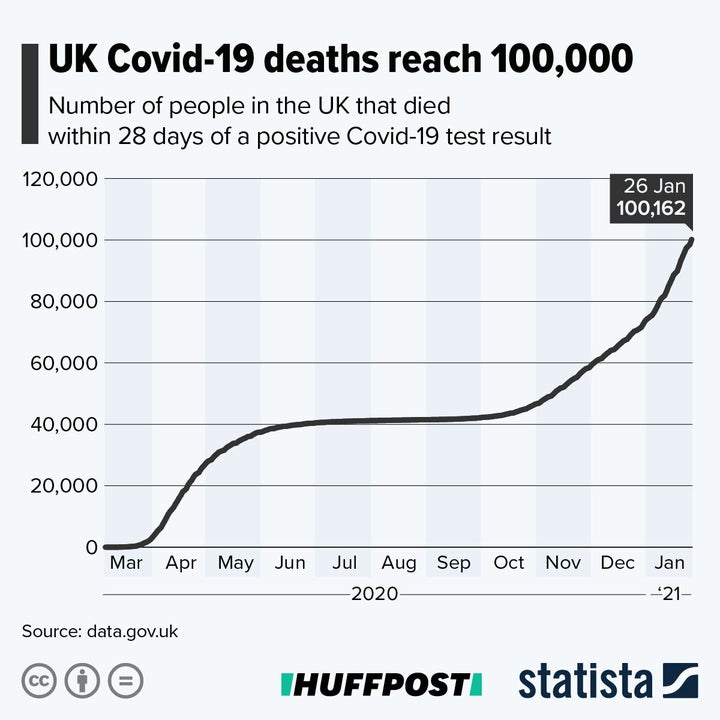 The number of cases recorded within the last 24 hours was 20,089 – the lowest figure of the year and down from 33,355 in a week.
Reacting to the grim milestone, health secretary Matt Hancock said: "My thoughts are with each and every person who has lost a loved one – behind these heart-breaking figures are friends, families and neighbours."
Hancock said the vaccines offered "the way out" but with more than 3,500 people still being admitted to hospital each day, there was a "tough period ahead".
Separate figures, of people who had Covid-19 recorded on their death certificate, passed 100,000 earlier on Tuesday. The data, compiled by the Office for National Statistics and its counterparts in Scotland and Northern Ireland, shows there have been almost 104,000 deaths as of January 15.
And another set of statistics, based on Covid-19 being recorded on death certificates plus deaths known to have occurred more recently – passed 100,000 on January 13.