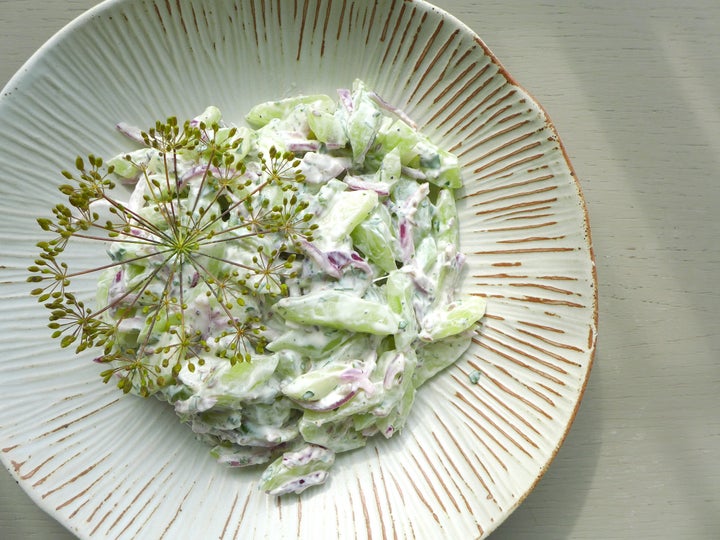 We turned our back on the cucumber patch for a few days and next time we looked the kitchen garden had been overtaken by knobbly green zeppelins. Help! What to do with so many over-sized cukes?
Some of them vanished into a raw cucumber soup which was very refreshing: just peeled and de-seeded cucumbers, salted and drained, whizzed until velvety smooth with some Greek yoghurt, crushed garlic, salt and pepper and loads of herbs like tarragon, parsley and chervil. Mint would also be good. I served it chilled with more finely diced cucumber, tomato and spring onion to spoon on top. It really hit the spot during the heatwave.
Today's salad owes more to eastern Europe and is particularly good with grilled and baked fish (especially oily fish) or lamb kebabs. Or heck, fish kebabs. It's a simple recipe but that's good, I think. I like food that's not messed about with too much, where the ingredients shine through. You can add chopped fresh dill if you have it but please don't omit the dill seeds.
Cucumber and dill salad (serves 4 as a side)
2 or 3 short, fat cucumbers (or one regular one), peeled, quartered, de-seeded and cut on an angle into 1cm slices, or simply diced if you'd like them less chunky
6 to 8 red spring onions or 1/2 a small red onion, peeled and finely sliced
2 or 3 tbspn Greek yoghurt
Grind of salt and black pepper (plenty of pepper)
1 tbsp chopped fresh dill (optional)
Put the peeled and sliced cucumbers and onions in a sieve, sprinkle with 1/2 tbsp salt, and leave to drain over the sink for at least half an hour. Then fold them into a clean tea towel and dry thoroughly.
In a bowl, mix the remaining ingredients, seasoning to taste. Once the cucumbers and onion are as dry as you can make them, stir them into the yoghurt.
Serve within half an hour of making, otherwise the cucumbers will leach more liquid and water down the dressing.