Neighbourhood policing has been so badly hit by budget cuts that people are hiring private policing companies to patrol the streets, a move unions warn could lead to the "slow creep" towards a "two-tier system".
In London, some residents of wealthy areas of Belgravia, Mayfair and Kensington have been paying for My Local Bobby, a subscription service, which costs around £100-£200 a month and provides high-end security patrols supported by experienced detectives and the ability to privately prosecute offences.
In Somerset, Martock Parish Council has itself hired a security firm to tackle anti-social behaviour in the evenings after residents got fed up with the local police not being able to protect them.
Earlier this year, it emerged that residents of the borough of Melton in Leicestershire had decided to pay for private security firms to take on the task of patrolling the streets after a spike in crime.
One of the companies, which was paid for by local businesses, began a trial over the Christmas period in 2017, while residents in rural areas of the borough have been paying a membership subscription for another security firm to do patrols since April last year.
The trend comes as a study by the National Audit Office (NAO) found funding for the police has been cut by 19 percent since 2010, when the Conservatives came to power.
As budget cuts have continued nationally, police forces have struggled to maintain an effective service, the report found. The NAO said the number of police employees had dropped from 244,497 in 2010 to 199,752.
The latest figures show that between September 2010 and September 2017, the number of police officers in English and Welsh forces fell by 19,921 or 14%, according to the Home Office. Since September 2009, there's been a cut of 22,424 police officers.
The numbers of police community support officers (PCSOs), who patrol the streets and build relationships with the local community, has also fallen by almost 40% during this period.
The county of Norfolk has gone a step further and has completely cut the PCSO workforce, with neighbouring Suffolk choosing to cut it by half.
Unions say this has led to neighbourhood policing all but disappearing.
Ben Priestley of Unison said: "The government cuts to policing have completely undermined and in many cases removed neighbourhood policing from the streets of England and Wales.
"It is entirely the frontline workforce that has borne the brunt of the cuts. I think that's what people will find difficult to believe, that the government has allowed that to happen, to allow front line policing to be run down to a point where it can no longer really function."
It appears that the shrinking of neighbourhood policing is now creating a demand for alternatives. Two former Met police officers, David McKelvey and Tony Nash, have founded the My Local Bobby service in London.
The scheme, which is an offshoot to their private investigations and security firm, TM Eye, could soon go nationwide after the success of its pilot in the capital and the company claims to have had interest from Sheffield, Manchester and Wales.
McKelvey said: "The bit that's missing in policing [today] is there is no visible policing on the streets and no patrolling.
"There's not that front end, prevent and deter strand of things where you have got a policeman walking around the streets with residents and the public talking to them and interacting with them. It just doesn't exist anymore."
"We set it up and the idea is to have the old fashioned Dixon Of Dock Green kind of character who knows all the residents on the beat and covers a small distinct beat which they patrol on foot."
The "bobbies" are fitted with body cameras and make strong connections with the residents. They help deter crime but also get involved by moving on anti-social behaviour such as drug taking.
A promotional video on the website shows the "bobbies", in red tabards with red hats, moving on rough sleepers, removing sleeping bags that have been stashed and speaking to people who are drinking and littering on the street.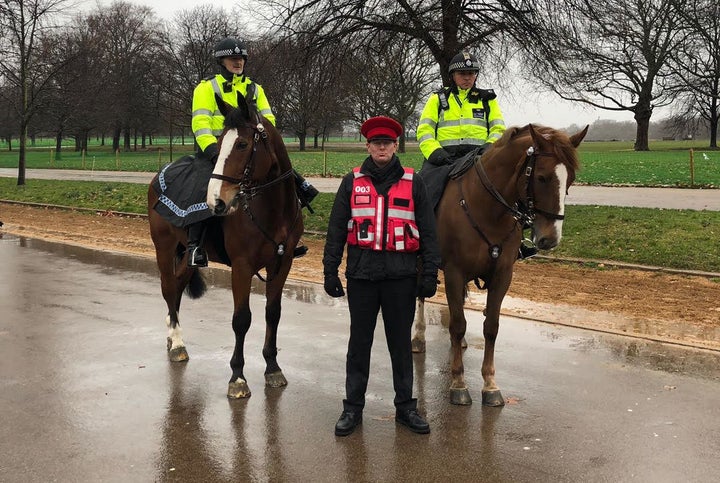 He claims crime rates have fallen dramatically in the areas that they cover although he does admit that often crime isn't always stopped but moved on. "Quite often they displace it but it does stop it in that particular area. It shows that it works," he said.
David Green, of the think-tank Civitas and a former adviser to the Government, said the rise in demand for this kind of service reflects how overstretched police officers are.
The number of crimes each police officer handles has risen dramatically since 2010, he says.
"It's inevitable that there will be more of this because the police are being overwhelmed by the workload ... Neighbourhood policing is now not really staffed well enough to make it work.
"It's not just something that impacts residents who never see an officer or who suffer more crime because of it, it also has an impact on more serious crimes as the police have less ability to gather intelligence."
While Green said he has no doubt private policing companies are reputable, he is concerned about safeguarding, as when something goes wrong in the police "there is some comeback".
"It's not clear to me what safeguards there are in the event of a false arrest, for example. However, everything I have read about them so far suggests that they are filling a gap and the police, far from being hostile to them, welcome their help."
Schemes like this have proven controversial. The Police Federation, which is the largest union representing the police force are concerned that they represent a "slow creep" of private policing, which will create a two-tier system where those who are wealthy enough can pay for their own peace of mind.
Simon Kempton, operational policing lead of the union said he has some real concerns about the rise of private policing companies.
"It feels like we are marching towards a two-tiered system", he said. "It should be the case that it doesn't matter if you are rich or poor, black or white, gay or straight, male or female, the law is the law and that is the protection you.
"Increasingly, it feels like if you are poor, we can't really help you. The poor, are by some distance the most vulnerable to be victims of crimes. They get forgotten and they live in those high crime areas.
"There's a fundamental thing here, that it shows we have failed on some level if we are having to get a private company to do the policing for us."
McKelvey, however, finds the controversy surrounding the concept "frustrating" and says the criticism is unwarranted. He said his company have an "excellent" relationship with the police and it's not just the wealthy who are interested in the service.
He says: "What really frustrates me is we keep getting tarnished with people thinking it's only for the wealthy and it's not. If you look at the people who are talking to us about putting beats in, we've got estates in Hackney, east London asking for example.
"They are just normal people who are scared and want to feel safe in their homes and want to feel safe parking their cars in the street and want to feel they're not going to get robbed walking down the street.
"It's rubbish that it would create a two-tier system. We have been talking to some councils and if we could get councils to sign up for it, they would be putting us in some of the roughest areas."
He added that most of the people he employs are ex-policeman and ex-military, who are selected from hundreds of applicants. He believes My Local Bobby is "far more accountable" than the police because if one of this employees does something wrong, "it's going to destroy the business".
"We haven't got the police federation behind us [if something went wrong]. We are a business and we are reliant on our bobbies to be the right people to do the right job and risk assess everything correctly and behave correctly."
This week, following the release of its report, the NAO accused the Home Office of not fully knowing the impact its cuts were having and whether the police system in England and Wales is "financially sustainable".
In its report, it called the Home Office's approach to police funding "ineffective" and "detached" from the changing demands faced by officers.
Recently, three police officers told HuffPost UK that cuts had left them having to apologise to victims of crime who they felt had been let down.
The Home Office said they have empowered locally-accountable Police and Crime Commissioners to make decisions using their local expertise, but that doesn't mean they do not understand the demands on police forces.
A spokesperson said: "We remain committed to working closely with police and delivered a £460m increase in overall police funding in 2018/19, including increased funding for local policing through council tax.
"We are also working with the police to put forward the evidence to ensure they receive the resources they need to do their vital work at the next Spending Review."