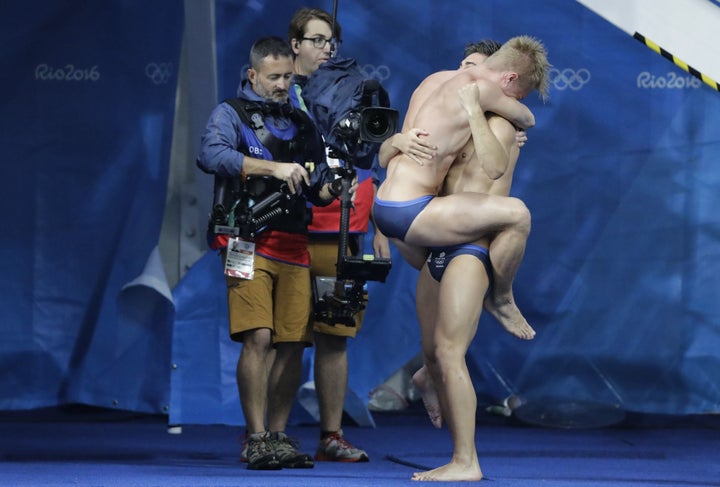 Team GB's Olympic diving team have once again landed the British press in hot water after MailOnline was accused of "perpetuating instead of celebrating" gender stereotypes over a headline on last night's historic win.
The Mail told Brits Jack Laugher and Chris Mears to "steady on" as they celebrated their synchronised diving win in an emotional embrace.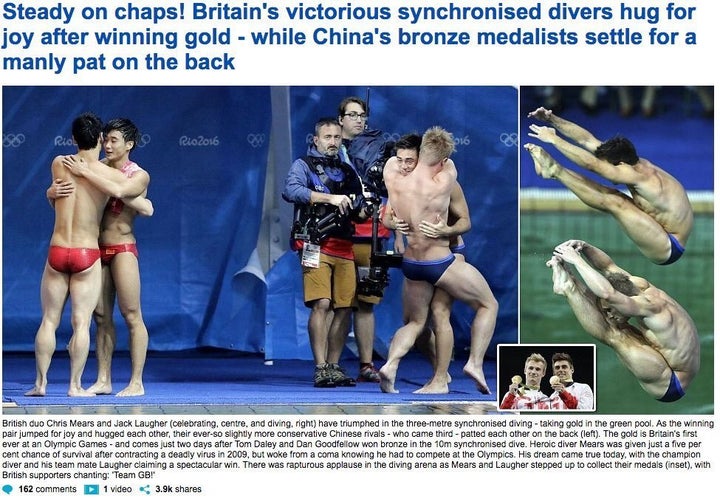 The paper said China's two divers, who came third in Rio, had refrained from hugging and instead settled for a "manly" pat on the back.
But the wording left LGBT charity Diversity RoleModels "frustrated".
The group, which works to tackle homophobia, biphobia and transphobia, said the headline was troubling and raised problems with images of masculinity and gender stereotypes.
The charity was not alone in its condemnation. A children's doctor, Thom O'Neill, said article was "needlessly homophobic".
He also warned perpetuating such attitudes would have a "very significant effect on our LGBT and youth".
While SNP MP Stewart McDonald encouraged Laugher and Mears to "celebrate as much as they wish".
Others complained that the piece was "barely concealed homophobia" and rubbished the suggestion that hugging was not "manly".
While two astute Twitter users pointed out the close bonding many men participate in when celebrating a sporting achievement.
The Huffington Post UK has contacted the Daily Mail for comment to respond to the concerns raised by Diversity RoleModels and others. It did not respond by the time this piece went live.
The survey, conducted with 1,000 males aged between eight and 18, found that over half of secondary school boys admitted they felt pressured to look good from advertising (53%).
Allegations of homophobia and sexism have been made by the dozen over coverage by various news outlets at Rio.
Paul Hand had been presenting coverage of the women's tennis singles when, during a break in the match he made an off-the-cuff remark.
Hand joked as the camera panned through the crowd and couples were pictured giving each other a peck on the cheek: "Let's hope they don't go on to two blokes sat next to each other."
The quip earned him swift criticism from those who accused him of "horrendous casual homophobia".
The BBC said in a statement after: "The comment was ill judged and we apologise to any of our viewers who were offended."
SEE ALSO: