The 'Daily Star on Sunday' has been forced to backtrack on a "significantly misleading" story that claimed UK mosques were "fundraising for terror".
The paper was ordered by press regulators to print a clarification over a "failure" by editors to "take care over accuracy of the article" that was criticised for sensationalising and promoting negative attitudes towards Muslims.
The original story had used the single case of an Isis-sympathiser offering to assist a journalist in transferring money abroad, with the source adding "we get funds from UK brothers from collections at mosques".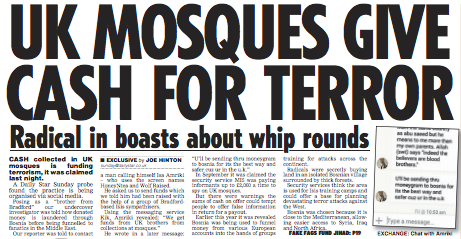 The adjudication said: "It was accepted by the newspaper that the money was being collected by individuals acting in a personal capacity, and not by mosques as organisations.
"However, both versions of the headline [print and online] had given the clear impression that mosques were institutionally raising money for terrorism.
"The single text conversation that the journalist had had did not support this assertion.
"Both the print and online versions of the headline represented a failure to take care over the accuracy of the article."
It added: "The headlines were significantly misleading. They gave the impression that the newspaper had discovered serious, organised wrongdoing, when that was not the case, and the inaccuracies required correction."
Miqdaad Versi, an official from the Muslim Council of Britain who submitted the complaint, said the original article had created "real damage" by peddling an unfounded assumption that mosques were a problem in British society.
He told The Huffington Post UK: "There is growing Islamophobia in the UK today, with more and more people having negative attitudes towards Muslims.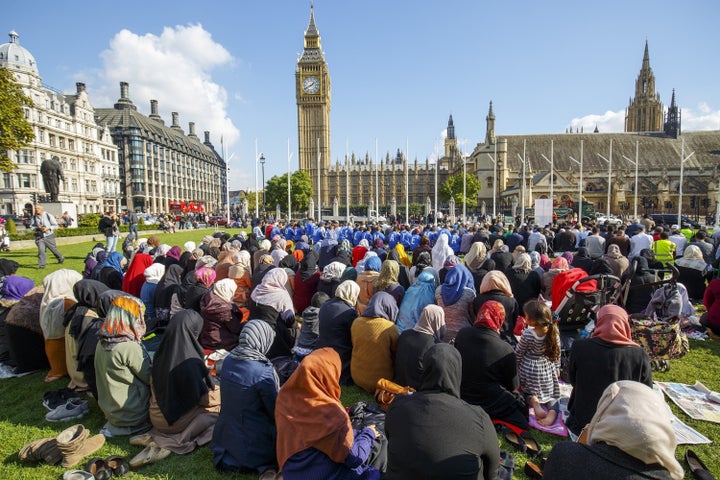 "In such a climate, it is very important that newspapers are careful in reporting facts accurately.
"In this case, the newspaper wrongly alleged that UK mosques were fundraising for terror without any evidence.
"Such sensationalism creates real damage as it reinforces an unfounded assumption that mosques across the UK are a problem in our society.
"I hope that through this correction, isolated incidents can be seen for what they are – actions by fringe elements of society, and not linked to Muslim institutions such as mosques."
The 'clarification' published in Sunday's Daily Star read: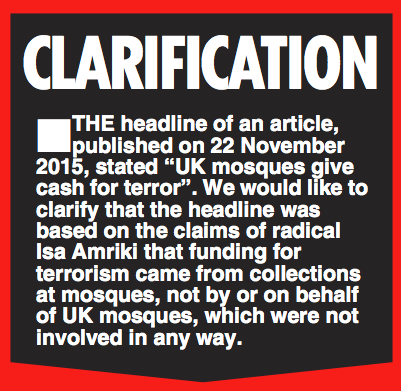 "The headline of an article, published on 22 November 2015, stated 'UK mosques give cash for terror'.

"We would like to clarify that the headline was based on the claims of radical Isa Amriki that funding for terrorism came from collections at mosques, not by or on behalf of UK mosques, which were not involved in any way."