The suspected gunman behind the Dallas shootings has been named as US Army Reserve member Micah Xavier Johnson, a US government source told Reuters.
Johnson, 25, is reportedly the shooter who was involved in the standoff with police overnight on Thursday.
The Mayor of Dallas said the suspect died after officers used explosives strapped to a robot to "blast him out".
Three other suspects are in custody.
Five police officers were killed and seven others wounded after snipers targeted a crowd during a Black Lives Matter protest.
The demonstration was being held following two recent fatal police shootings of black men.
It is unclear how many shooters were involved in the attack.
The city's police chief said that the suspect who died following the standoff had told officers he was working alone.
The incident is reportedly the deadliest day for US law enforcement since the 9/11 attacks.
Brown told a press conference on Friday: "The suspect said that he was upset about black lives matter.
"He said that he was upset about the recent police shootings. The suspect said that he was upset at white people.
"The suspect stated that he wanted to kill white people, especially white officers. The suspect stated that we will eventually find the IEDs.
"The suspect stated that he was not affiliated with any groups and he stated that he did this alone."
Reports are circulating that Black Power Political Organisation (BPPO) has claimed that it was behind the attack.
The group's Facebook page, where the post was originally seen, has since been deleted.
President Barack Obama said: "Let's be clear, there's no possible justification for these kinds of attacks, or any violence against law enforcement."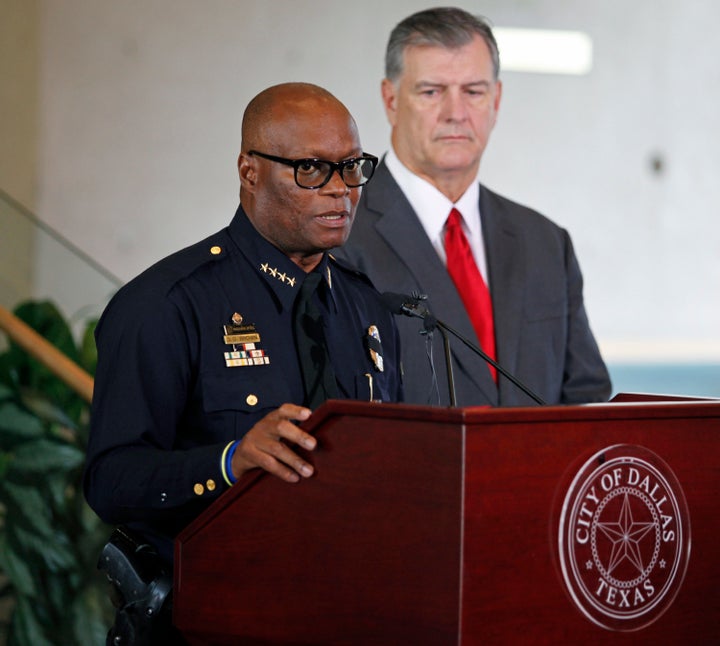 Gunfire broke out about 8.45 pm Thursday as hundreds of people were gathered to protest fatal police shootings this week in Baton Rouge, Louisiana, and suburban St Paul, Minnesota.
Brown told reporters the snipers fired "ambush style" upon the officers.
Mayor Mike Rawlings said one member of the public was wounded in the gunfire.
Brown said it appeared the shooters "planned to injure and kill as many officers as they could."
Officer Brent Thompson, 43, has been named as one of the officers who was fatally shot.
"This is something that touches every part of our organisation.
"We have received countless expressions of support and sympathy from around the world through the evening. We are grateful for every message. Thank you."
Black Lives Matter protests were held in several other cities across the country last night after a Minnesota officer on Wednesday fatally shot Philando Castile while he was in a car with a woman and a child.
A day earlier, Alton Sterling was shot in Louisiana after being pinned to the pavement by two white officers. That, too, was captured on a cellphone video.
Obama told a press conference on Friday morning: "Yesterday I spoke about our need to be concerned as all Americans about racial disparities in our criminal justice system.
"I also said yesterday that our police have an extraordinarily difficult job and the vast majority of them do their job in outstanding fashion."
Video footage from the Dallas scene showed protesters marching along a street, about half a mile from City Hall, when the shots erupted and the crowd scattered, seeking cover.
The search for the shooters stretched throughout downtown, an area of hotels, restaurants, businesses and some residential apartments.
The scene was chaotic, with helicopters hovering overhead and officers with automatic rifles on the street corners.
One woman was taken into custody in the same parking garage where the standoff was ongoing, Brown said. Two others were taken into custody during a traffic stop.
Popular in the Community