Racist and sexist attacks on the woman who led the historic Brexit court case have been "criminal", Cabinet minister David Davis has declared.
The Brexit Secretary said that he couldn't find "words strong enough" to condemn the abuse received by businesswoman Gina Miller over her High Court action.
He spoke out after Labour's Chuka Umunna pointed out Miller had been subjected to death and rape threats and singled out by some newspapers as "foreign-born", even though she had grown up the UK.
Davis's remarks came during a Commons statement, in which he confirmed that ministers would bring forward a bill to give Parliament a say on Brexit if the Supreme Court upheld the court verdict.
The ruling may not come until "early January", he said, giving the Prime Minister just as little as 12 weeks to meet her deadline of triggering Article 50 by the end of March.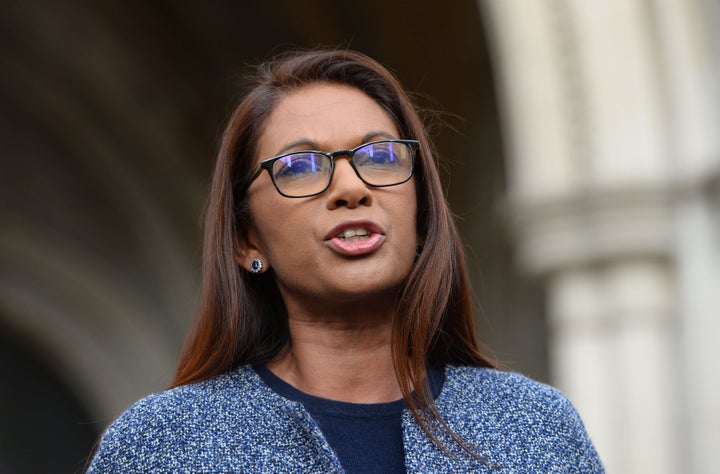 Miller, a 51-year-old investment manager, was the lead claimant in the High Court case that could force Theresa May to consult MPs and peers over the triggering of Article 50 – the formal mechanism for the UK to quit the EU.
Davis, who also said he deplored the 'homophobic' attacks on one of the judges in the case, told MPs: "I deplore...I can't find words strong enough frankly to say how much I detest the attacks on her.
"Frankly, I mean, from what I've heard about them – I haven't seen them myself directly – but what I've heard about them, they sound to me to be effectively criminal attacks, because incitement of violence, threats of violence, racial abuse, are all crimes."
His words, a strong signal that the police and prosecuting authorities should act swiftly on the abuse, came after Umunna launched a blistering attack on those responsible.
"Gina Miller, who brought the case, has been subject to death threats. She has been attacked for being foreign born," Umunna said.
"She has been subject to racial abuse and threats of sexual violence, simply for exercising her rights as a British citizen.
"As has already been mentioned, the judges in her case have been attacked simply for doing their job and not dancing to the tune of the executive.
"Whether you voted Leave or Remain, we can all agree that these vicious and deplorable attacks are not what our country is about, or in keeping with British values."
Umunna also condemned suggestions from UKIP leader Nigel Farage that 100,000 people should march on the Supreme Court when it meets next month.
"If we see a situation where our judges are intimidated, harassed and we have marches on our courts, that is taking this country down a very dangerous avenue indeed."
During his two-year grilling over the court case in the Commons, Davis made clear the Government would not be seeking a 'resolution' to give effect to the court ruling.
He said was up to Parliament to table a simple motion if it so wished, but "what's proper" for ministers is to table a bill if the Supreme Court upheld the High Court decision.
In answer to Labour's Pat McFadden, Davis said that "as things stand", legislation would be needed.
"Bascially he's right. What the courts said was you cannot remove rights without legislative power and to give the Government legislative power you had to have legislation."
The Brexit Secretary made a strong defence of the independence of the judiciary, pointing out he had a long record in doing so.
But Davis rounded on Remainers, accusing them of trying to "wreck" May's Brexit negotiations with Brussels. He said: "I see June 23 as the point of no return".
Popular in the Community