New cases of HIV in gay and bisexual men have fallen by 21% in the UK, Public Health England (PHE) has said.
HIV, or human immunodeficiency virus, attacks a person's immune system and weakens their ability to fight infection and disease. It is most commonly contracted by having unprotected sex.
Official figures published on 3 October revealed new HIV diagnoses among gay and bisexual men had dropped from 3,570 in 2015 to 2,810 in 2016. The decline was particularly steep among those living in London, who saw a 29% fall in diagnoses during this time period.
PHE attributed the fall in new cases to regular and frequent testing, as well as prompt diagnosis and treatment.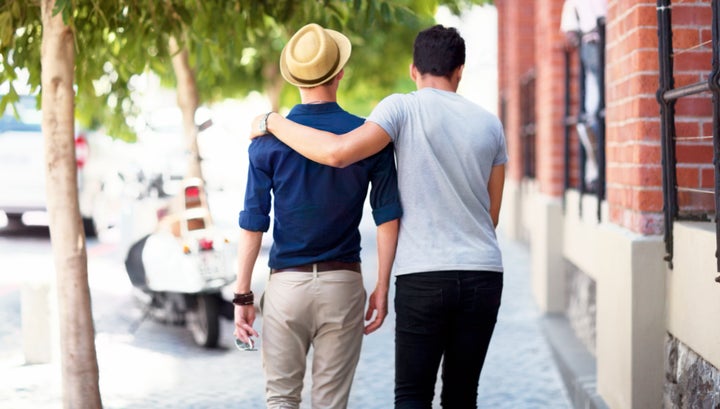 The decrease in HIV diagnoses in gay and bisexual men coincides with effective treatment becoming widely available.
People living with HIV can take antiretroviral drugs (ARVs) daily to keep the virus at bay, giving them the chance to live a relatively normal life.
The drugs work by blocking the enzymes that HIV uses to infect immune cells. This stops the virus from multiplying further and brings HIV levels in the blood down to almost zero.
Additionally, people at high risk of contracting the virus can take a course of preventative drugs called PrEP. According to the Centers for Disease Control and Prevention, taking PrEP daily reduces the risk of contracting HIV from sex by more than 90% and by more than 70% for those who inject drugs.
PrEP has been a contributing factor in the downturn in new diagnoses in gay and bisexual men, PHE said. As such, it is supporting NHS England in a three year PrEP Impact Trial beginning in October 2017.
While the trials continue, PrEP is available privately from some clinics.
Commenting on the latest figures, Dr Valerie Delpech, head of HIV surveillance at Public Health England, said: "This is very good news. It is the first time since the beginning of the HIV epidemic in the 1980s that we have observed a decline in new HIV diagnoses among gay and bisexual men and is clear evidence that HIV prevention efforts are working in the United Kingdom.
"Our success in reducing transmission is due to high levels of condom use among gay men, and a sharp rise in the number of men testing for HIV each year, with those at greatest risk testing more frequently.
"Early diagnosis is also key to making sure that people benefit from HIV treatments so they can live long and healthy lives and are protected from passing on the virus to others."
The health body said with continued investment in testing and diagnosis, the decline in HIV infection which has taken place in London can be replicated in other parts of the country.
HIV testing is widely available, free of charge, through GP surgeries, local hospitals and sexual health clinics. Self-testing kits are also available, which can be done from the comfort of your own home.
Meanwhile HIV transmission can be prevented by using condoms when having sex with new or casual partners.
An NHS England spokesperson said the new figures "show that NHS investment in HIV prevention is paying off".
They added: "High rates of effective treatment in people with diagnosed HIV, our Treatment as Prevention policy which ensures that people receive treatment to protect HIV negative partners, and our major intervention with PrEP, which will be up and running by the end of this month, will supercharge these increasingly successful efforts to prevent HIV."
Ian Green, chief executive of Terrence Higgins Trust, told HuffPost UK: "Today's figures show we've started something – we're beginning to see the reversal of the HIV epidemic in some communities in the UK.
"HIV diagnoses in gay and bisexual men, one of the groups most affected, are declining; showing what can be achieved when we utilise all the weapons in our arsenal against HIV transmission. This includes access to condoms, testing, PrEP and diagnosing and treating people as early as possible so they are no longer infectious.
"But this is no time for complacency. We must keep this momentum going so we can see the same progress in other communities and bring the epidemic to an end."
Figures from PHE showed that while there was an 18% decrease in all HIV diagnoses in the UK in 2016, 42% of people with HIV were still being diagnosed late, especially heterosexual men and individuals aged over 50.
"These new stats still show cause for concern, with late diagnoses worryingly high – putting people's health at risk and meaning they can unwittingly pass on the virus," added Green.
"It is vital that heterosexual people and those from black African communities are getting tested for HIV and onto treatment as early as possible – HIV is not just an issue for men who have sex with men."